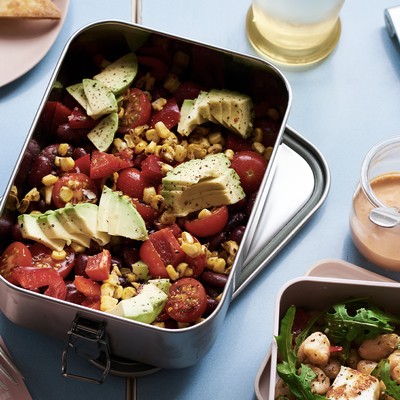 Healthy Lunchtime Recipes To Try

Columnist and food editor Becky Alexander's new book, The Green Lunch Box, has all the ideas you need to make quick and nourishing lunches that are also good for the planet. It might take a little more time, but here, Becky proves why it could be worth the effort…

Making your own lunch might sound like a time-consuming hassle but let's face it, queuing up during your lunch break in a busy supermarket or deli isn't that quick or much fun anyway. It's more a case of how and where you spend your time. Why not start with making just one or two lunches a week – even that will help to cut down on packaging, and you might find you start to prefer it.
Making your own lunch, even just once a week, will help reduce the tidal wave of single-use packaging. We get through mountains of sandwich packets, salad boxes, soup pots and snack wrappers every single day in the UK. Most of it is not, or cannot, be recycled and is transported to other countries or incinerated. We simply have to use less. Taking a lunch box to work is one way to reduce the amount of single-use plastic you buy.
Do you prefer to buy seasonal and local produce? Well, most mass-produced lunches just don't have that flexibility. Manufacturers churn out the same salads and sandwiches, whatever the season, flying in ingredients, when we often have good alternatives closer to home. Mass-produced lunches also rarely contain high-welfare meat, fish and animal products. The mark-up on mass-produced lunches means that you get better value for money making your own, too. You get to choose better quality ingredients and have more control over what you're eating – a plant-based lunch is also a great way to incorporate healthier choices into your diet.
It's easy to get stuck in a rut with lunch and eat the same thing every week, whether you eat at work or at home. My new book contains 60 easy, delicious, plant-based recipes, from summer salads to warming winter soups and hotpots, flavour-packed wraps and sandwiches, and snacks to keep you going between meetings. Whether you're eating at home or out and about, these recipes will save you time and money, and help reduce your impact on the planet
 
 Inspired? Here Are Three Easy, Tasty Recipes To Try This Month…
Red Miso & Smoked Tofu Pour-Over Soup
Pour-over soups are practical for taking to work as you don't add the liquid until lunchtime, making them light to carry and leak-proof. You can get so many different types of noodles: wholegrain, soybean, rice, soba, udon, spelt... just choose very thin noodles so they cook quickly in boiling water. Ideally, choose noodles sold in cardboard boxes, which are easier to recycle than plastic.
Ingredients
5mm

of fresh ginger, peeled and grated
½

small red chilli, seeded and chopped
50g

of dried, thin wholegrain noodles
3

brown or white mushrooms, thinly sliced
100g

of firm smoked tofu, cut into small cubes
1

tbsp

of sweetcorn kernels, fresh, frozen or canned and drained
4

green beans, thinly sliced
Method
Step 1
Put all the ingredients into a soup flask or large, sealable heatproof jar. Break the noodles if necessary to fit them in.

Step 2
Just before eating, pour over enough boiling water to cover all the ingredients. Stir as well as you can, making sure you dissolve the miso. Replace the lid to keep the heat in and leave for 3-5 minutes.

Step 3
Test the noodles for softness and leave for a little longer if necessary. This will depend on the thickness of your noodles.

Step 4
LOVE YOUR LEFTOVERS
You can add pretty much anything to your pour-over soup, so it's great for using up stray veggies in the bottom of the fridge. Broccoli, carrots, shredded cabbage, spring onions, peas and bell peppers all work well; just chop them up small. Sprinkle over a few nuts and seeds too, if you like.
Smashed Beetroot, Lime & Cheese Bagel
Beetroot makes a great sandwich filling. Try to avoid those sold in plastic packaging; the ones sold in glass jars are very good and often cheaper (rinse them first to get rid of some of the vinegar and sugar). Roasting your own is easy too; the key is to prep and roast them when you are cooking something else to save on effort and energy. Use a few chopped walnuts instead of the pumpkin seeds in this tasty sandwich if you prefer.
Ingredients
1

fresh beetroot, peeled, or

25g

of cooked beetroot, rinsed and chopped
25g

of crumbly white cheese (dairy or vegan), crumbled
1

squeeze of lemon or lime juice
1

bagel or chunk of ciabatta, cut in half
1

handful of rocket or watercress
Method
Step 1
Preheat the oven to 200°C (if it's not already on for something else).

Step 2
If using fresh beetroot, cut it into wedges, wrap it in foil and roast for 30 minutes. Test if cooked with the tip of a knife, which should go in easily, then leave to cool.

Step 3
Put the beetroot and cheese in a blender. Add a squeeze of lemon or lime juice and whizz until smashed but not too smooth. If you don't have a blender, just chop the beetroot finely and mix it in a bowl with the cheese and lemon. Season with black pepper.

Step 4
Toast the bagel or ciabatta, then fill it with the beetroot mixture, rocket or watercress, and the pumpkin seeds.

Step 5
SHOP LOCAL
Do you tend to buy the same plastic-wrapped packs of cheese all the time? To cut down on food miles and plastic packaging, try cheeses made by local producers. If you love feta, for example, try a locally made salty, crumbly cheese for a change (they are made all over the world, from Yorkshire to Wisconsin). A market stall or cheese store might let you use your own containers, or wrap your purchase in unwaxed paper, if you ask.
Easy Aubergine Caponata With Capers, Olives & Pine Nuts
It can take hours to make a traditional Sicilian caponata, but this one is quick and, thanks to the capers and olives, it's still full of flavour. I like it piled onto hot sourdough toast or with focaccia. It will keep in the fridge for about three days.
Ingredients
2

tbsp

of extra virgin rapeseed oil
1

small aubergine, cut into chunks
1

small red onion, peeled and chopped
1

garlic clove, peeled and chopped
1

x

400g

can of chopped tomatoes
50g

of pitted Kalamata or green olives
1

tsp

of red wine vinegar
Method
Step 1
Heat the oil in a large saucepan over a low heat. Add the aubergine, onion and garlic, put the lid on, and cook for 10 minutes until the onion is softened.

Step 2
Add the tomatoes, capers and olives. Bring to a simmer and cook for 20 minutes with the lid off until the liquid has reduced.

Step 3
Stir in the red wine vinegar, if using, and season to taste, then stir in the pine nuts.

The Green Lunch Box by Becky Alexander is published on 18th January. Pre-order a copy at Waterstones.com
DISCLAIMER: We endeavour to always credit the correct original source of every image we use. If you think a credit may be incorrect, please contact us at info@sheerluxe.com.