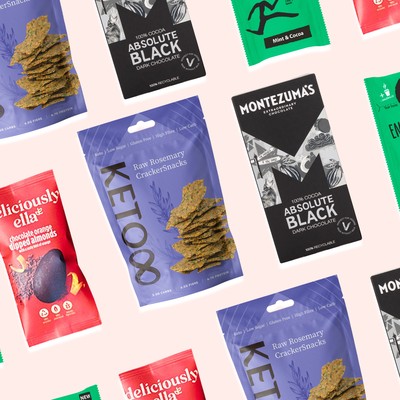 The Healthy Snacks Nutritionists Rate

If you want to make better choices with your diet, but are one of those people who is constantly on the go, it pays to plan ahead with a few healthy snacks. From what to eat if you're popping into Gail's to the easy reaches to keep in your bag, here six nutritionists rate their favourites…

Good4U Mint & Cocoa Energy Balls
These are made from 100% natural ingredients, they're gluten free and high in fibre and magnesium. They are perfect to satisfy any chocolate cravings you may have, because they contain cacao nibs and cocoa powder – but without the added sugar.
Available from Ocado.com
Nakd Pecan Pie Bar
These bars are made using just three natural ingredients – dates, pecans and almonds – and they taste delicious. They technically contain no added sugar, but they'll still satisfy a sweet tooth. The nuts in the bars provide a good source of protein and healthy fats, which will give a natural boost of energy that will last until your next meal.
Available from Sainsburys.co.uk
Karma Bites Popped Lotus Seeds Himalayan Pink Salt
If you fancy a savoury snack that will also provide you with some nutrients, then this is the snack for you. Unlike regular crisps, these are made with only three ingredients: popped lotus seeds, which are a good source of antioxidants, protein and fibre; olive oil and pink Himalayan salt. They're also vegan friendly, gluten free and have no added sugars or artificial ingredients.
Available from Ocado.com
Visit WeAreBienEtre.com
Alexandra Pope, Root To Wellness
Keto8 Rosemary Cracker Snacks
Keto8's range is a favourite of mine for on-the-go clean snacking. The Rosemary Cracker Snacks are a great alternative to crisps – either on their own or topped with a healthy dip such as hummus. They're fibre rich, nutrient dense, contain natural ingredients and taste amazing. They can also be used to top off a buddha bowl, salad, or soup for some added crunch.
Available from PlanetOrganic.com
Clearspring Organic Black Sesame & Tamari Brown Rice Crackers
These are light, crunchy and delicious and come packed with the benefits of black sesame seeds – a rich source of omega-3 fatty acids, antioxidants and minerals which are essential for our body.
Available from Clearspring.co.uk
Deliciously Ella Chocolate Orange Dipped Almonds 
If I am after something a little sweeter, but without refined sugar, I love the Deliciously Ella salted chocolate or chocolate orange dipped almonds, which use vegan chocolate made with coconut sugar and cacao. The fat from the almonds helps to limit blood sugar spikes from the chocolate and provides goodness with that sweet hit.
Available from DeliciouslyElla.com
Gail's Avocado & Chickpea Sandwich 
For something a little more substantial, Gail's offers some mini sandwiches which are perfect for a filling, wholesome snack on the move. If you're not intolerant to gluten, the mini avocado and chickpea sandwich is a great option, as it provides plant-based protein along with healthy fats.
Available from GailsBread.co.uk
Visit Root-To-Wellness.com
Ailsa Hichens, Food Fabulous
Tanpopo Edamame Beans
Edamame beans are great for female hormone health and are tasty with a little bit of rock salt. They're an excellent snack – not only because they are handy and healthy. Unlike so many snacks, you can't eat these really quickly, which has the added benefit of your body recognising that you are full. One of the problems I often see with snacking is that 'snacks' are rarely snack-sized, but more a small meal. 
Available from Ocado.com
Pip & Nut Crunchy Peanut Butter
In my house, we are huge fans of a tart apple (think a crunchy Granny Smith) and a tablespoon of unsweetened almond butter. Pip & Nut is particularly good for dipping, and you can find in most supermarkets.
Available from Ocado.com
Metcalfe's Sea Salt Popcorn
A small bag of salted popcorn is another favourite. Avoid the sweet versions entirely as these are likely to spike your blood sugar levels more, thanks to the actual added sugar.
Available from Ocado.com
Visit FoodFabulous.co.uk
Deliciously Ella Baked Veggie Crackers Sea Salt, Black Pepper & Olive Oil
At just 128 calories per packet, these vegan-friendly, gluten-free crackers are full of fibre and really hit the spot if you're looking for something to satisfy that salty snack craving. These ones are sea salt, black pepper and olive oil flavoured, but there are loads of other flavours on the Deliciously Ella website.
Available from DeliciouslyElla.com
Nakd Strawberry Sundae Fruit & Nut Bar 
These are great if you're looking for a sweet treat that's not crammed full of sugar. Nakd bars contain 100% natural ingredients, have no added sugar (only natural sweetness), are gluten and dairy free as well as being suitable for vegans and counting as one of your five a day.
Available from Ocado.com
Oppo Double Chocolate Brownie Ice-Cream 
At just 200 calories for half a tub, Oppo prides itself on flavour. Great for a guilt-free sweet treat, this ice-cream has a lower sugar content compared to a lot of other ice-creams out there. Not only that, it's a great source of protein too.
Available from Ocado.com
Hippeas Chickpea Puffs Salt & Vinegar Vibes
Although these might sound like the equivalent of eating the Sahara Desert, these chickpea snacks are super tasty. They're similar to Wotsits but come in some really different flavours. They're vegan, gluten free, and give you a good boost of protein and fibre.
Available from Ocado.com
Ombar Centres Coconut & Vanilla
Ombar's ethos is "chocolate is good for you", and it believes the raw variety of chocolate can help to improve your mood, support healthy blood flow, as well as protect against cell damage with its antioxidant compounds. There's a variety of flavours, but this one is my favourite.
Available from Ocado.com
Maria Moore, Moore Movement
M&S Free-Range Egg & Spinach Protein Pot 
Tesco, Pret and Marks & Spencer all sell snack pots filled with boiled eggs and spinach. This is a brilliant high-protein snack that will keep you full until you get home. 
Available from Ocado.com
M&S Carrots With Hummus
Veggie sticks and dip pots have been around for a while now, but they're still a great healthy alternative to snacking on crisps if you fancy something savoury while you're out and about.
Available from Ocado.com
Proper Corn Sweet & Salty Popcorn
Popcorn is a delicious low-fat, low-calorie snack. You can get a variety of flavours while on the go, but my favourite at the moment is Proper Corn. 
Available from Ocado.com
Fridge Raiders Original Veggie Bites
You can purchase small packets of pre-cooked chicken from brands such as Fridge Raiders, which is another brilliant high-protein go-to snack. These veggie bites are also full of protein.
Available from Ocado.com
Eat Natural Protein Packed Chocolate Orange Bar
There are some fantastic cereal-style bars available at supermarkets – and they're ideal for eating while out and about. Eat Natural, Nakd and Misfit Protein all include a range of low-sugar, high-protein, plant-based bars which are delicious and can be enjoyed as part of a healthy diet and lifestyle.
Available from EatNatural.com
Rohini Bajekal, Plant Based Health Professionals
Montezuma's 100% Cocoa Absolute Black
Dark chocolate does have health benefits as a mood-boosting food, but it is best enjoyed in small amounts as it is also an energy-dense food. Flavanols, a plant nutrient with heart-protective benefits, are found in several foods but are abundant in raw cacao, which is used to make chocolate. Cacao is an excellent source of magnesium, iron, copper, manganese and antioxidants. Choose vegan varieties with a higher cacao content (around 85-90%) that are low in sugar. Try Montezuma's 100% Cocoa Absolute Black range or Ombar's unroasted which both use only ethically grown cocoa. Enjoy a couple of squares mindfully and without distraction.
Available from Montezumas.co.uk
ChicP Carrot, Ginger & Turmeric Hummus
Another great option are crudités such as carrot sticks or red pepper with hummus. The ChicP hummus range – especially its carrot, ginger and turmeric hummus – provides a serving of plant protein and uses up surplus and imperfect vegetables that would otherwise go to waste. Keep an eye out on packets though, as shop-bought hummus can also be higher in sodium.
Available from ChicP.co.uk
Happy Snack Company Lightly Salted Chickpeas
These are rich in plant protein and will satisfy cravings. Roasted chickpeas are also high in fibre – I really rate the Happy Snack Company. 
Available from HappySnackCompany.co.uk
These are high in plant protein and fibre as they are made from lentil flour and green peas.
Available from Kallo.com
Native Snacks Sea Salt & Vinegar Popped Lotus Seeds
Popped lotus seeds are a great alternative to crisps. They are roasted rather than fried and are also suitable for those who are gluten free and vegan. 
Available from WeAreNativeSnacks.com
Itsu Crispy Seaweed Thins
If you're looking for a vegan-friendly iodine and B12 boost, try Itsu Crispy Seaweed Thins – though like most processed foods, they are higher in salt.
Available from Itsu.com
DISCLAIMER: We endeavour to always credit the correct original source of every image we use. If you think a credit may be incorrect, please contact us at info@sheerluxe.com.