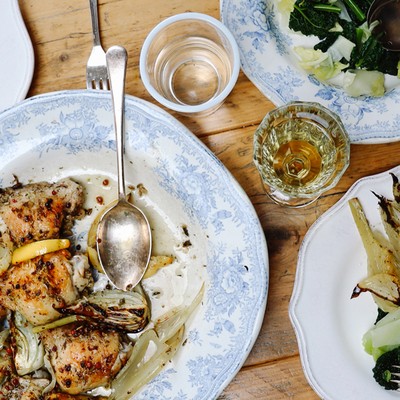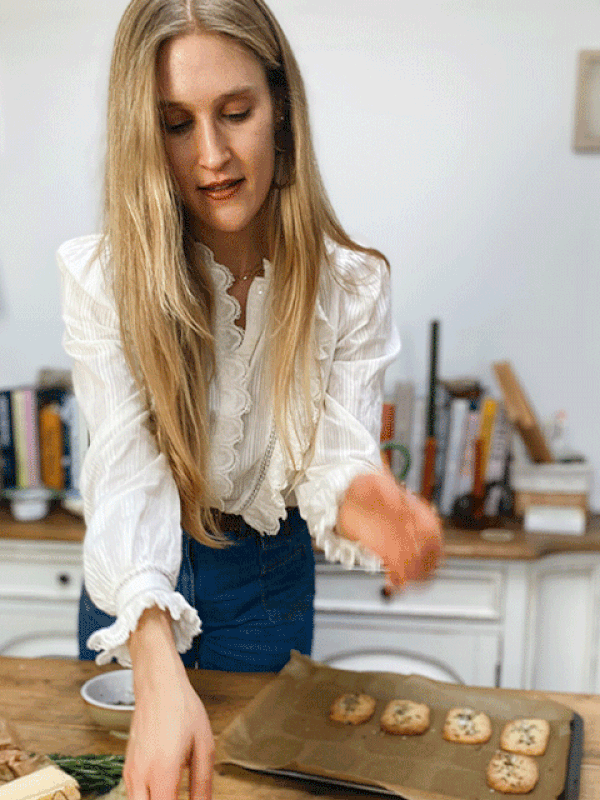 How To Entertain This Month – With Alexandra Dudley

Alexandra Dudley is a food columnist, cookbook author and host of the Come For Supper podcast. In this monthly column, she shares delicious recipes for chic entertaining. This time, it's an elevated chicken traybake – plus a simple yet showstopping lemon tart.

By Alexandra Dudley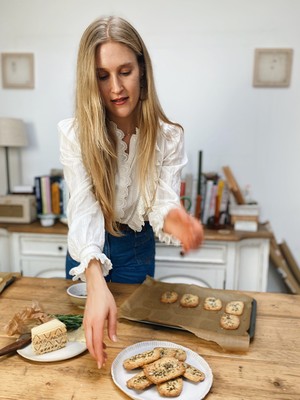 One of the most common complaints I receive from those who are hesitant to host a dinner party is that there's too much time spent cooking and not enough time partying. My answer, always, is that it's all in the preparation. No one wants to be frantically juggling pots in the kitchen while their guests sip on rosé in the next room. The best entertainers tend to keep things simple when cooking for many, and it's often the little things that make the difference. It could be including a particular notable ingredient (saffron, truffle, asparagus or burrata) or using a superb serving platter. But often the dinner parties that are most fondly remembered are those where the food is kept humble.
This menu is just that. The main course is what I often refer to as a 'throw it in the oven' dish. The chicken and fennel are baked together with a little white wine and seasoning until the chicken skin is crisp and golden, and the fennel is soft and slightly caramelised. Pink peppercorns are a bit of a star ingredient here and bring a good pop of flavour as well as colour to the dish, and the flavourful cooking juices are tossed through rice to serve alongside. 
The best entertainers tend to KEEP THINGS SIMPLE when cooking for many, and it's often the LITTLE THINGS that make the difference.
I've got into the habit of serving cocktails when guests arrive. It elevates the evening and can be a good time filler – especially useful if things are running behind backstage in the kitchen. I've suggested a lemon tart for pudding, a wonderful thing to serve any time of year, but especially as we enter spring. I like to make the pastry, but if you are short on time you can use shop bought. No one would ever know.  
A crisp citrusy white wine goes very well with this. I serve mine alongside a bottle of Beauvignac picpoul de pinet, which I ordered a while back from Williams House Wines – a great place to stock up on inexpensive, well-curated wines.
DISCOVER ALEXANDRA'S MENU…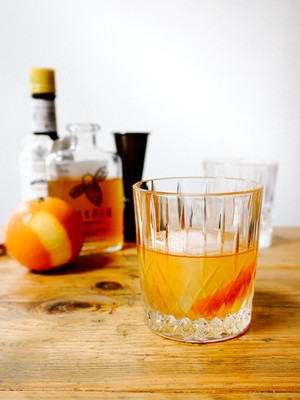 Honey Whisky Old Fashioned
I've been re-watching Madmen. It follows the charismatic and often chaotic Donald Draper as he navigates life at a top New York advertising agency in the 1960s. In almost every scene he is drinking an old fashioned and it's given me a newfound taste for this forever classic cocktail. Much like a martini, an old fashioned means business. Enjoy too many and you will pay for it. But I am fond of starting the evening with something enthusiastic, and the old fashioned is a wonderful choice (not least because it's a good one to return to as a nightcap once supper is over). To make this version, I use the British honey-infused whisky Beeble. Made with barrel-matured scotch blended with honey from Wiltshire hives, it has a beautifully smooth and rich taste with a delicious layered sweetness.
Ingredients
2

dashes of Angostura bitters
Method
Step 1
Add the bitters to the sugar and allow to dissolve into the sugar before muddling in a tumbler with a couple of dashes of water.

Step 2
Fill the tumbler with ice, add the whisky and stir gently a few times. Garnish with orange peel.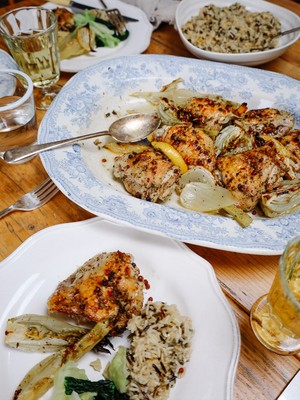 Crispy Baked Chicken With Fennel, Pink Peppercorns & Lemony Rice
This is a simple one-tray dish that is perfect for a dinner party. You can prep everything ahead of time and throw it into the oven 40 minutes ahead of sitting down. The fennel bakes together with the chicken meaning you've cooked the vegetables at the same time. I love to stir the flavourful cooking juices into some rice (I like this one) with a little of the roasted sweet lemon. It is delicious as it is, but some buttered greens are a lovely addition. 
Ingredients
8

-10

chicken thighs, on the bone, skin on
2

fennel bulbs, quartered
2

tsp

of pink peppercorns
1

lemon, cut into thin wedges
Rice to serve, allow

90g

per person
Method
Step 1
Combine the olive oil, oregano, fennel seeds, pink peppercorns, flaked sea salt, white wine, lemon wedges and lemon juice in a bowl. Add the chicken thighs and quartered fennel and toss well to combine. Allow everything to marinade for 30 minutes (or a few hours in the fridge if you have time).

Step 2
Preheat the oven to 220°C Fan.

Step 3
Transfer the everything to a large deep baking tray, arranging the chicken skin side up and ensuring the fennel and lemon pieces are spaced evenly.

Step 4
Cook for 35-40 minutes until the chicken is cooked and the skin has slightly crisped.

Step 5
While the chicken is in the oven, cook the rice according to packet instructions timing it so that it will be done as the chicken is cooked. Drain it 2 minutes before the advised cooking time and transfer it back to the saucepan with the lid on.

Step 6
Once the chicken has cooked, remove half of the roasted lemon and roughly chop it.

Step 7
Arrange the chicken, fennel and remaining lemon onto a serving tray. Drain a little of the fat off the remaining juices in the tray and pour the remaining liquid into the rice. Stir in the chopped lemon and cover the rice with a lid for a further 5 minutes to absorb some of the flavour. Taste to season.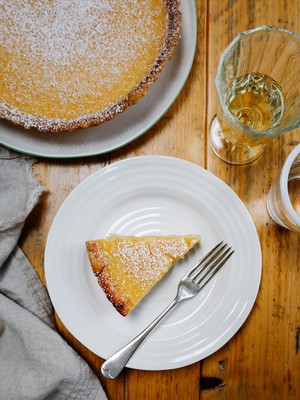 Lemon Tart
A classic lemon tart is a delicious, palate-cleansing pudding. The creamy and zesty filling is carried in a sweet, crisp shortcrust pastry. Make the pastry a day ahead of time if you like – you could make it up to two days before and keep it in the fridge. I find this tart is delicious just as it is, but you could serve it with a little loosely whipped cream. 
Ingredients
For the filling:

Zest of

5

lemons, juice of

4
Method
Step 1
To make the pastry, place the flour, butter and icing sugar into a food processor. Pulse briefly until the mixture resembles breadcrumbs, then add the egg. Pulse again until the mixture forms a pastry. Wrap in clingfilm and chill in the fridge for 30 minutes.

Step 2
Preheat the oven to 180°C Fan.

Step 3
Dust a surface with flour and roll out the pastry until about ½-cm thick.

Step 4
Roll the pastry back over the rolling pin to help lift it into a 23cm loose-bottomed fluted tart dish. Press the pastry into the edges of the tart dish, allowing any excess to hang over the sides. Prick the base lightly with a fork.

Step 5
Line the pastry with baking parchment, fill with baking beans or dry rice. Bake for 20 minutes. Then remove the parchment and baking beans and trim any excess pastry. The tart shell should be dried out. If any raw pastry remains, return it to the oven for 3-5 minutes. Allow the tart shell to cool slightly while you make the filling.

Step 6
Whisk the eggs in a bowl. Add the cream, sugar, lemon zest and juice and whisk again until combined.

Step 7
Bake for about 45 minutes or until just set but with a slight wobble in the centre.

Step 8
Allow the tart to cool, transfer to a plate and dust with a little icing sugar.

DISCLAIMER: We endeavour to always credit the correct original source of every image we use. If you think a credit may be incorrect, please contact us at info@sheerluxe.com.