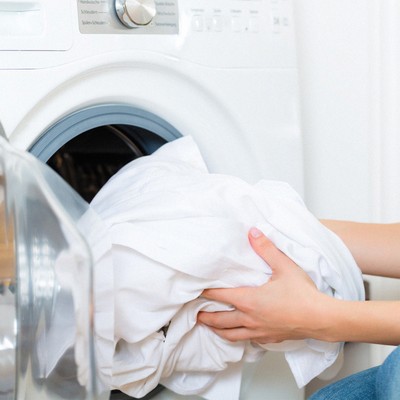 How To Remove Stains From Fabrics

Whether it's a make-up stain on a silk shirt or a wine spill on linen trousers, different spillages require individual attention and treatment. Knowing what makes a fabric unique is the first step, closely followed by how to wash them and how to safely remove stains so you don't make things worse…

All products on this page have been selected by our editorial team, however we may make commission on some products.
SILK 
What is it?
Silk is a natural protein fibre, composed mainly of something called fibroin. The best silk is obtained from the cocoons of the larvae of the mulberry silkworm, while its shimmering appearance is due to the triangular prism-like structure of the fibre. Silk has a smooth, soft texture that is not slippery, unlike many synthetic copycats, but loses 20% of its strength when wet. It also stretches easily, and is easily shrunk during dry cleaning – two things to be aware of when it comes to caring for your silk items. 
Washing instructions
The safest method for cleaning silk has to be handwashing. Start by filling a sink with lukewarm water before adding your chosen gentle detergent. Add the silk items to the water and let them soak for five minutes. Drain and refill the sink with fresh cold water and add some fabric softener – the gentler the better. Soak for another minute, then rinse under cold water until all the detergent and fabric softener is washed away. Gently squeeze the garment to press the water out, but do not wring it. Lay flat on a towel and roll it up to remove any excess water. Leave it flat to air dry, and never be tempted to tumble dry. 
How to remove stains
Treat the stain as soon as possible by gently blotting the marked area with a paper towel or a piece of clean cotton wool to draw as much of the mark out as possible. You can even make a gentle stain remover out of a couple of tablespoons of white vinegar or lemon juice, mixed with a couple of tablespoons of lukewarm water. Test the solution on a small area of the silk first, to ensure it's not bleaching the colour, before dabbing the stain using a clean cloth. Do not rub it. Then, wash the silk as indicated above. 
COTTON
What is it?
Cotton is a soft, fluffy fibre that grows in a boll, or protective case, around the seeds of cotton plants. The fibre is almost pure cellulose and is most often spun into yarn or thread, before being used to make a breathable and comfortable textile that's used for everything – from clothes to tablecloths. The most widely produced fabric in the world, it's especially known for its durability – which is good news when it comes to care instructions. 
Washing instructions
Cotton can usually be machine washed with very little fuss. If you're worried about it shrinking, keep the heat setting relatively low (around 30°C) and use a high-quality and gentle detergent, which should remove stains effectively even at lower temperatures. Dry on the line, or tumble dry on low. Cotton sheets and towels can be washed at 30°C or 40°C, but it's a good idea to wash them at 60°C to help kill off germs and bacteria. 
How to remove stains
For grease-based stains – which are most commonly caused by dropped food – pre-treat the mark as soon as possible. Dish soap works particularly well in this instance – go figure. Gently rub your chosen treatment into the stained area and leave for a few minutes. Then wash as normal. Use the hottest temperature recommended on the care label and the stain should come out easily. If there's still a mark, repeat the process.
CASHMERE
What is it?
Cashmere wool is a fibre obtained from cashmere goats, pashmina goats and some other breeds. Finer than sheep's wool, it has been used to make yarn, textiles and clothing for hundreds of years, which means, these days, fibres can be either raw, processed, virgin or recycled. It's also to common to find items which are a cashmere 'mix' – something that allows manufacturers to keep costs down by incorporating other, cheaper fabrics into the final item.  
Washing instructions
Check the fabric care label as, depending on the fibre blend or whether you're dealing with pure cashmere, the washing method will vary. If your garment is hand washable, wash in cold water at a temperature of no more than 30°C with a detergent specifically designed to wash wool or silk. Gently squeeze the water through the garment until it runs clear, but do not twist out the excess moisture. Items suitable for machine washing should be done so on a cold-water cycle using specific detergent and fabric softener, too. 
How to remove stains
If your cashmere item is tailored or structured – such as a blazer, coat, or suit – spot treat it first. Wet a stain bar and gently work into the affected area. Remove the soap and dirt using a wet lint-free cleaning cloth (dampen if needed) and repeat the process until the stain lifts out. Dry flat. For items that can be machine washed, pre-treat first with a stain solution before following the usual process. 
LEATHER
What is it?
Leather is a durable and flexible material created by tanning animal rawhide and skins. The most common raw material is cattle hide, which is used to create any number of items from footwear, car seats, clothing, bags and furniture. You'll find it naturally degrades over time unlike cheaper or synthetic alternatives. 
Washing instructions
Watch out – the vast array of finishes and effects makes leather (and suede) items difficult to wash without causing damage. As a general rule, if a leather item is labelled 'not washable' or 'dry clean only', don't wash or even spot treat it. Instead, to freshen up items between usage, try spritzing it with a fabric refresher and leave it to air dry.
How to remove stains
Leather stain remover is specifically formulated to remove a wide range of stains from any leather surface, without damaging the material. It is perfectly safe to use on all types of leather, with the exception of more absorbent varieties such as aniline or pull-up. Shake well before use, and apply a few drops on a sponge or a soft towel. Massage onto the leather surface, before wiping away any leftover residue. Leave to air dry. 
Always check the fabric care label, particularly since synthetic fabrics are generally combined with all kinds of other materials. Most can be machine washed on a warm setting, with a regular detergent and fabric conditioner.

LINEN
What is it?
Strong, absorbent and made from the fibres of a flax plant, linen is comfortable to wear in hot weather because it dries faster than cotton. It also has other distinctive characteristics – notably its tendency to wrinkle. While it might seem like a high-maintenance material, it's actually very easy to look after. You'll also find most canvas items are typically made from linen or cotton.
Washing instructions
Always check the fabric care label on the garment. Since linen can be blended with other fibres, each item might have different care requirements. Most linen items can be machine washed on cold, which will help protect the colours from dye transfer. Use a gentle fabric conditioner to help minimise wrinkling and do not tumble dry. Hang or lay flat to air dry instead. 
How to remove stains
Use a pre-treatment product first. Start by forming a paste with the powder by mixing a quarter of a scoop with three-quarters of warm or cold water. Rub the paste into the stain and leave for a maximum of five minutes. Then, wash with your regular detergent, following the garment washing instructions, with an additional scoop of powder added to the washing machine. 
VELVET
What is it?
Velvet is a type of tufted fabric with a short dense pile, which gives it that distinctive soft feel. It's also woven on a special loom that weaves two thicknesses of the material at the same time. Because it's usually made up of a combination of different fibres – anything from silk to cotton, rayon to wool – it can be difficult to know how best to care for it. 
Washing Instructions
Some velvet items are not washable, so it's best to spot treat these items only. For items that can be hand-washed, pre-soak the item for 30 minutes in cool water mixed with a quarter of a cup of scented vinegar. From there, add a squirt of delicate detergent to a sink filled with cool water. Submerge the item and gently move the water around with your hands to evenly distribute the soap. Soak for another 30 minutes. Rinse by running the item under water until the water runs clear. Do not wring; instead, press the water out of the item. Leave to air dry. 
How to remove stains
Gel-based stain removers such as this are best when it comes to treating velvet items. Pour a pea-sized amount of the gel directly onto the stain and gently rub in. Leave it for a maximum of ten minutes, before washing as usual, making sure to pour a cap full of the gel into your washing machine, along with your regular detergent.
SYNTHETIC 
What is it?
This term can refer to any number of fabrics – including, but not limited to, acrylic, polyester, nylon and rayon. All of these fabrics tend to make up a blend of fibres in a particular garment, to make them more affordable and durable. As such, each can be treated roughly the same – just take care to check the percentages for a rough indication.  
Washing instructions
Always check the fabric care label, particularly since synthetic fabrics are generally combined with all kinds of other materials. Most can be machine washed on a warm setting, with a regular detergent and fabric conditioner. They can also be tumble dried on a cool setting without shrinking. To avoid wrinkles and static, remove garments from the tumble dryer while slightly damp and hand or lay out to dry off fully.
How to remove stains
Many synthetic fabrics show up oil and grease-based stains badly because they can be highly absorbent. The good news is it's quite easy to remove them. Pre-treat any stains beforehand, using a powder-based product. From there, wash as normal, repeating the process if the stain doesn't budge. 
The laundry and stain removal items to have on hand…
DISCLAIMER: We endeavour to always credit the correct original source of every image we use. If you think a credit may be incorrect, please contact us at info@sheerluxe.com.