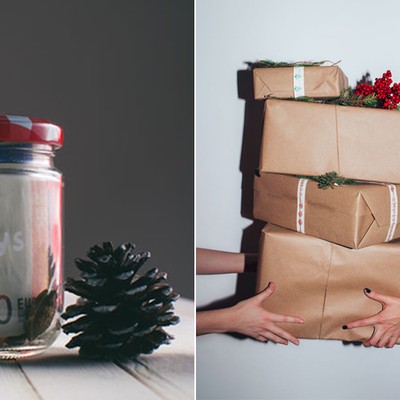 How To Start Saving For Christmas Now

We hate to break it to you, but there are only ten weeks to go until Christmas. In the grand scheme of things, there's really not long left to start saving for all the things we love Christmas for, like food, presents and spending time with family. So how do you enjoy all the fun of the festive period and not be left in debt come the new year? We've rounded up the best money-saving tips out there…

Set A Budget 
First things first: you need to establish your spending limit. According to The Money Advice Service, the average Christmas spend per household is roughly £500, which covers food, presents, travel and decorations. When you start planning your spending limit for Christmas, they advise making a list of family and friends you will be buying presents for and allocate an amount for each person. Furthermore, if you're hosting dinner, then consider how many people you have coming over and thus how much you will need to spend on food and drink per head. From there, you'll be able to work out how much money you'll need to put away each month/week until Christmas.  
Remember Every Little Helps 
As we don't have long to go until the big day, it's important to remember that every little helps. If you can only afford to put away £10 a week, don't panic – just remember that every scrap of cash will be beneficial to your final amount. If you've just bought a sandwich and have £1 floating around in your coat pocket, save it. If you've found 50p down the side of the sofa and 20p on the coffee table, save it – it all adds up. The Money Advice Service say you should put spare change into a jar and if it works for you this year, try it on a more regular basis next year. Most banks have a coin machine that, once you've filled the jar, will sort all your shrapnel, which you can then put into your bank account or take home in note form.  
Book Travel In Advance 
Most millennials head home to spend time with their family over the Christmas period, so save some money by booking your train tickets in advance. As Jenny Keefe, lead writer at Money Saving Expert points out, rail operators generally let you book your tickets 10-12 weeks ahead of time, and it works out far cheaper – TheTrainline.com say the cheapest 'in-advance' tickets can be almost 92% (or £150) cheaper on some routes compared to walk-up fares on the day. The company found an Advance single ticket from London to Manchester costs £12.50 now, compared to £160.50 if bought at the station on the day, and travelling from Bristol to London for £15 instead of £96.50. 
Don't Buy More Food Than You Need To 
Christmas is the time of year where it's socially acceptable to over-indulge on all your favourite guilty pleasures. Unfortunately, it is entirely possible to buy too much food, no matter what people say. To ensure you don't waste any fare you buy this year, Love Food Hate Waste and Global Citizen have some great tips for making the most of your Christmas dinner.  
Brave Black Friday 
If you're worried you're going to be a bit short on cash but still want to get something great for your mum, then – as scarred as we all are from watching normally decent human beings fighting to the death over a toaster – it might be worth braving the crowds on Black Friday (23rd November) to find a bargain. Just be sure to do your research – know exactly what you want and who you want it for to avoid wasting time. But if battling it out in John Lewis doesn't sound like your cup of tea, then simply do your Christmas shopping online from the comfort of your sofa on Cyber Monday (26th November). 
Get Prepared Now 
One might think it's a little late in the year to start feeling prepared for the festive season – but on the contrary, there are ways to feel ready even this late in the game. The Money Advice Service suggest starting some new Christmas traditions this year: for example, start buying Christmas presents now instead of in December to help spread costs and reduce panic.  
Think about little things likes stamps – you could always send e-cards this Christmas, but if you're more of a traditionalist, sending your cards a little earlier using a second-class stamp could make things a bit cheaper.  
Also think about having an autumn clean – not only will this clear space in your home, but once you've set aside the things you no longer want, such as clothes and shoes, you can sell them online for a bit of extra cash. Christmas, sorted. 
DISCLAIMER: We endeavour to always credit the correct original source of every image we use. If you think a credit may be incorrect, please contact us at info@sheerluxe.com.