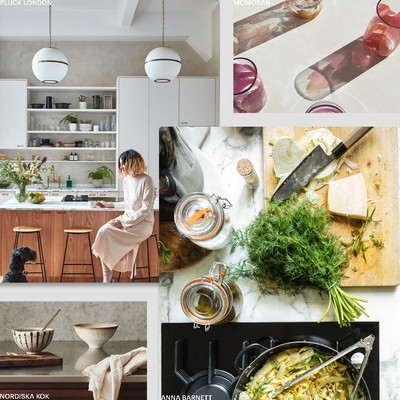 Inside My Kitchen: Anna Barnett

Inimitably cool chef Anna Barnett has published two cookbooks and contributed food columns to both Vogue and Grazia. Now, to tie in with the launch of series two of The Filling – the podcast where she interviews everyone from Angela Hartnett to Jemma Kidd about their lives and careers through the lens of food – she invites us into her kitchen to share her cooking must-haves, tell us how her kitchen renovation is going, and reveal her secrets to entertaining in style…

All products on this page have been selected by our editorial team, however we may make commission on some products.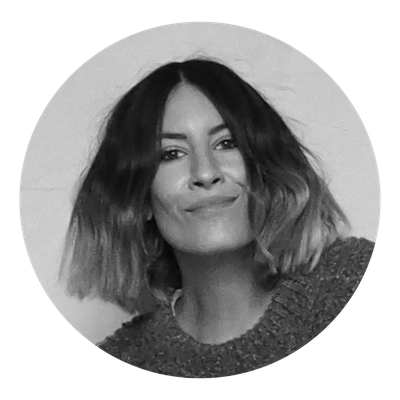 My current kitchen is a bit of a work in progress. We've just moved house, leaving our fairly newly renovated dream kitchen behind. We're now in the process of planning our renovations, starting with the kitchen. A very sociably sized island is essential and is what we miss most.
When it comes to inspiration, there's an incredible Swedish company called Nordiska Kök whose designs feel fresh and unique.
My previous kitchen was in our apartment within an old converted school – it had double-height ceilings and was completely open plan, so the kitchen was very much part of the lounge and dining room. The space was bright, open, roomy and perfect for hosting. The island felt like the biggest extravagance as it was pretty large – over 2.5m long – and was the centre of our home. We used an arabascato bluetta marble with our hob tops cut into it. 
Last time, we played it pretty safe with neutral-coloured cabinets and open shelves. This time around we're going to mix it up a little, and bring in some colour with more vibrant stone for the worktop and possibly mix both painted and wooden cabinet doors.
When it comes to renovation inspiration, I'm constantly reading magazines and following a heap of interiors accounts online – I'm drawn to so many aesthetics so sometimes it can be hard to choose which direction to take. This time around I'm working with a friend of mine who's a brilliant interior designer – Laura Lakin Design – as I wanted some help bringing all the ideas together and making them work cohesively. She has an amazing eye for both modern and more classical interiors, so it felt like the perfect fit.
When designing your own kitchen, avoid white lighting. Add warm strip lighting under shelves and in cabinets. I'm also a fan of having a lamp of two in the kitchen. It's all about the mood.
I love Momosan for chic kitchenware, a small independent shop which specialises in Japanese ceramics and homeware. Borough Kitchen also has an amazing selection of pots, pans, knives and pretty much anything kitchen-related you can think of.
When it comes to tableware, The Conran Shop is great for plates, and Serax does some gorgeous, very delicate – but beautifully designed – glassware. I love a dirty vodka martini made with Grey Goose or a picante, served in a super nice tumbler. As for cookware, I've got a collection of black Staub cast-iron pots and pans which I love and use daily. 
My three must-have utensils are a Microplane – perfect for grating everything from cheese to chocolate as well as zesting citrus. I also love a good peeler. Not just for peeling spuds, I use my peeler to prep vegetables for salads and shave cheese with. And finally, a great and always-sharp knife. Kitchen Provisions in Stoke Newington is another great kitchen shop – I have a such a great selection of knives from there.
I've recently added a Sage worktop pizza oven to my collection of gadgets, and it's been pretty exciting. It replicates the stone oven process and produces perfect pizza in two minutes flat, which is pretty great. I'm currently very much enjoying the combination of kimchi, taleggio, white onion and coriander, although my go-to toppings are usually San Marzano tomatoes, anchovies, capers and olives – and I'd probably add in some mozzarella too for good measure. I also can't live without my pasta machine: I love making tortellini – confit garlic and ricotta is a favourite filling. And my Kenwood mixer is also regularly in use. 
My most-used ingredients in the kitchen have to be Cornish sea salt flakes and my pepper mill. But I also couldn't live without chilli oil. I love a cold-pressed rapeseed oil, which is great for salads and garnishing with its vibrant yellow hue. I always have an extra-large bottle of good-quality extra virgin olive oil on the go too. I'm currently very much enjoying both Ottobratica extra virgin olive oil, which was cold pressed in November and bought from Pavilion and also the Tenuta Fertuna Tuscan olive oil bottled for Angela Hartnett. As for spices, my most reached for are probably ground coriander, cardamom, dried oregano and white pepper.
I love to do most of my food shopping at the local grocers. It has big bunches of fresh herbs and salad leaves which aren't wrapped in plastic, plus a really great selection of fresh fruit and veg. We're just about to hit jersey royal season. I'm a big fan of delicious new potatoes, drowned in melted raclette and served with cornichons and plenty of sea salt.
When it comes to renovation inspiration, I'm constantly reading magazines and following a heap of interiors accounts online – I'm drawn to so many aesthetics so sometimes it can be hard to choose which direction to take.
When it comes to renovation inspiration, I'm constantly reading magazines and following a heap of interiors accounts online – I'm drawn to so many aesthetics so sometimes it can be hard to choose which direction to take.
If I'm entertaining at home, I'll serve homemade ravioli or some kind of freshly made pasta dish or a big Mexican feast with homemade tortillas, loads of different dips, fillings, slaw, charred peppers, salsa, guacamole… a feast you can graze on throughout the night. 
The secret to hosting a good dinner party is preparation. I always aim to get as much prepped and cooked beforehand as possible. At the very least, the canapés and dessert will always be completely ready and the starters will require minimum effort to pull together. I'm always keen to make sure I can enjoy the party too! I love serving the main course in big sharing pots or platters so guests can help themselves family style. It saves time on plating up and people can serve as little or as much as they choose. 
The best party I've ever thrown was a series of Christmas supper clubs in the old converted pub I lived in. They comprised of four courses, over 60 covers a night and complete chaos, which would end in carols being sung around the piano. One of the most delicious dishes was the Christmas pudding crème brûlée or the gruyere molten whole baked onions.
My go-to midweek meal has to be Asian-style broth laced with garlic and ginger, smoked tofu plus whatever greens I have to hand and plenty of garnishes – chilli, spring onion, coriander, chilli oil and crispy shallots are always close to hand.
My idea of a perfect Sunday lunch sways between a great pork belly with the crunchiest skin or a lamb with mint sauce. Although I'm also quite partial to a vegetarian wellington if it's laced with cheese sauce. All of the above must be accompanied by a large Yorkshire pudding and plenty of gravy.
Like everyone, I've done so much cooking in lockdown. I made a lot of Asian dumplings to begin with and plenty of pasta dishes. Lately it has to be pizzas – the aforementioned Sage worktop pizza oven has really upped our pizza game. No more fried and grilled pizzas for us!
More often than not, I'll start the day with extra-thick Greek yogurt, nut butter, seeds and fruit. At the weekend, I do love a shakshuka with fresh hunks of buttered sourdough on the weekend.
We've tried plenty of meal kits over the last year. Our favourite was probably from Kolamba via Restokit which was simple to prep, super varied with lots of dishes and great value. The La Goccia one from Petersham Nurseries was also amazing with so many nice bits and pieces.
My secret for a smooth-running, stress-free kitchen is to make sure you're well stocked. Buy in bulk where you can, if you have the space, so you're not constantly at the end of the soy sauce or olive oil. I also like to use a bowl to scrape all my mess into when prepping for a dish or a meal, so my worktop stays tidy and organised.
Inspired? Shop Anna's product picks below…
DISCLAIMER: We endeavour to always credit the correct original source of every image we use. If you think a credit may be incorrect, please contact us at info@sheerluxe.com.