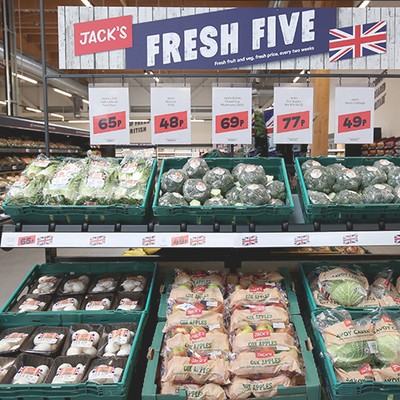 Meet Jack's: Tesco's Secret Supermarket Weapon

Newspapers have been abuzz with rumours about Tesco's new spin-off project; allegedly its masterplan to defeat discount rivals, Aldi and Lidl. With the store launching today, customers will finally get to see what all the fuss is about – and whether Jack's really does offer a good alternative to our money saving favourites.

What is Jack's?
Last week, Tesco announced it had some "exciting news" – the supermarket was to launch a new chain: Jack's. Whilst the name isn't exactly thrilling, its origins stem from Tesco founder Jack Cohen, who launched the store almost a century ago. Famed for his "pile it high, sell it cheap" attitude to retail, "Slasher Jack's" approach seems to be back in vogue; Tesco chief executive Dave Lewis describing the new value store as offering "the lowest possible prices".
So secretive was the build-up to Jack's opening, that new employees were even made to sign confidentiality agreements. With the supermarket finally open in two locations, Chatteris in Cambridgeshire, and Immingham, Lincolnshire, it's game on for new customers. And if you thought the location counted you out then think again: Tesco is planning to open up to 15 Jack's across the UK over the next six months, half of them replacing its existing Tesco outlets.
Inside, Jack's appears strikingly similar to your average Aldi store, including its "when it's gone, it's gone" aisle of one-off special offers – a concept imported from the German supermarket.
 

Why is it launching?
Aldi first arrived in the UK in 1990, and Lidl in 1994 – so the cut-price supermarkets aren't a new phenomenon. However, their popularity has been rapidly gathering pace, the last five years seeing the pair double their UK market share taking it to a significant 13.1%. And in the dog-eat-dog world of grocery selling, Tesco has been forced to hit back, offering up Jack's as their weapon. The company has even nabbed former Aldi boss Lawrence Harvey to run the new chain. The UK's standard supermarkets – Tesco, Sainsbury's and Asda – have all taken a serious hit from the threat of discount stores, forced to slash costs and shut down multiple locations. Whilst Tesco is still leading the way with a market share of 27.4%, it can't ignore the growing challenge of its cheaper alternatives and Jack's is a clear attempt to stem the tide of customers abandoning traditional supermarkets for the bright lights of Aldi and Lidl's cheap fruit and veg, miscellaneous homewares and lookalike brands.
 

Is it worth a visit?
If you're looking for prices to rival your local Lidl you won't be disappointed. Cupboard essentials are as cheap as they come, with Jack's offering up own-brand white bread for 45p, cornflakes for 55p, and teabags for 85p. Much like Aldi and Lidl, Jack's will be dominated by own brand products – although it has reassured customers favourites from big brands like Nestlé and Cadbury will still be available. If you're looking for variety, however, mainstream supermarkets are likely to remain your go-to. While your average Tesco superstore stocks around 25,000 products, Jack's will be home to a modest 2,600.
Despite a smaller repertoire, the store will feature cutting-edge shopping tech – with customers able to scan their groceries and pay through a mobile app. On top of this, Tesco has not been afraid to play up its long history with British shoppers. Where Jack's stands out from its European alternatives is in its British produce, announcing 80% of its goods will be UK-grown or made. Given that consumers have become increasingly keen to support home-grown industries – and to know where their food is coming from – Jack's, with 15 more stores due to open across the UK over the next six months, could be on to a winner.
DISCLAIMER: We endeavour to always credit the correct original source of every image we use. If you think a credit may be incorrect, please contact us at info@sheerluxe.com.