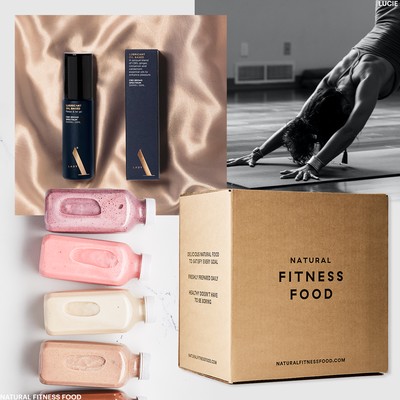 This Month's Health & Fitness List

From the studio launch everyone's talking about to the food delivery company making healthy eating easy, here's what you need to know about in the world of health and wellbeing this August…

1Rebel
If you're craving a boutique fitness fix, head down to workout behemoth 1Rebel's latest outpost in Oxford Circus. A two-minute walk from the station, the new space offers two of the studio's core concepts – Reshape and Rumble. Reshape, a boxing-inspired class that incorporates speed, footwork and strength, will kickstart fitness levels, while the run-focused Reshape is a combination of treadmill work and weight circuits. Both classes feature bespoke playlists curated by in-house DJs and certain sessions feature live entertainment. After a year of working out in your living room, 1Rebel's latest studio is the place to be seen. 
Visit 1Rebel.com
Aromatherapy Associates
If you still haven't invested in an electronic diffuser, Aromatherapy Associate's Atomiser gets our vote. Unlike other diffusers, it works without water or heat, using clever technology to disperse a micro-fine mist directly from your favourite essential oil, bringing instant spa-like vibes to your home. The chic ceramic diffuser, which emits a soft halo of light when in use, is charged via a USB and is fully portable, meaning you can move it around your home as and when you please. We also love the clever boost function, which instantly fills your entire space in just 30 minutes – ideal for those moments when stress levels skyrocket. 
Visit AromatherapyAssociates.com
Casa Cura
There's green tea, and then there's matcha. Brilliantly green and fragrant, the nutrient-rich powdered tea has been prized for centuries. Matcha provides a hefty dose of the chemical l-theanine that, coupled with a modest amount of caffeine, boosts focus, concentration and memory. The calming effect also helps take the edge off, guaranteeing an instant mood boost. Casa Cura's matcha is made in small batches, is organic and ethically sourced. Plus, just one cup of its matcha is equal to drinking ten cups of brewed tea, meaning your body can benefit from 137 times the antioxidants – enough said. 
Visit CasaCuraOfficial.com
Dr Giles Yeo
One to bookmark for your next walk, geneticist Dr Giles Yeo's new podcast is made for wellness enthusiasts. With nearly 20 years of experience studying obesity and the brain control of food intake, Dr Yeo lives and breathes all things health. In the podcast, he sits down with fellow foodies, scientists and doctors to delve into topics such as how the food you eat affects your brain; the role genes play in influencing what you eat; how fat cells are affected by your genes; and why people who are physically active are better at regulating their appetite. The episode with Lisa and Alana Macfarlane on gut health is particularly insightful.  
Visit Podcasts.Apple.com
Herban Essentials
Frequent hand sanitising is a habit many of us will stick with, so it pays to use a formula that's both luxe and moisturising, ensuring you stay germ-free without damaging the delicate skin on your hands. Enter Herban Essentials, whose chic, individually wrapped wipes are soaked in sweet-smelling essential oils, making them antibacterial, antiseptic and all-natural. Keep them in your bag as hand wipes when on-the-go, use them to wipe down gym equipment when working out, or in your carry-on when travelling.
Visit Goop.com
DIRTEA
Medicinal mushrooms are the next big thing in the wellness world, prized for their ability to balance the immune system and boost everything from energy levels to sleep and libido. Making getting your daily dose entirely fool proof, DIRTEA's mushrooms teas can be added to hot water, your coffee or a smoothie. For better memory, focus and digestion, try the Lion's Mane tea, while those looking to de-stress for a better night's sleep should try the Reishi blend. Providing slow-release energy, suitable for vegans and free from sugar and calories, DIRTEA is the ultimate addition to your morning routine. 
Visit DIRTEAWorld.com
Lady A
You may turn to CBD for its stress-busting benefits, but it also increases blood flow, reduces anxiety and offers natural slip, making it the perfect addition to a lubricant. Lady A's Oil-Based Lubricant, which features a dose of CBD alongside warming ginger, cinnamon and cardamom essential oils, has been designed to help sex feel better and enhance pleasure and intimacy. 
Visit LadyA.Health
Your Zooki 
Leading the way when it comes to liposomal vitamins – i.e., liquid formulas that bypass the stomach and go straight to the bloodstream, making them more effective – is Your Zooki. And the brand's latest launch, Vitamin D, is the supplement to stock up on. With recent studies showing vitamin D can support a healthy immune system, it's more important than ever to keep your levels topped up. Each serving of these berry-flavoured sachets provides 3000IU of plant-based vitamin D as well as vitamin K2 to support a healthier body. Enjoy straight from the sachet or add to smoothies, water, yoghurt or porridge.
Visit YourZooki.com
Lucie App
Salons and gyms may be opening their doors once again, but if you prefer to do things from the comfort of your home, Lucie is the platform to know. For the first time ever, the app brings together the biggest names in beauty, wellness and fitness from which you can book services directly to your door. Refresh your look with a full head of highlights with Daniel Galvin, get your heart rate soaring with a 1:1 boxing session, sign up for a vitamin infusion or consider a PRP facial with renowned expert Dr Rabia Malik. Treatments are available across the capital and selected treatments in The Cotswolds.
Visit LucieApp.co.uk
Natural Fitness Food 
When it comes to healthy eating, meal prep is one of those things you know you should be doing, but the reality of cooking endless quinoa and tofu traybakes soon wears thing. Fortunately, Natural Fitness Food can do the hard work for you. Either build your own menu for the day or select one of the Set Day Plans – all dishes are created by nutritionists and freshly made each morning. Each day's worth of food comes with two meals and two snacks, all of which are ready-to-eat and if you order by midday, your food will arrive by 7am two working days later. 
Visit NaturalFitnessFood.com
DISCLAIMER: Features published by SheerLuxe are not intended to treat, diagnose, cure or prevent any disease. Always seek the advice of your GP or another qualified healthcare provider for any questions you have regarding a medical condition, and before undertaking any diet, exercise or other health-related programme.
DISCLAIMER: We endeavour to always credit the correct original source of every image we use. If you think a credit may be incorrect, please contact us at info@sheerluxe.com.