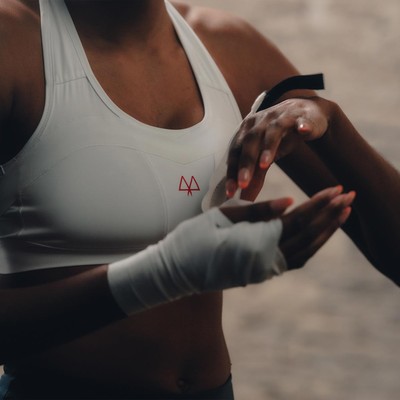 This Month's Health & Fitness List

From high-tech sports bras to smart boxing accessories, here's what you need to know about in the world of health and wellbeing this January…

BOXX
Dubbed the Peloton of boxing, Boxx has launched the fitness world's first smart boxing bag and smart trackers. The ultimate addition to your home gym, the trackers will help you set targets and stay motivated, while the boxing bag will help you get more out of Boxx's sessions. Available in four colourways in a choice of two fabrics (we love the muted pink), the bag is compact and easy to move, while the trackers sync with the Boxx app to enable you to track the speed, power and direction of every punch. You can see your metrics live in class or choose to join a class with a live leaderboard.
Visit BoxxLdn.com
Hannah Barrett
If you're looking to make self-care a priority this year, keep Hannah Barrett on your radar. Hannah discovered yoga during her journey into motherhood. Fast-forward several years and she's now one of the UK's leading online yoga and meditation teachers, helping thousands of people through her bestselling app, workshops and virtual sessions. Whether you're new to yoga or a seasoned pro, sign up for one of the challenges on the app (ranging from four to six weeks) or get involved with her new book – Yoga Happy is a collection of breathing techniques, meditations and proven mindful practices to nourish mind and body.
Visit HannahBarrettYoga.com
Maaree
Frustrated that she could never find a sports bra that could suppress the upward bounce, Mari Thomas designed one herself. Maaree's signature sports bra features a clever overband – a curved panel that runs over the top of the breasts – that's anchored, via adjustable side straps, to a wide underband to provide unparalleled support when exercising. Try the Solidarity bra for running and HIIT (it comes in sizes 30C to 38G) while the Empower bra is ideal for cycling, circuit training and Pilates. 
Visit Maaree.com
Hair Zooki
Your Zooki's liposomal supplements are a permanent feature in the SL office, and its latest product is one to try. Concentrated with biotin, zinc and selenium, Hair Zooki's science-backed formula will support and promote hair growth and nourishment from the deepest levels. It's all down to some first-of-their-kind liquid formulas, which deliver nutrients directly into your system so they can get to work where they're needed. Take directly from the sachet or add to drinks and food for a burst of flavour.
Visit YourZooki.com
FS8
If you're a fan of F45's heart-raising HIIT classes, you'll love its latest concept. FS8 is a low-impact workout that combines the best elements of Pilates, yoga and resistance training. Using stretch and tone movements rather than heavy weights and explosive movements, the 45-minute classes fuse the Pilates reformer with mat work, light dumbbells, bands and rings. A studio will be opening near Oxford Circus in February – you heard it here first.
Visit FS8.com
The Science Of Nutrition
Are superfoods all they're cracked up to be? Is a vegan diet really healthier? These are just some of the questions nutritionist Rhiannon Lambert unpicks in her latest book, The Science of Nutrition. One of the most informative nutrition books we've seen, Rhiannon's easily digestible and evidence-based advice cuts through the noise to help you make better food choices. From gut bacteria to weight management and immune support to intermittent fasting, she leaves no stone unturned. 
Visit Rhitrition.com
Lucy Miller
If your healthy eating habits have fallen by the wayside recently, sign up to SL fave Lucy Miller's January detox. A ten-day programme that can be done at a time to suit you, Lucy's method is designed to help you restart, rebalance and re-energise. Proving that the best detoxes aren't restrictive or unsustainable, there are recipes, shopping lists, breathwork, mindfulness, meditation and Pilates videos as well as supplement advice and more. Whether you missed out on SL's collaboration with Lucy or are keen to give the detox another go, sign up today. 
Visit LucyMillerNutrition.com
Omnos
Optimise your health with Omnos's finger-prick blood tests, which have been designed to give you targeted insights into your body. With tests for every aspect of your health – from hormones to toxins and your gut – you'll remove the guesswork when it comes to improving your health. The Omnos team will provide personalised recommendations across nutrition, lifestyle and fitness, and are on hand 24/7 should you have any questions or concerns about your results. We've got our eye on the Microbiome test, which will give you a clearer picture of your gut health and digestion, detect yeasts and parasites, and provide actionable recommendations.
Visit Omnos.me
Bamford
Made for lazy weekends at home, Bamford's new wellness collection features stylish layering pieces all made with 100% organic, super-soft cotton. The navy, white and taupe colour palette will blend seamlessly with the rest of your workout wardrobe – we love the wide leg pants for a yin yoga session, while the feather-light t-shirts and tank tops are the perfect accompaniment to your favourite Pilates class.
Visit Bamford.com
WelleCo
Elle Macpherson's supplement brand is known for its results-driven formulas, and the latest addition to the collection is no exception. Infused with sustainably sourced marine collagen peptides, vitamin C, hyaluronic acid and digestive enzymes, The Collagen Elixir will nourish the skin from within for a lit-from-within glow. One of the most potent collagen powders on the market, it's also unflavoured, meaning it can be added seamlessly to hot or cold drinks and is free from sugar, artificial colours, gluten and dairy. Expect to see, and feel, the difference after just eight weeks. 
Visit WelleCo.co.uk
DISCLAIMER: Features published by SheerLuxe are not intended to treat, diagnose, cure or prevent any disease. Always seek the advice of your GP or another qualified healthcare provider for any questions you have regarding a medical condition, and before undertaking any diet, exercise or other health-related programme.
DISCLAIMER: We endeavour to always credit the correct original source of every image we use. If you think a credit may be incorrect, please contact us at info@sheerluxe.com.