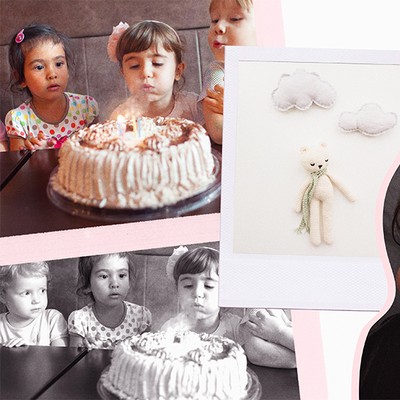 The Mum Edit: Knowing Me, Knowing You

Writer, interviewer and editor Helen Whitaker knows the real struggles of being a parent – in fact, she's written a whole book about it. Here, in her column for SheerLuxe, she talks about her infant son having a better social life than her...

I moved to Walthamstow in the summer of the 2012 Olympics. I bought my first flat and – after years of renting in different areas of London, and never being anywhere longer than a couple of years – I was finally going to put down some roots. I had my own front door, which meant at age 32 I could stop using my parents' house as my 'proper' address because my mail wouldn't get subsumed by a towering hallway pile that spanned the correspondence of every rental resident in the building from the last decade. Sure, at that point my chosen area usually elicited the response: "Where? The end of the Victoria Line?", but it was my own flat! (Now that Walthamstow property prices have gone nuts I have been deemed savvy and forward thinking, but I assure you I am neither, it was simply where I could afford at the time.)
I was also looking forward to becoming part of a community and knowing my neighbours. (Also, knowing stuff about my neighbours. I grew up in a medium-sized town in Derbyshire and my life had been missing the drama/gossip of watching people going about their routines in plain sight. Yes, I am nosy.) My best friend moved into the spare room, so that was one local friend sorted, and then we gradually got to know the area and people nearby. By the time I knew when the good fish and chip shop held its annual summer hiatus, I was on nodding terms with a decent number of people. I considered myself part of things.
Cut to four years later: the best friend has moved out, my boyfriend-turned-husband has moved in and we have a six-month-old baby. It's only now, during the long months of maternity leave, that I feel I am part of things. Partly because my child's aversion to napping anywhere but in a moving pram means I'm covering many miles a day – Walthamstow Marshes, Walthamstow Village, the seemingly infinite number of Costas along the High Street, I haunt them all with my Bugaboo.
Like a classic nosy neighbour, I register and seize on any small change in the houses/people/routines of those along my route, before telling my husband all about it (people he has never spoken to, met, or seen) when he comes home from work. I am constantly looking for baby-friendly things to do and so I know about every playgroup, coffee morning and charity sale in a three-mile radius. And I will talk to anyone – although sleep deprivation prevents me from remembering who to or what about.
I am constantly looking for baby-friendly things to do and so I know about every playgroup, coffee morning and charity sale in a three-mile radius. And I will talk to anyone."

Cut to 2019 and the revelation that I am not part of things, but instead part of the Walthamstow furniture. It is, in fact, my toddler son who is part of things. Now when I'm out – either with him or alone – I constantly see people that I know. At the tube station in the mornings, in Sainsbury's at the weekend. It's usually only after I say hello that I realise that I only know them through him. It makes me a little melancholy to think about how there's now a whole world at pre-school where he exists in a social eco-system that is separate from us.
But more crucially, I don't know these adults' names beyond "so-and-so's mummy/daddy" and if they're on their own, I'm desperately trying to remember which child is theirs. The slightly panicked reciprocal looks in their eye tells me they're thinking the same thing about me. It's easier if we're with our children in a park situation, but even if we swap names, I've often forgotten it by the time I see them again. My husband and I have taken to calling most people as "Mr or Mrs [insert name of their child here]".
But as my son prepares to turn three, a stroke of luck: he's started being invited to birthday parties and if you rsvp via Whatsapp, it comes with the lifesaving 'Maybe' name suggestion. Which means not only do we get to watch my son's social life flourish, but we have a hope in hell of making friends with the fellow parents when we go to the party – or at least getting their name right, which is a good start.
You can follow Helen on Instagram and Twitter at @itshelenwhitaker and @helbobwhitaker respectively. Helen's debut novel, The School Run, about the comic lengths parents will go to for a school place, is out in August 2019. 
DISCLAIMER: We endeavour to always credit the correct original source of every image we use. If you think a credit may be incorrect, please contact us at info@sheerluxe.com.