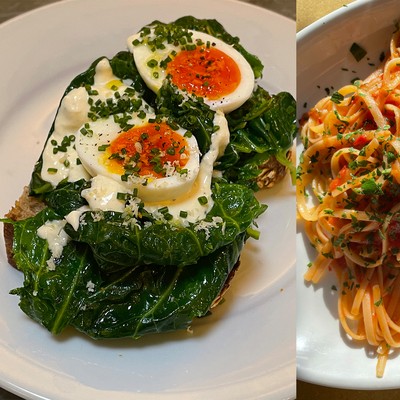 My Week On A Plate: Alex Hely-Hutchinson

Taking inspiration from Nordic cooking and the Danish ethos of hygge, Alex Hely-Hutchinson's 26 Grains started life as a pop-up in Old Street station in 2014. A cult following on Instagram soon led to a permanent site in Neal's Yard, followed by the opening of Stoney Street, an ingredients-led restaurant in Borough Market in 2020. Here, Alex shares her weekly food diary…

MONDAY
Breakfast: It may sound odd, but I'm always full of energy on a Monday morning. Inevitably, the house descends into chaos throughout the week, but I enjoy the sense of order that a Monday brings. I'd been craving the combination of sweet bananas with salty, savoury peanut butter a lot, so I made some toast, which I topped with peanut butter, sliced banana, honey and a pinch of sea salt. I washed it down with a cup of ginger tea (a staple in our house) followed by a cup of black coffee.
 
Lunch: I love a salad for lunch on a Monday – not only is it a great way to use up ingredients lurking at the back of the fridge, but it feels virtuous, too. Today it was a mix of tuna, celery, cottage cheese, sunflower seeds, a quinoa mix, and a delicious vinaigrette I made the week before. As a rule, leaves, herbs, nuts, seeds and a mix of vegetables is the perfect formula. 
 
Supper: I recently bought an Instant Pot, which I used for the first time this evening. It's essentially a pressure cooker that works by sealing in steam with a special lid. This increases the pressure inside the pan and makes the internal temperature rise above boiling point, meaning cooking times become shorter and ingredients soften rapidly. Tonight, I threw in green beans, tomatoes, onions and capers and the result was a delicious stew which I topped with lots of parmesan.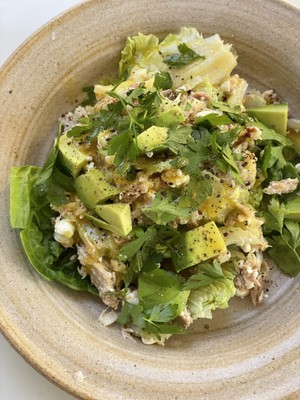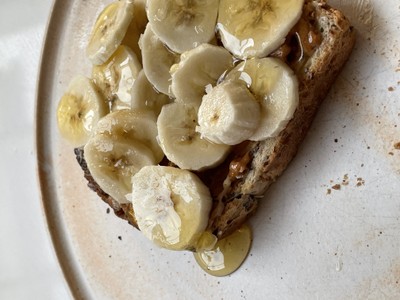 TUESDAY
Breakfast: I was working at our Neal's Yard restaurant today, so I had my favourite breakfast – a bowl of 5 Grain Porridge topped with butter, brown sugar and whole milk. When I lived in Copenhagen, I discovered the joy of putting butter on porridge. It's like a warm piece of toast, but even more comforting. 
 
Lunch: The team was testing new dishes this morning, so lunch was a bowl of hand-rolled pappardelle pasta with girolle mushrooms and mascarpone cream – total heaven.
 
Supper: I cycled to work today and was very cold when I got home, so supper had to be a bowl of something hot and comforting. I pulled together a simple vegetable soup with carrots, celery, onions and stock – I sometimes add beans or chicken for an added hit of protein. This evening, I kept it simple.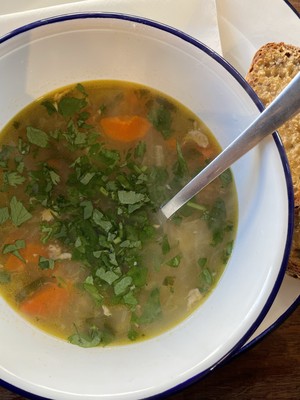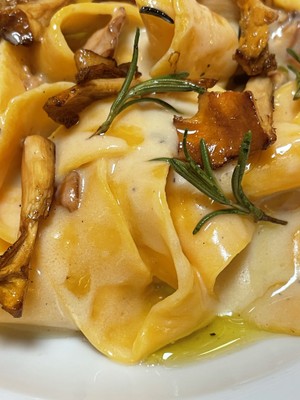 WEDNESDAY
Breakfast: I was at Neal's Yard again this morning – I don't tend to go in as often as I used to and it's a treat to have breakfast with the team. I had a bowl of porridge with butter, banana, tahini, sesame and cacao nibs. The secret to making great porridge is to soak the grains overnight – this makes them creamier as it breaks down the acid and releases beta-glucan, the milky part of the oats.
 
Lunch: I was back home for lunch and made a speedy salad in between calls. A fridge clear-out lunch is one of my favourite things to do – today it was a plate of roasted cauliflower (always roast the leaves, too), tabbouleh and roasted beetroot and tomatoes.
 
Supper: Spaghetti arrabbiata is my favourite pasta dish. It can be a labour of love, but it's worth it, and making a big batch of the sauce can go a long way. Preparing to confit two bulbs of garlic and 20 chilis may seem like a daunting task at the end of a long day but stick with it, as the end result is magic. Arrabbiata is the Italian word for angry, so make this as spicy as you want.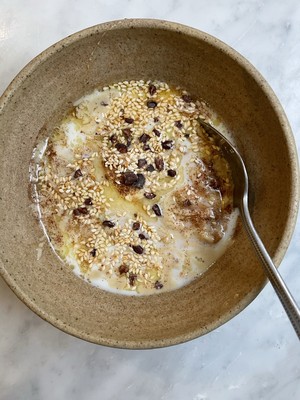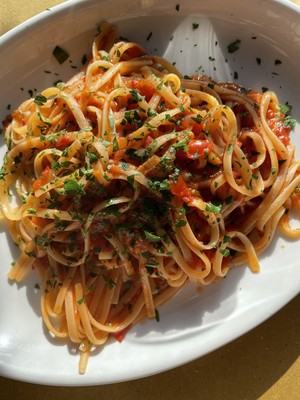 THURSDAY
Breakfast: I'm obsessed with a new breakfast dish on the menu at Stoney Street. We load a thick slice of Flor porridge sourdough with sprout tops, horseradish crème fraiche, a soft-boiled egg and chives. Absolutely delicious, and deceptively filling. 
 
Lunch: I love a team lunch for several reasons – first, being with the team is great and second, we always eat something that isn't on the menu. Today, we all had a big bowl of winter salad leaves tossed with blue cheese, walnuts, pickled onions and crusty focaccia ends. I spent the afternoon in and out of the kitchen snacking on new dishes.
 
Supper: I was full when I got home, so I cooked a plate of kale with toasted fennel seeds, leeks, cauliflower and dukkah.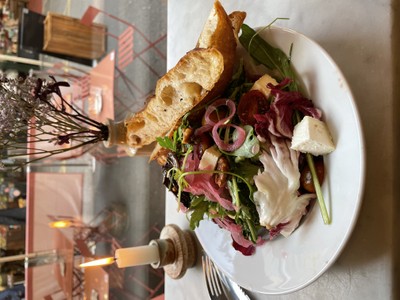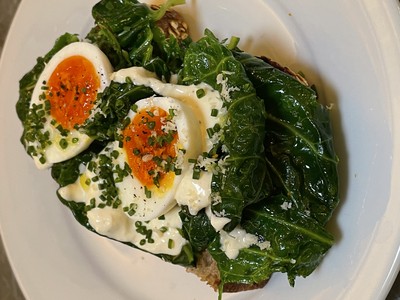 FRIDAY
Breakfast: After an indulgent food day yesterday, I fancied something lighter this morning, so I made my go-to smoothie. I make this recipe whenever I want to pack in nutrients ahead of a busy day – banana, frozen blueberries, peanut butter, chia seeds, cacao nibs, spinach, salt and milk. You can't beat it. The secret is to keep some of the fruit in the freezer – it creates a gorgeously creamy texture.
 
Lunch: I tested a galette recipe today and pulled it out of the oven just in time for lunch. I made it with herbed pastry, potato, Lincolnshire poacher cheese, onions and crème fraiche. I had a thick slice with a green salad on the side. I love a galette – it has all the delicious elements of a pie with flaky, buttery pastry and a savoury filling.
 
Supper: I am totally obsessed with Kricket's Old Delhi Chicken. Originally a pop-up in Brixton, Kricket is now considered one of London's best Indian restaurants. This chicken curry is a firm family favourite – even my daughter loves it. I made hers without the spice and served it with rice and poppadoms on the side.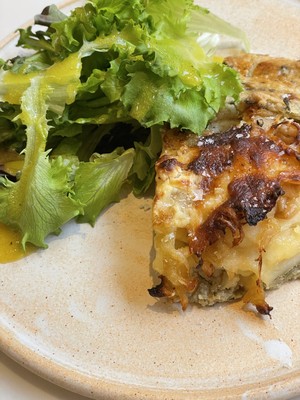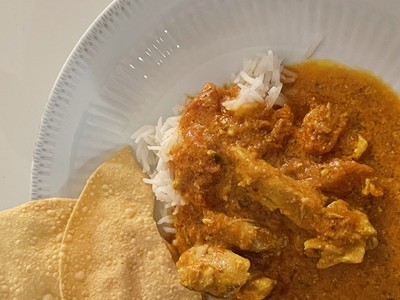 SATURDAY
Breakfast: My nieces and nephews live around the corner, and it's become something of a tradition to meet up with them for coffee and pastries on a Saturday morning. The kids can't get enough of a cinnamon bun but I'm more partial to a pain au raisin. 
 
Supper: Lunch and dinner tend to merge into one for us on a Saturday. We had friends round late afternoon so I cooked up a traybake with sausages from the farmers' market, potatoes and red onions with steaming bowls of rainbow chard.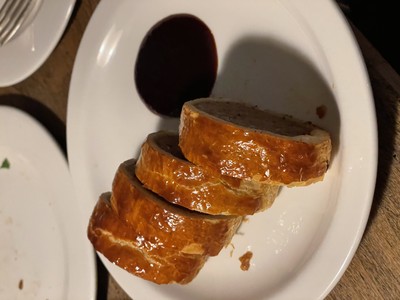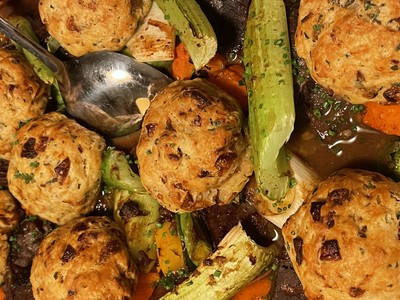 SUNDAY
Breakfast: It was heaven to be at home after a busy week and to have the time to enjoy a late, leisurely breakfast. We made bacon and scrambled eggs with peanut butter and jam on toast on the side. 
 
Lunch: One of my great friends from university has just opened a fantastic pub in Notting Hill called The Pelican. We went with a big table of eight and ordered their weekend set menu as well as delicious bar snacks. We feasted on oysters, game sausage rolls, beef cheek and dumpling stew, potatoes, charred broccoli and chocolate truffles, all washed down with wine and a cheeky pint of Guinness.
For more information head to 26Grains.com & follow @26Grains.
DISCLAIMER: We endeavour to always credit the correct original source of every image we use. If you think a credit may be incorrect, please contact us at info@sheerluxe.com.