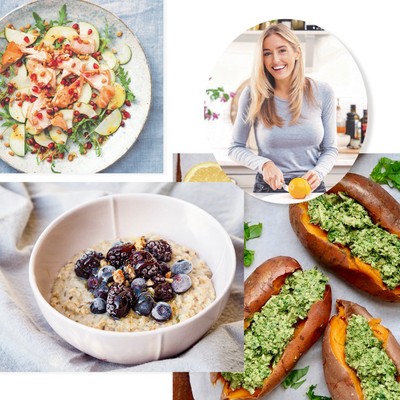 My Week On A Plate: Rosie Millen

If there's anyone that understands the meaning of wellness, it's Rosie Millen. After collapsing in 2014 from what she later discovered was extreme adrenal fatigue, Rosie ended up bed-bound for three months. Fast-forward six years and not only is Rosie fully recovered, she's now one of the country's top nutritional therapists, specialising in fatigue and stress. Here, she shares her weekly food diary…

MONDAY
Breakfast: I always start my mornings with a cup of green tea, which is not only bursting with antioxidants but also contains a small amount of caffeine without the crash of coffee. I then make a protein smoothie before I hit the gym. Today, I had a cup of almond milk, a scoop of vegan protein powder, half an avocado, some cocoa powder and probiotics. I love Bio-Kult probiotics and am loving their new Brighten formula – I open two capsules and blend them into my smoothie. And when it comes to protein powder, I like Swisse Me, KIN Nutrition and Live Innermost. When buying protein powder, make sure they contain all the essential amino acids and that each serving provides at least 20g of protein. Steer clear of powders that contain fillers or too many sweeteners – as a rule of thumb, if you can't pronounce an ingredient, don't eat it.
Lunch: Today's lunch is a pear and salmon salad. I was shooting content all morning so making something healthy but quick is often preferable. I love adding chopped fruit to salads for the crunch factor but also a touch of sweetness. I try to have a portion of protein at every meal and snack to keep my blood sugar levels under control. I usually make my own salad dressing, too, so I can control the ingredients. My go-tos include honey and balsamic vinegar with olive oil or pesto with a little added olive oil. 
Supper: I make sure my cupboards are always stocked with healthy staples, such as potatoes, rice and tins of chickpeas so I can make something healthy even if there isn't much in the fridge. Tonight, I am having stuffed sweet potatoes with chicken pesto, which is delicious and so easy to make. If you don't have sweet potatoes, it works just as well with normal potatoes.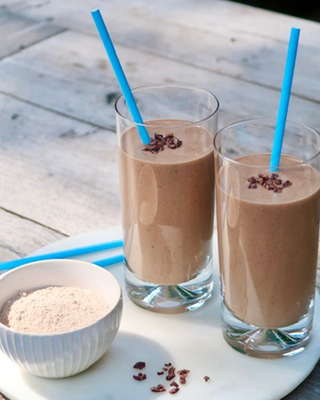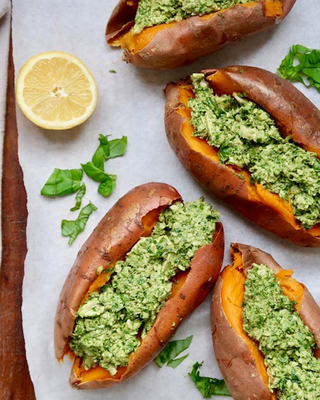 TUESDAY
Breakfast: This morning's smoothie was a green machine – banana, matcha powder, coconut milk, coconut milk yoghurt and protein powder. I was particularly hungry this morning so also had a homemade protein bar which was made with almonds, coconut, vanilla flavouring and dates. I tend to batch cook energy balls or protein bars and keep them in the freezer so I can grab one when at home or on-the-go.
Lunch: I had a delivery this morning from Mindful Chef, who deliver healthy meals to your door, ready to be cooked with all the ingredients you need to cut back on food waste. For lunch today, I made the Cajun Monkfish Bites with peas and homemade chips. 
Supper: I was out this evening with friends. My girlfriend hosted a cinema night at her house and made us vegan pizza, which was delicious. She used butternut squash for the base, spinach sauce instead of cheese and added tomatoes and spinach on top. I also had a few glasses of Prosecco. I don't tend to drink much and can only manage three or four drinks at any one time. I usually stick to a vodka and soda as it contains less sugar and try to avoid champagne as it contains a compound called tyramine, which is what can give you a headache the next day.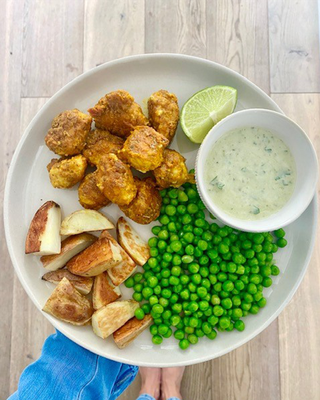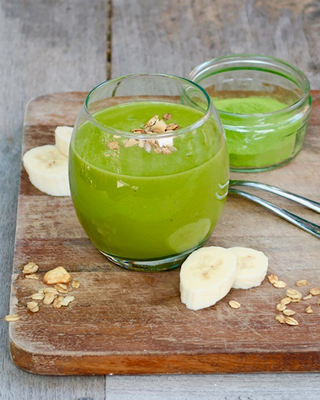 WEDNESDAY
Breakfast: After a few drinks last night, I was craving some eggs this morning, so had a couple of poached eggs and roasted vegetables for breakfast. I had this with a large glass of coconut water.
Lunch: Lunch today was a bowl of mushroom soup I had made for a shoot a few days ago; I had this with a slice of gluten free bread. I tend to choose gluten-free bread as I thrive without gluten – it can make you feel more energised and also helps with digestion and weight maintenance. Try it for two weeks and see if you notice the difference, but make sure you have decent gluten-free staples on standby – rice, quinoa, lentils and coconut flour are some of my favourites. BFree is a great brand to look out for when it comes to gluten-free bread – they do everything from pittas to wraps.
Supper: I hadn't seen my twin sister for a couple of weeks, so she came over and I cooked us a meal. I made salmon, prawn and vegetable kebabs with sweet potato wedges. My sister is a big baker, so she bought a chocolate cake for pudding and we both had a slice.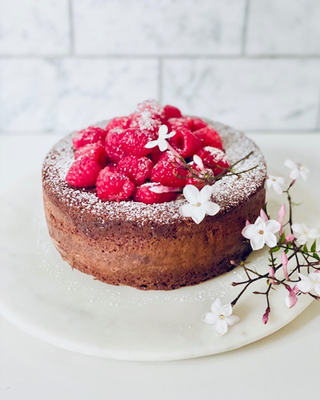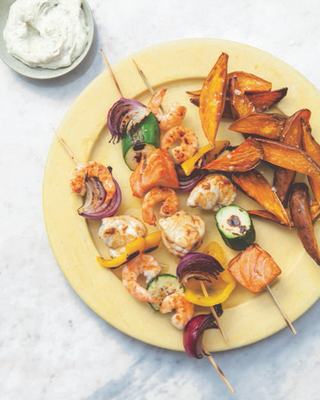 THURSDAY
Breakfast: I started my day with a fresh smoothie – mango and strawberry – and headed to the gym afterwards. I'm a big gym bunny and train every morning for 30 minutes lifting weights, followed by five sets of exercises with three reps using my body as resistance. I had a second breakfast afterwards – a cheese and spinach omelette – while I caught up on emails.
Lunch: Lunch was one of my staples which is always popular with my clients – lentil dhal. It's packed with lentils and vibrant spices such as ginger and turmeric. I had a large bowl then rushed out the door for work meetings in town.
Supper: Tonight, I was out with my boyfriend and his friends – it was a birthday dinner at The Nest. We started with some of their sharing plates and I had prawn risotto for my main. If you haven't been, I highly recommend it – the views across London are fabulous.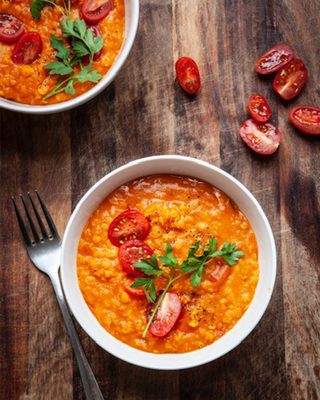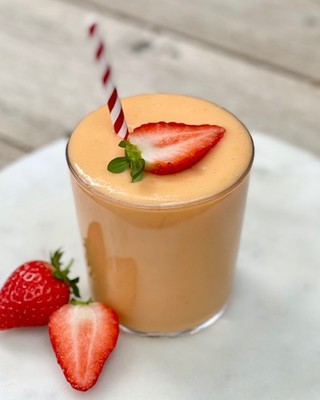 FRIDAY
Breakfast: Breakfast was quick and simple today – a strawberry smoothie (made with frozen strawberries, coconut milk yoghurt and some vegan protein powder) followed by a bowl of Deliciously Ella's Crunch Granola.
Lunch: I fancied some eggs at lunchtime so made a batch of egg muffins. Instead of making scrambled eggs, pour the egg mixture with lots of additional vegetables into muffin tins and bake for 20 minutes. They are the perfect lunch or snack – ideal if you need something on-the-go.
Supper: I went over to my boyfriend's house for dinner and made him salmon fishcakes with a guacamole dip. He is having an extension done at the moment and doesn't have a kitchen, so I prepared these at home and drove them over to him. I love salmon fishcakes – they are a little labour intensive, but always worth it, especially on a Friday evening.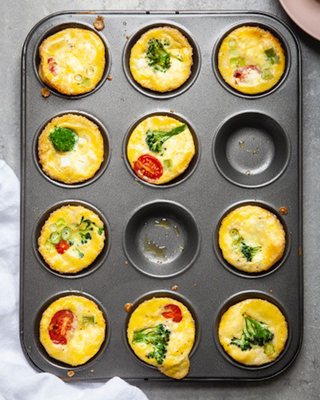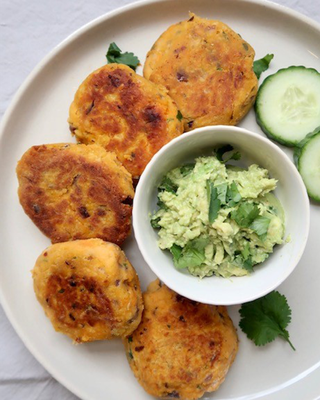 SATURDAY
Breakfast: Saturday mornings call for pancakes, and this morning I made a big batch of my banana and mixed berry pancakes. I love this dish because it tastes like a treat but is also packed with nutrients. Bananas are a great source of potassium, which is needed to keep blood pressure levels healthy, and they're also a great source of vitamin B6 and fibre.
Lunch: There was a block of tofu in my fridge that needed eating – the perfect excuse to make one of my favourite recipes, a tofu stir fry. I like using firm tofu, which holds its form when cooking. I added pumpkin and sunflower seeds to the wok for added omega-3 fatty acids, as well as a couple of spoons of sauerkraut, which is packed with prebiotics to feed the friendly bacteria in your tummy. 
Supper: I wasn't feeling that hungry this evening so instead of making an elaborate dinner, I had a couple of slices of homemade Paleo bread with some butter and a cup of green tea. This is one of my new recipes and it's delicious – it contains flour made from ground sesame seeds and pumpkin seeds. It's light, fluffy and nutty tasting.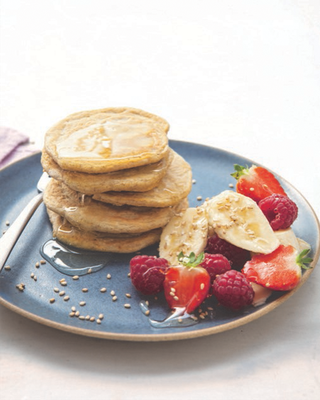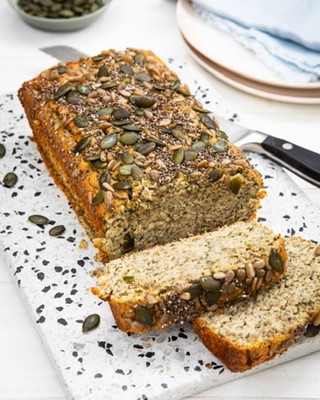 SUNDAY
Breakfast: I woke up early for a morning bike ride to Richmond Park, so I made a quick bowl of mixed berry porridge to give my muscles some much-needed glucose. I took a homemade protein bar with me and drank plenty of water on the ride.
Lunch: After the cycle, I popped out to meet friends for lunch – we went to Megan's on High Street Kensington, which I love as the food is delicious and also healthy. I always order the Glow Bowl, which is packed with beetroot, hummus, broccoli and carrots. 
Supper: Sunday wouldn't be complete without a roast. I went to the pub this evening for a roast with my boyfriend – it had all the trimmings and I enjoyed a couple of glasses of Pimm's, too. The perfect end to the week.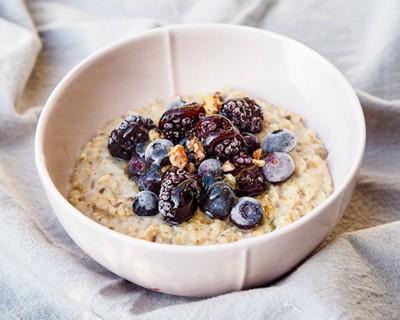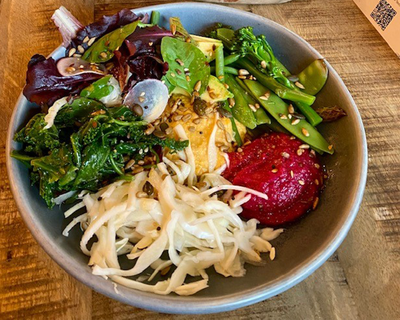 For more information visit MissNutritionist.com and follow Rosie on Instagram @MissNutritionist.
DISCLAIMER: Features published by SheerLuxe are not intended to treat, diagnose, cure or prevent any disease. Always seek the advice of your GP or another qualified healthcare provider for any questions you have regarding a medical condition, and before undertaking any diet, exercise or other health-related programme.
DISCLAIMER: We endeavour to always credit the correct original source of every image we use. If you think a credit may be incorrect, please contact us at info@sheerluxe.com.