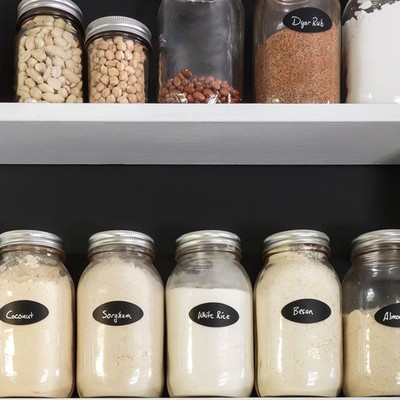 A Nutritionist's Guide To Building A Healthy Store Cupboard

Ready to make healthy cooking a priority? Nutritionist Sophie Trotman says a well-stocked pantry can make all the difference. From the brands she loves to the ingredients worth ditching, here's what she advises…

You can't go wrong with beans and pulses. Tinned chickpeas are the holy grail of any good kitchen cupboard. They're high in protein and fibre as well as other nutrients such as manganese, folate, copper, iron and zinc. They're also very affordable, have a long shelf life and are really versatile. Blitz a tin of chickpeas with extra virgin olive oil, sea salt and garlic to make a quick hummus or add them to curries and stews. Butter bean mash is also a staple in my kitchen. When it comes to brands, I love Biona and Bold Bean Co. 
It's worth spending more on good coconut milk. Many supermarket own-brand versions are actually made from coconut extract and contain ingredients such as stabilisers and emulsifiers, so always read the ingredients list. I love Biona Organic Coconut Milk, but any organic version will do – just make sure it contains only coconut and water. 
Always go for organic tomatoes. On the whole, watch out for added sugar, salt, preservatives and additives when buying anything tinned, but particularly when it comes to chopped tomatoes. If you can, opt for organic tinned tomatoes without citric acid and zero added sugar or salt. It's also important to look for BPA-free tinned brands. BPA is a chemical often used in tin linings to prevent rust – it has been linked to a wide array of health issues.
Swap white for wholewheat flour. I love Doves Farm – its range of organic flours contains less pesticides and more beneficial minerals. Wholewheat flour also has a lower glycaemic index, so it has less of an impact on blood sugar. Keep an eye out for gram flour, too, which is made from ground chickpeas and is rich in fibre. It has an earthy flavour and works well in savoury dishes like sweetcorn fritters and flatbreads. 
When it comes to grains, variety is king. Stock up on quinoa, buckwheat, farro and oats, all of which are rich in complex carbohydrates and protein. On a Sunday evening, I'll often cook two large portions of different grains that I can add to different recipes throughout the week, such as salads, soups and stir fries. Always remember to pair grains with a source of protein to help regulate blood sugar and increase satiety. 
Avoid rapeseed and sunflower seed oils. Instead, buy olive oil, which is full of antioxidants and less inflammatory. I'm obsessed with Citizens of Soil's extra virgin olive oil. Make sure you keep your olive oil in a cool, dark cupboard and use it only when cooking over a medium heat. If you're cooking over a high heat, use coconut or sesame oil. Flaxseed oil, meanwhile, is great for salad dressing and is full of omega-3 fatty acids. However, it has a very low smoke point, so you shouldn't cook with it. 
Tinned fish is a great way to get your omegas in. Not only is it a more affordable way to eat fish, but it also has a long shelf life. The SMASH acronym (salmon, mackerel, anchovies, sardines and herring) is a useful acronym to remember which fish provide beneficial fatty acids. Just be sure to avoid processed tinned protein such as tuna mayo and fish that comes in a sauce – these tend to contain excess salt, sugar and preservatives. I often make a tuna salad using tinned tuna, white tinned beans and olive oil with a wholegrain mustard dressing. 
Look for pesto made with olive oil. Unfortunately, lots of popular brands and store-bought pesto contain inflammatory oils like rapeseed and sunflower seed oil. Always look at the ingredient list, and if you can, consider making your own. Blend basil, garlic, olive oil, lightly toasted pine nuts, lemon juice and parmesan cheese – you can freeze the pesto in ice cube trays and keep them in a sandwich bag in the freezer to defrost portions as and when you need them. 
Stock up on spices. Spices are rich in antioxidants and adding just half a teaspoon to a recipe can dramatically increase the antioxidant level of a dish. My favourites include turmeric, which you can add to curries, eggs and roasted vegetables; cinnamon, which has wonderful blood sugar regulating properties; and oregano, which is a great source of antioxidants as well as calcium, vitamin K and manganese. If you're cooking with turmeric, always pair it with black pepper to facilitate the absorption of curcumin, the active component of turmeric.
Superfood powders aren't essential. However, if you lead a busy life or don't like spending much time in the kitchen, they can be a useful way to pack in some nutrients. Naturya has a great range – I use the Superberries Breakfast Boost in my morning smoothies. 
Oats aren't your only healthy breakfast option. I also recommend stocking up on chia seeds and flaxseeds, but always look for milled varieties, which are more bioavailable. Linwoods does great flaxseed mixes. If you have nothing in the fridge, you can always make a decent breakfast out of store cupboard ingredients – the best overnight oats are made with oats, ground flaxseeds, ground chia seeds, a scoop of protein powder and frozen berries, or berry powder.
If you're vegan, look for hemp hearts. Hemp hearts are a great source of vegan omega-3, protein and fibre and work well with yoghurt and oats. I love the Good Hemp Co. Peanut butter is also a versatile source of plant-based fats and protein – you can't beat ManiLife when it comes to flavour. Peanut butter on Ryvita or a couple of dates is the ultimate storecupboard snack. 
When it comes to condiments, tahini is a good all-rounder. Tahini is a fantastic source of protein, fat, calcium, iron and magnesium. Use it to make a tahini dressing with extra virgin olive oil, chopped garlic, water and salt, or drizzle over roasted vegetables. You can even stir a tablespoon through your morning porridge. Belazu's tahini is divine. 
Asian condiments take the flavour of a dish to the next level. Soy sauce, fish sauce and crispy chilli sauce are staples in my kitchen and a little goes a long way – for example, just a dash of fish sauce to Thai curry will transform the flavour, even if it's just made with vegetables. 
For more information, visit SophieTrotmanNutrition.com & follow @SophieTrotmanNutrition
 
Shop Sophie's Cupboard Staples Below...
DISCLAIMER: Features published by SheerLuxe are not intended to treat, diagnose, cure or prevent any disease. Always seek the advice of your GP or another qualified healthcare provider for any questions you have regarding a medical condition, and before undertaking any diet, exercise or other health-related programme.
​
DISCLAIMER: We endeavour to always credit the correct original source of every image we use. If you think a credit may be incorrect, please contact us at info@sheerluxe.com.