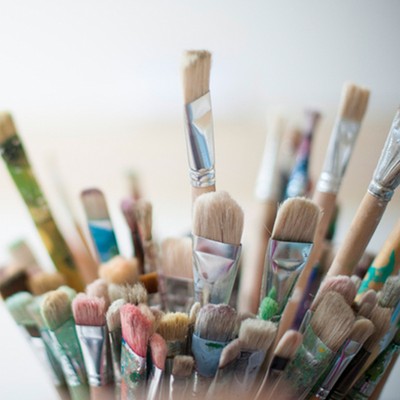 The SL Guide To Starting A Hobby: Painting & Drawing

Perhaps it's been a long time since you put pen or paint to paper, or maybe you already dabble in sketching and watercolours. Either way, now might be the time to expand your artistic horizons – here's how to get started, the tools you need and the best courses out there...

Sketchbook
"Since a sketchbook is recommended for daily practice, it is important to choose one that is durable and has plenty of pages for all of your ideas. I suggest a sketchbook that has a hard cover so that it will stand up to repeated use and travel. A hardcover keeps the corners of the pages inside nice and clean and will help keep the pages flat if you use mixed media applications."
TRY THIS: Seawhite Euro Portrait Sketchbook, from £3.95, Cass Art
Graphite Pencils
"Pencil sets usually come packaged in nice tins and can be great because they often include the full spectrum of graphite grades. Many sets include pencils with harder graphite (9H) through softer graphite (6B).  Harder graphite makes lighter marks and keeps a sharp tip longer, while softer graphite makes a darker mark, but needs constant re-sharpening. These sets give the artist the ability to work with many different values and varieties of mark." 
TRY THIS: Koh-I-Noor Graphite Pencils 8b-2h Set Of 12, £8.95 (were £10.38), Cass Art
Eraser
"Erasers aren't just for mistakes – they can also be a great mark-making tool. Each eraser creates a different mark and should be used as necessary according to the specific drawing medium. Rubber erasers are standard when it comes to erasing graphite. It uses friction to remove any material from the surface. A kneaded eraser lifts material from the surface, instead of using friction to remove it and can be pulled and fashioned into different forms to create specific marks. A gum eraser is great for removing media from surfaces that are sensitive to tearing, while vinyl or plastic erasers are the toughest of the bunch. They can erase almost anything, but be warned, they can tear the paper if you're not careful."
TRY THIS: Lyra Kneadable Eraser, £1.75, Cass Art or Cretacolor Monolith Eraser, £1.75, Cass Art
Coloured Pencils
"You can buy coloured pencils just about anywhere. But this doesn't mean that every brand out there will get the best results. Quality matters and so does the type of coloured pencil that you choose. Wax-based pencils are soft and buttery, allowing the artist to layer colours to build up a solid application that often compares to a painting. Faber-Castell Polychromos pencils are oil-based and behave slightly differently from wax-based pencils. These pencils require several layers to build up depth in colour, but the results are fantastic. Finally, Caran D'Ache Luminance pencils are wax-based, premium pencils. They layer nicely and are a little harder, so they break less often."
TRY THIS: Faber-Castell Polychromos Artist Assorted Tin Set Of 60, £109.95 (were £134.99), Cass Art
Watercolours
"Using lower quality materials inevitably leads to lower quality results. Lower quality results often lead to frustration. It is wise to spend a little more on the higher quality paints in order to give your experience with watercolour a "fair chance". For beginners, I recommend Winsor & Newton Cotman Watercolours. They are available in cake (or pan) sets or as tube sets. Tube colours provide the artist with more colour intensity, while cake sets are easier to travel with."
TRY THIS: Winsor & Newton Professional Watercolour Set Of 24, £57.50 (were £141), Cass Art
Portfolio
"There are more than a few options for storing artwork, but the most popular option is a portfolio. There are many different options on the market – each with their own benefits and drawbacks – so remember to look for a couple of features. First, rigidness. Look for a portfolio that will keep your artwork from bending. Most portfolios will do this, but there are a few cheaper versions that may not. Second, size – be sure to provide yourself with room for larger works. Don't just purchase the 18in by 24in portfolio because all of your works up to this point are smaller than this size. Chances are good that you'll produce drawings that are larger in the future and you'll wish you'd opted for a bigger option."
TRY THIS: Cass Art Presentation Portfolio, from £17.95, Cass Art
TRACK DOWN THE BEST COURSES…
The Royal Drawing School, Summer School Courses
From portrait painting to drawing for graphic novels, the Royal Drawing School is running a plethora of courses during its annual summer school. This year, instead of taking part at the school's east London headquarters, students can expect to be taught online by expert tutors. 
Visit RoyalDrawingSchool.org
University of the Arts London, Online Courses
From portraiture to art theory and contemporary painting, the range of online courses offered across Central St Martins, Chelsea College of Arts cater to multiple ages and abilities. From one-day workshops to week-long intensive courses, there's something to suit everyone.
Visit Arts.ac.uk
London Art College, Beginners' Drawing Online Art Course
This introductory course teaches students how to draw and covers perspective, shapes and shadows, pencil, pen and ink drawing, use of charcoal, coloured pencils, pastels and chalk, how to draw people and how to sketch. An excellent starting point for people who simply want to draw well, students can then move on to the beginner's painting course at a later stage. 
Visit LondonArtCollege.co.uk
EXPLORE SOME ESSENTIAL READING…
Ways of Drawing: Artists' Perspectives and Practices by Julian Bell
This book brings together a range of essays by contemporary artists and teachers associated with the Royal Drawing School, and is illustrated with images by significant artists, past and present. From explorations of artistic development to short, imaginative strategies, it shows readers how drawing is a vital art form in the contemporary world. An invaluable companion for artists with all levels of experience looking for new inspiration.
Available here
Daily Painting: Paint Small and Often to Become a More Creative, Productive, and Successful Artist by Carol Marine 
Author Carol Marine was suffering from painter's block when she discovered the simple idea of 'daily painting': do art (usually small) often (up to the individual) and if you desire, post it and sell it online. Today, Marine is among the best and most celebrated daily painters, and the curator of the popular online gallery DailyPaintWorks.com. In this book, she reveals the tips and tricks that helped her and other artists pick up the brush and start creating beautiful work.
Available here
Drawing and Painting: Materials and Techniques for Contemporary Artists by Kate Wilson
Full of engaging artist profiles and inspirational galleries, this book places the emphasis on practical techniques, encompassing drawing, sketching and a range of different painting styles. From pen and ink to oils and acrylics, profiles of contemporary artists also provide insight into various working methods and materials. It also acknowledges the growing interest in digital tools as a medium, with information on how effects can be created using Smart Pens, tablets and apps.
Available here
Drawing and Painting the Landscape: A course of 50 lessons by Philip Tyler
This practical book celebrates the genre of landscape painting, and looks in detail at the materials, techniques and approaches needed to do so. With practical advice on how to portray space, light, atmosphere and different weather conditions, Tyler's instructions are supported by the words and images of other notable artists. There are also exercises to support the 50 lessons in the book, while more than 300 colour images illustrate the text.
Available here
Lessons in Classical Drawing by Juliette Aristides
Author, artist and teacher Juliette Aristides breaks down the drawing process with a start-to-finish overview, including how to get started and lay the groundwork for each subsequent step in creating a well-crafted drawing. Packaged with a companion DVD, which aims to eliminate any gaps in the learning process, readers can become virtual participants in a drawing workshop filmed at the Santa Repararta School in Florence, Italy.
Available here
USE THESE OTHER RESOURCES…
How To Paint Like Kandinsky With The Tate
Complete with a list of equipment and full instructions, The Tate and Cass Art have teamed up to show viewers how to paint like Russian painter Wassilly Kandinsky. An early champion of abstract painting, this video shows you how to paint your very own masterpiece.
Visit CassArt.co.uk
Royal Academy of Arts, #LifeDrawingLive: The Anatomy Class
This life drawing class was originally streamed live from the RA's historic Life Room. Open to everyone, no matter your experience or ability, the video is now free to view on YouTube. Focusing on how to draw human and animal anatomy, the class uses real life models and is hosted by the RA's artistic director Tim Marlow and the artist, writer and broadcaster Dr Sarah Simblet, a specialist tutor of anatomy. 
Visit YouTube.com 
The Virtual Instructor
Free to access, this website is rich in information and tips for budding artists. From knowing how to draw hands and faces, to advice on materials and other techniques, drawers and painters of all abilities are bound to find something to improve their skills. 
Visit TheVirtualInstructor.com
DISCLAIMER: We endeavour to always credit the correct original source of every image we use. If you think a credit may be incorrect, please contact us at info@sheerluxe.com.