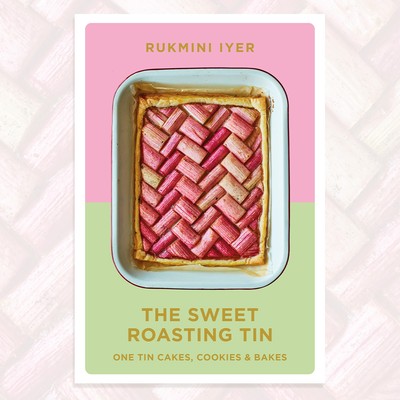 Sweet One-Dish Treats To Try This Week

Rukmini Iyer is a one-pot wonder – the chef and best-selling author of the Roasting Tin series has sold more than a million cookbooks to date. For her new release, she switches from savoury to sweet, showing the world how to make cookies, cakes and bakes without the fuss. Here, Rukmini introduces The Sweet Roasting Tin and shares three of its 75 delicious – and easy – recipes.

All products on this page have been selected by our editorial team, however we may make commission on some products.
I've loved baking for as long as I can remember. It started with my mother, and a really good collection of cookbooks. At first, it was the brightly coloured ones aimed at children, from which we made flapjacks, butterfly and chocolate cakes (decorated with chocolate buttons), graduating not very long afterwards to a pale-pink-macaron-coloured Patisserie book. Along with a book on cake decorating (rolling a cake covered in green buttercream through a tray of desiccated coconut to create a grassy effect) and a Cadbury book of baking (featuring elaborate chocolate castles with biscuit trellis-work), it's fair to say that I read about cakes almost as often as I ate them. 
Childhood highlights included home-made doughnuts, laced with cardamom, my mother's pineapple upside-down cake and orange chocolate chip steamed puddings (both of which made their way into The Sweet Roasting Tin). Much as I still enjoy looking at photographs and how-to videos of elaborately iced and decorated cakes, my preference when baking or eating is still with those that are simple to put together and minimally adorned. 
The easy, one-tin cakes and bakes in this book are what you'd find in my imaginary shop and real-life kitchen. I've broadened the definition of 'one-tin' to include muffin tins, cupcake tins and baking trays for cookies – because why limit yourself to one shape of sweet thing? 
Feeling inspired? Here are three recipes from Rukmini's new book…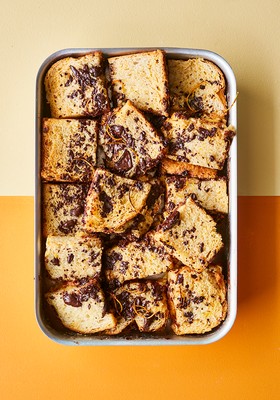 Orange Chocolate Chip Bread & Butter Pudding
This is based on a favourite steamed pudding – orange chocolate chip – which my mother made for us as children. This bread and butter version uses the same flavourings but helps if you've got some leftover bread to use up.
Ingredients
300g

of soft white sliced farmhouse bread, buttered
100g

(70% cocoa solids) dark chocolate, cut into chunks
Custard, to serve (optional)
Method
Step 1
Preheat the oven to 150°C fan/170°C/gas 3. Whisk the egg yolks with the caster sugar and orange zest, then slowly whisk in the single cream, milk and orange juice. Set aside.
Step 2
Cut the buttered bread into quarters and arrange one layer in a buttered 20cm x 26cm roasting tin. Spoon over enough orange custard to coat, squashing down the bread well with a spoon, then scatter over a layer of chocolate chunks.

Step 3
Repeat, layering up the bread, chocolate chunks and custard until you've used up all the bread. Pour the remaining custard over the top, add a final layer of chocolate chunks, and gently squash everything down again.

Step 4
Transfer the pudding to the oven and bake for 25-30 minutes, until crisp and golden brown on top, but still soft within.

Step 5
Serve hot, with custard on the side if you wish.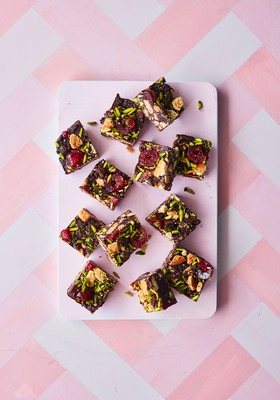 Chocolate, Cherry & Pistachio Fridge Cake
A fridge cake fit for a queen: this tiffin combines all my favourite ingredients – glacé cherries, chocolate, pistachios and golden syrup
Ingredients
200g

of (70% cocoa solids) dark chocolate, roughly chopped
200g

of digestive biscuits, roughly broken
200g

of glacé cherries, halved
100g

of whole pistachios, roughly chopped
Method
Step 1
In a large saucepan, melt the butter, chocolate and golden syrup over a low heat, stirring continuously until smoothly melted, then turn off the heat.
Step 2
Reserve a heaped tablespoon each of the broken digestives, glacé cherries and pistachios – you're going to use them to decorate later – and tip the rest into the saucepan with the chocolate mixture.
Step 3
. Stir gently to coat, then transfer the mix to a lined 26.5cm x 19cm roasting tin.
Step 4
Put the tin into the fridge, and leave to set for an hour, then scatter over the reserved broken biscuits, cherries and pistachios.
Step 5
Return the tin to the fridge to set for a further 2 hours before slicing and serving.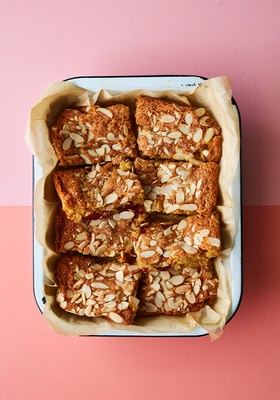 Cherry & Almond Cake
I cannot pass a bakery selling cherry and almond cakes without going in to get a slice – particularly welcome after or during an outing with the pup. For me, this is a perfect all-day cake – just make sure to use the nice bright red glacé cherries for full retro impact.
Ingredients
170g

of soft light brown sugar
100g

of self-raising flour
100g

of glacé cherries, halved
Method
Step 1
Preheat the oven to 160ºC Fan/180ºC/Gas Mark 4.
Step 2
Whisk the butter and sugar together until pale and fluffy, then beat in the eggs one at a time.
Step 3
Gently fold in the self-raising flour, ground almonds and baking powder, taking care not to overmix.
Step 4
Spoon the batter into a lined 20cm x 26cm roasting tin.
Step 5
Scatter the glacé cherries and flaked almonds over the cake, then transfer to the oven and bake for 30-35 minutes until firm to the touch and a skewer inserted comes out clean.
Step 6
Leave the cake in the tin for five minutes, then gently lift it out on to a wire rack and leave to cool briefly before serving warm or at room temperature.
Step 7
Any leftovers will keep well in an airtight tin in a cool room for 2-3 days.
DISCLAIMER: We endeavour to always credit the correct original source of every image we use. If you think a credit may be incorrect, please contact us at info@sheerluxe.com.