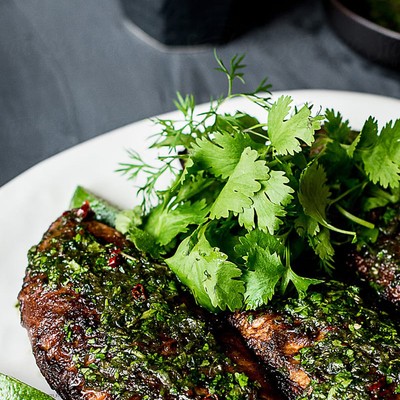 Three Chefs, Three Ingredients

Clearly there's a lot we can learn a lot from professional chefs, but sometimes fiddly recipes and expensive ingredients can make even the most seasoned of home cooks feel intimidated. With that in mind, we asked three top chefs for their favourite easy-to-use ingredients – plus, the simple recipes they like to make with them at home…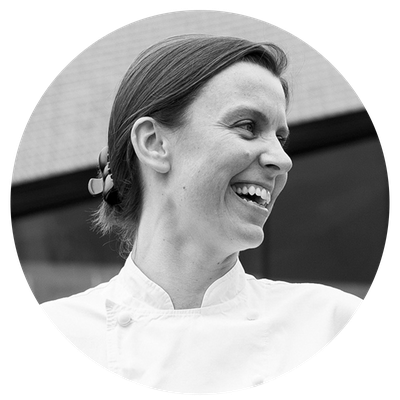 THE INGREDIENT: Shiitake Mushrooms
My favourite mushroom has to be shiitake, as its umami flavour continues and develops after you eat it. They're also great to slice with a knife once cooked,  and pickled shiitakes are great with some cheese and charcuterie or by themselves. I also love having them with grilled chicken that's been marinated in a bit of soy and garlic, alongside a miso mayonnaise.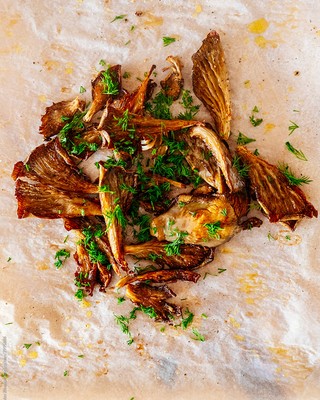 THE RECIPE: Pickled Kombu Shiitake
Ingredients
200g

of cabernet sauvignon vinegar
Approximately

1

litre of water
Method
Step 1
Wash the mushrooms and wash the salt off the kombu.

Step 2
Put in saucepan and cover mushrooms with water.

Step 3
Add salt, then bring the mushrooms to the boil. Simmer for 20 minutes, until the mushrooms are cooked.

Step 4
Once cooked, take them off the heat and add the vinegar and more salt if necessary.

THE INGREDIENT: Coriander
From a curry and salad to fish and meat – for me, coriander is the most vital herb in the kitchen. The different flavours you get from ground, seeds and the leaf make it a versatile and useful herb and its zingy aroma gives the perfect finish to most dishes in my kitchen.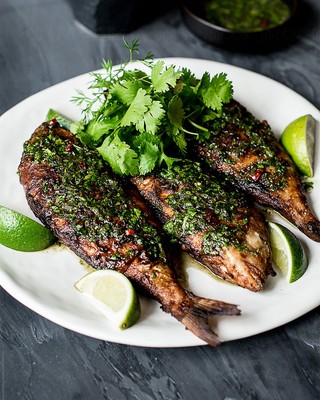 Method
Step 1
Toast the cumin seeds in a dry pan for 1 minute. Remove from the pan into a bowl.

Step 2
Wash the coriander and spring onions.

Step 3
Grate or microplane the garlic.

Step 4
Place all the ingredients into a blender and blend. Add salt to taste, then serve with the likes of grilled sardines or chicken.

THE INGREDIENT: Vinegar
Any vinaigrette or dressing needs a good vinegar, but to take it to the next level, experiment with some different types. Apple, aged malt, riesling, chardonnay, cabernet sauvignon or moscatel are a few I love. Cooking with vinegar is important: it adds a sharpness to dishes and can help bring out other flavours in the dish.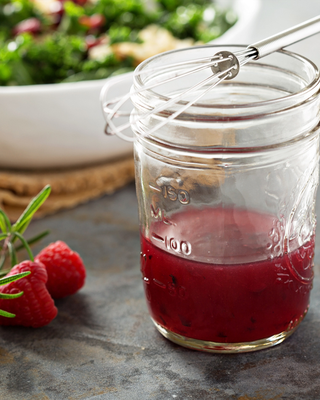 THE RECIPE: Mixed Berry Dressing
Ingredients
300ml

of extra virgin olive oil
500g

of frozen mixed berries
Method
Step 1
Hydrate mustard seeds, bringing them to boil in apple juice and simmer for 10 minutes, then leave them to cook. Pass them through a sieve.

Step 2
Add the berries to a saucepan, add the sugar and cook for 30 minutes on a low heat until the liquid has gone.

Step 3
Leave to cool. Then add all the ingredients to a bowl and whisk together.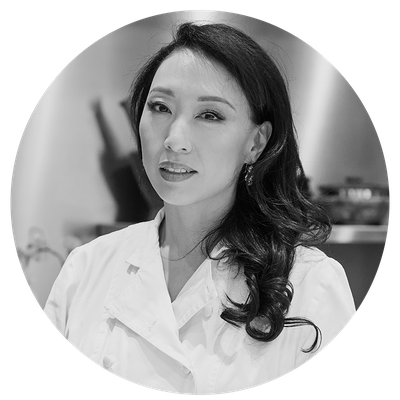 THE INGREDIENT: Doenjang
Korea's fermented soybean paste is akin to Japan's miso, but much stronger in taste and coarser in texture. It adds a great depth of flavour to soups, stews, marinades, dips, dressings and more. I love to mix this versatile paste with ginger, garlic, grated apple and mirin to make delightfully delectable glaze for roasted pork belly.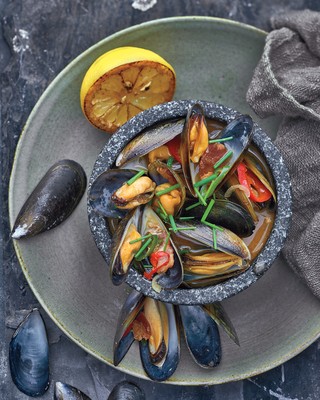 THE RECIPE: Spicy Mussels With Bacon
Ingredients
4

slices of thick-cut bacon, cut crossways into

1cm

pieces
2

large cloves of garlic, grated or finely chopped
1

large shallot, thinly sliced into rings
120ml

of dry vermouth or white wine
1

tbsp

of doenjang (Korean soya bean paste)
1

tsp

of gochujang (Korean chilli paste)
1

fresh Korean red chilli or Fresno chilli, thinly sliced on an angle
900g

of mussels, cleaned and debearded
Handful of fresh chives, cut into

1cm

pieces, to serve
Steamed white rice, to serve
Lemon wedges or halves, to serve
Method
Step 1
In a medium, wide, heavy-based pot, heat the oil over a medium heat. Add the bacon and cook for 3-4 minutes, stirring occasionally, until the edges just start to brown.

Step 2
Add the garlic and shallot and cook for another minute or two, stirring occasionally, until softened. Add the vermouth, increase the heat to high and bring to the boil. Add the stock and mirin and then whisk in the soya bean paste and chilli paste until they have dissolved.

Step 3
Stir in the chilli and then the mussels. Cover the pot and cook for about 3 minutes, shaking occasionally to redistribute the ingredients, until the mussels open. Discard any mussels that don't open.

Step 4
Spoon the mussels and broth into serving bowls, scatter the chives on top and serve with rice and lemons.

THE INGREDIENT: Gochujang
This bright fiery red fermented chili paste will become one of your favourite spices. Versatile in so many ways, gochujang adds balanced spice and flavour to marinades, soups, dressings and more. I love to add a dollop into my chicken soup to give it a kick or slather it on fish with ginger and garlic for a tasty dinner. It mixes well with doenjang to make dips and sauces used for Korean BBQ or simple crudites. You'll find so many uses for it. Ra-bokki is a combination of ramyun (Korean for ramen noodles) and dduk bokki, spicy-sweet and saucy stir-fried rice cakes, two of the most famous and popular Korean street foods. You can use any brand of ramen noodles, but I'm partial to Shin Ramyun.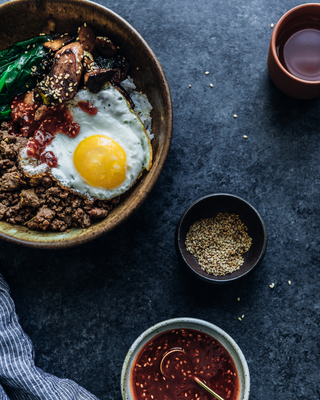 STOCSKY / SUSAN BROOKS-DAMMANN
THE RECIPE: Noodles With Spicy Rice Cakes & Fish Cakes
Ingredients
2

carrots, thinly sliced on an angle
2

cloves garlic, grated or finely chopped
35g

of gochujang (Korean chilli paste)
1

tbsp

of gochugaru (Korean chilli flakes)
300g

of chopped Chinese or Korean cabbage
1

pack instant ramen noodles, seasoning pack discarded
450g

of long cylindrical rice cakes, soaked in cold water for

15

-30

minutes and then drained
200g

of fish cake sheets, cut into triangular pieces about

7

.5cm long
2

tsp

of toasted sesame oil
1

tbsp

of roasted sesame seeds
2

-3

large eggs, hard-boiled, peeled and halved or quartered lengthways
Handful of spring onions, thinly sliced on an angle, to serve
Method
Step 1
In a medium saucepan, combine the anchovies, kelp and 1.2 litres of water and bring to the boil. Reduce the heat to a simmer and cook for about 20 minutes. Pass the anchovy stock through a fine mesh sieve into a large, wide, deep frying pan and discard the solids.

Step 2
Return the stock to a simmer. Add the carrots, onion, garlic, chilli paste, sugar, chilli flakes and soy sauce, stir to combine and simmer for 5 minutes. Add the cabbage and noodles and simmer for a further 2 minutes, stirring frequently, until the noodles are slightly softened.

Step 3
Add the rice cakes and fish cakes and cook for a further 5 minutes, stirring occasionally, until the noodles are just tender and the sauce has thickened slightly.

Step 4
Drizzle with the sesame oil, sprinkle with the sesame seeds and nestle the eggs in the sauce. Serve immediately, topped with the spring onions.

THE INGREDIENT: Kimchi
This tangy, spicy and totally moreish fermented cabbage is good on nearly anything. Throw it on a burger, pizza, mac and cheese, or make something classic such as kimchi fried rice – you won't be disappointed. It adds texture, heat, and a great vibrant bite to anything. I love it with just some freshly steamed rice and a gooey fried egg.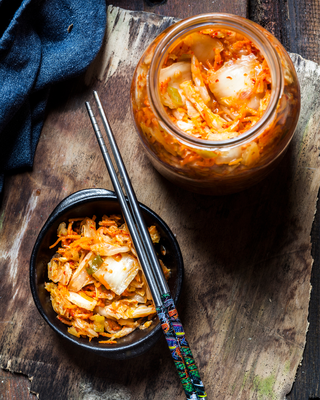 THE RECIPE: Kimchi Mac & Cheese
Ingredients
350g

of dried elbow macaroni
400g

of mixed cheese (blue, goats', cheddar, parmesan), grated
For panko crust:

100g

of panko breadcrumbs
Method
Step 1
Bring 3.5 litres of water and the salt to the boil. Add the macaroni and cook until al dente. Drain well and set aside.

Step 2
Preheat the oven to 90ºC/Gas Mark 1-2.
Step 3
In a saucepan melt the butter over a medium heat. Whisk in the flour and cook the mixture for just under 1 minute. Whisk in the milk, a little at a time, making sure to stir well so that no lumps form. Bring the mixture to the boil and cook for 10-15 minutes to a thickened and smooth sauce, whisking constantly.

Step 4
Remove the sauce from the heat, add the cheese and cream, and stir until it is well combined and the cheese is melted, then add the chopped kimchi.

Step 5
Add the macaroni to the sauce and mix well. Transfer to a deep suitably sized ovenproof dish. Keep warm in the oven on low heat.

Step 6
For panko crust, melt the butter in a non-stick skillet over medium heat, then add panko. Keep tossing and stirring until a golden colour. Remove the crumbs from the heat and sprinkle them on top of the mac and cheese evenly.

Step 7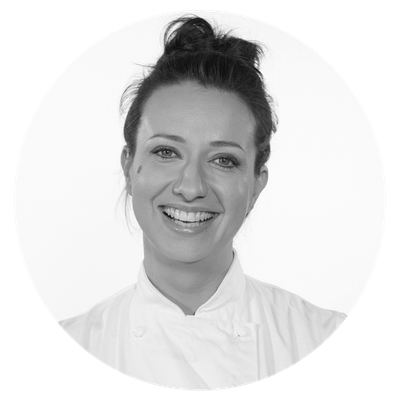 THE INGREDIENT: Honey
Honey is an incredible ingredient and one I find myself using more and more recently as I am trying to avoid eating too much sugar. Healthy and full of antioxidants, honey is great to swap in desserts instead of using sugar and I love adding a tablespoon to a cup of tea or a glass of hot milk at the end of the day. One of my favourite ways to use honey is to drizzle it on seadas. Arguably Sardinia's most famous pastry, seadas is a sweet and savoury pastry filled with melted pecorino and drizzled with a citrusy honey. Seadas is a typical Sardinian dessert, but can also be enjoyed as an antipasto – the way we do at our restaurants.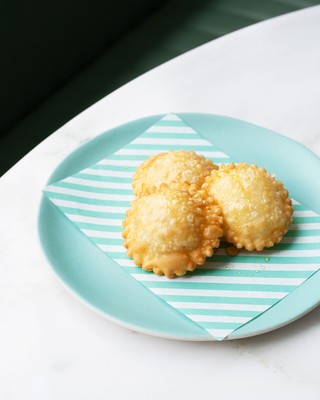 THE RECIPE: Sardinian Seadas With Honey
Ingredients
For the dough:

80g

of pork fat or butter
For the filling:

A generous drizzle of honey
Vegetable oil for frying, like rapeseed oil
Method
Step 1
Mix all the ingredients for the dough together until a smooth dough forms. Leave to sit for 1 hour at room temperature.

Step 2
Grate the cheese and add the zest of one lemon or orange. Mix together.

Step 3
Roll out the dough into a 3mm sheet and cut out circles of 10cm. Fill half of the circles with the cheese and citrus zest mixture. Close each circle with the rest of the dough circles and pinch the outside together with a fork to close it tight.

Step 4
Fill a deep saucepan with vegetable oil and deep fry the seadas on both sides until beautifully browned. Serve with a generous drizzle of honey.

THE INGREDIENT: 'Nduja
'Nduja is a spicy salami spread from Calabria that has grown in popularity over the last decade or so as it's become more accessible outside of Italy. Made from a mixture of ground pork and hot chilli, it's a very spicy spread, so best used in moderation. However, when used in the right way, it's an incredibly delicious ingredient that can elevate any dish as it's so versatile. I love it simply on toasted homemade bread with some fresh fennel and sweet ricotta, which balances the heat perfectly. At Lina Stores, we combine 'nduja with our fresh pici; long, chewy pasta from Tuscany that pairs especially well with herbal sausage meat.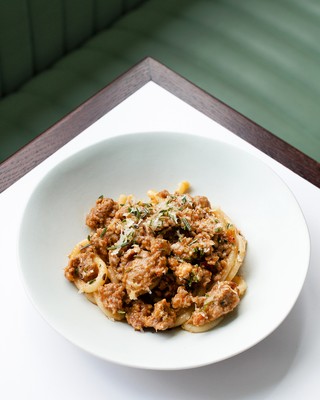 THE RECIPE: Pici With Fennel Sausage, 'Nduja & Rosemary
Ingredients
For the sauce:

5

pork sausages, broken into small pieces
1

small white onion, chopped into small pieces
1

tbsp

of wild fennel seeds or

70g

of fresh wild fennel leaves
1

sprig of fresh rosemary
Method
Step 1
For the pasta dough, mix the flour and salt. Make a hole in the middle and add the hot water. Working outwards, slowly add more and more flour to the water and start kneading the dough for 5 minutes to get a smooth texture.

Step 2
To make the pici, cut off 5cm long pieces of the dough. Then roll these pieces into long, individual pici. While doing so cover the remaining dough with a wet cloth to prevent the dough from drying out. Continue until you use up all the dough.

Step 3
Heat a non-stick frying pan on medium heat and add the sausage pieces. Cook them until they are nicely roasted and browned. There is no need to add any oil to the pan as the sausages will have enough fat themselves. Once browned, deglaze with white wine. Add the chopped onion, fennel and 'nduja and cook slightly. Add some vegetable stock in case the sauce gets too dry.

Step 4
Boil the pici in boiling salted water until they rise up, which usually takes 2 minutes. Mix the pici in with sauce. Finish off with some grated cheese on top and serve with fresh rosemary.

THE INGREDIENT: Pistachio
Pistachios are essential to any well-stocked kitchen and are one of my favourite ingredients. Pistachios from Bronte, a village behind Mount Etna in Sicily, are generally considered to be the best quality ones, so I'd highly recommend these. They are so versatile as they can be used in starters, mains or desserts as pistachios are both sweet and savoury with herbal notes. Pistachio and olive oil are the perfect combination. Both flavours are equally balanced in this moist, soft cake, which results in a delicious crowd-pleaser.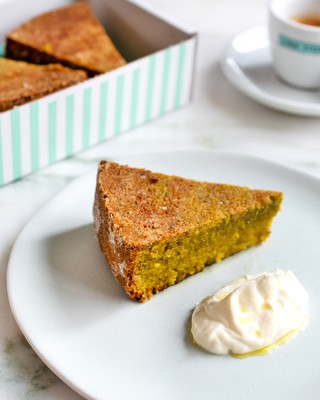 THE RECIPE: Pistachio & Extra Virgin Olive Oil Cake
Ingredients
200g

of ground pistachio nuts
125ml

extra virgin olive oil
Method
Step 1
Grease a 24cm round cake tin and preheat your oven to 160ºC.

Step 2
Mix all the dry ingredients together: polenta, pistachio, plain flour and baking powder, in a large bowl. Melt the butter slowly and mix together with the extra virgin olive oil in a separate bowl. Whisk the eggs with the sugar until light and fluffy, then slowly add the butter and extra virgin olive oil mixture.

Step 3
Juice the lemons and oranges and add to the dry ingredients. Add the zest of one lemon and mix together. Slowly mix in the egg, sugar, olive oil and butter mixture and combine.

Step 4
Add the dough into your cake tin and bake in your preheated oven for 45 minutes.

DISCLAIMER: We endeavour to always credit the correct original source of every image we use. If you think a credit may be incorrect, please contact us at info@sheerluxe.com.