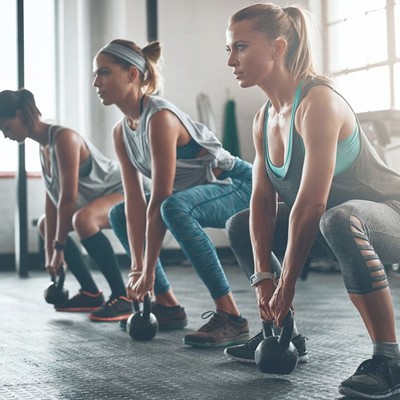 We Tried The World's Most Hardcore Workout: Here's What Happened

Whether you're a gym bunny or not, chances are you've heard of CrossFit, the fitness craze taking the wellness world by storm. One of the world's most punishing fitness regimes, but apparently the most addictive, we gave it a test-run for five weeks to see what the hype was about. Read on to discover how we got on…

What exactly is CrossFit?
CrossFit fuses cardio and weightlifting to provide a full body workout that'll leave you fitter and stronger than ever before. As Andrew Stemler, London's first CrossFit certified trainer explains, "The basic instinct philosophy is that the best athlete is somebody who can lift heavy weights and go long distances, quickly. To go faster, more powerfully, you have to be able to move well and you need a diversity of training to help with this." Sound intense? It is – but there's a reason there are nearly 600 CrossFit gyms across the UK, with 63 in London alone. It works. Advocates say it's the perfect formula for weight loss and muscle gain (think HIIT on steroids) – regular attendees have been known to drop up to 35lbs in three months.

What are the sessions like?
They're not for the faint-hearted. Classes include everything from squats and lunges with heavy weights to handstand push-ups, rope-climbing and tyre-flipping. The pace is ferocious, and each session concludes with a relentless 20-minute 'Workout Of The Day' (WOD) which sees participants complete a set of exercises against the clock. CrossFit studios (you may hear them referred to as 'boxes' – they are more of a raw space than a gym organised by machine) change WODs daily to ensure you're working different parts of your body and avoiding boredom. However, if you have a competitive streak then keep an eye out for regular WODs so you can benchmark your progress, which is more addictive than it sounds.

What if you're a beginner?
Fear not. CrossFit newbies are required to complete three foundation sessions that will teach you the core CrossFit moves to enable you to join the main classes. If strength training (aka lifting weights) is new to you, we recommend you start slowly, allowing plenty of time for recovery and aiming for around three sessions a week once you're fit enough.

Who's it for?
Quite literally anyone. All the workouts can be adapted for your level and we were constantly surprised at the diversity of people in the classes we attended – of all shapes, sizes and ages. However, the one constant at CrossFit is a sense of dedication and commitment. Don't go into it half-hearted – you should be willing to put in the hard work and prepare to sweat to see results. Whether you're a gym-goer bored of your regular routine or on a mission to get in shape for a certain event, look no further.
 
Those on a mission to overhaul a less-than-healthy lifestyle should also consider signing up – instructors are surprisingly patient and seriously motivating and many preach the CrossFit diet, essentially a Paleo plan that'll see you eating plenty of vegetables, lean meats, nuts and seeds to boost results and recovery.

What makes it different from other gym classes?
What we loved most about CrossFit is the sense of community. The sense of camaraderie will keep you coming back for more and unlike other gyms and boutique classes we've tried in the past, CrossFit is a sociable environment where your teammates will genuinely cheer you on when the going gets tough. What's more, a CrossFit gym is unlike any other fitness space we've ever been to – there's more space, a better variety of weights and equipment, and the trainers are some of the most knowledgeable we've ever met.

The verdict?
We're hooked. We've noticed a serious improvement in both our strength and cardio and while it wasn't easy by any stretch of the imagination, there's something about this fitness craze that kept us coming back for more. We've already signed up for our next package.

Want in?
We trained at CrossFit Wandsworth but there are hundreds of other studios across the UK – to find your nearest, click here. Your first class is free and pricing thereafter starts from £20 per class but cheaper if you buy in bulk.
 
For more information visit CrossFit.com. SheerLuxe users can get an exclusive 50% off a Foundations pack at CrossFit Wandsworth by entering the code 50CFW at checkout; visit CrossFitWandsworth.com for more information.
 
DISCLAIMER: We endeavour to always credit the correct original source of every image we use. If you think a credit may be incorrect, please contact us at info@sheerluxe.com.