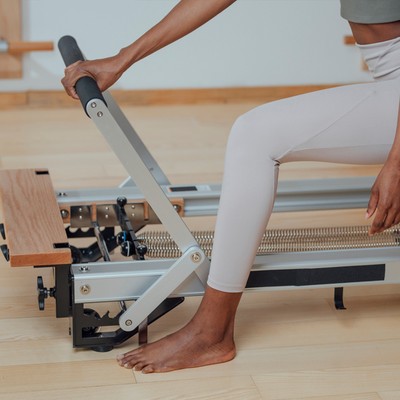 Why Reformer Pilates Is The Workout To Try

It's no secret that some of the most svelte bodies out there are a result of regular reformer Pilates. Loved by A-listers and those in the know, the low-impact workout will build flexibility, strength and stability, as well as shape and sculpt the body. Here's what you need to know and where to try it…

It Isn't Just Another Fitness Fad
Reformer Pilates isn't a new workout by any means. In fact, it's a time-tested method that's been used for decades to strengthen the body and boost flexibility. What we now know as a trendy workout began by attaching straps to hospital beds during WW1 to rehabilitate injured soldiers, and led Joseph Pilates to create the reformer machine. "The reformer features a carriage you lie or sit on, and this is attached by wheels to the frame, as well as pulleys, ropes and strings that you use to glide your body across the reformer," explains Kendall Scales, lead physiotherapist and women's health lead at Ten. "The reformer uses different levels of springs to provide either added resistance or decreased stability to certain exercises. Think of it like low-impact strength training."
It'll Strengthen The Body In New Ways
"What makes reformer Pilates different to other workouts is that it strengthens the body from within," adds Korin Nolan, Pilates expert and co-founder of Dynamic Pilates TV. "Reformer Pilates focuses on the deep, intrinsic muscles, such as the pelvic floor and transversus abdominals, which wrap around the spine and support the trunk, rather than superficial muscles like the rectus abdominals, aka the six pack. Strengthening the body from within in this way helps build stability and strength. It also helps achieve a flatter tummy, fabulous tone and great posture." Improving strength will also help you recover from injury and will boost your performance in other sports, such as running.
It Can Help Counteract A Sedentary Lifestyle
We all know that sitting at a desk for hours on end is doing the body no favours, but a weekly Pilates session can help reduce back pain and build strength in the core, glutes and hamstrings, muscles that quickly lose strength when underused. "You can really feel every individual muscle switching on when using a reformer," says Jess Schuring, founder of Heartcore. "At Heartcore, we use a type of reformer called the Coreformer, which allows for a really dynamic, targeted workout. The Coreformer allows you to not only put key muscles under tension, but also to condition and stretch the whole body at the same time. Reformer Pilates is especially good at helping the core and, when your core is strong, your whole body is strong. It also elongates the spine, aligns and evens out imbalances, leading to greater flexibility, better posture and ease in everyday movement."
It'll Re-Shape Your Body
If you've tried traditional mat Pilates, you'll know how effective it can be when it comes to tightening and toning, but the reformer takes things one step further. "The machine adds resistance to your workout and can quite literally change your body shape," says Korin. Monique Eastwood, celebrity trainer and founder of virtual training programme, the Eastwood Movement Method, agrees. "Working on the reformer will encourage your body to build lean muscle mass and build endurance. The more muscle you have, the more calories you'll burn. Over time, with consistent training, Pilates can encourage weight loss and a healthier bodyweight."
Slow And Controlled Is The Name Of The Game
Reformer is high intensity, but low impact, and keeping things controlled is the secret to a better session, says Korin. "One of the most common mistakes beginners make is moving too quickly and missing the point. In most other forms of exercise, we're often taught that quicker is better, but in Pilates, you need to move more slowly and focus on controlled and quality movements." But don't be fooled, reformer Pilates can still count towards your weekly cardio quota. "Every instructor and studio has their own style of reformer, but it can absolutely be a sweaty, intense workout if that's what you're after," adds Kendall. "An intense reformer Pilates session will get your heart pumping, but instead of something like running, which is a specific motion repeated over and over, Pilates is more dynamic. It's more akin to a targeted strength training session focusing on body awareness and control."
It Won't Take Long To See Results
"Using the reformer three times a week, for around 30-45 minutes is a good place to start," says Korin. "Like anything, the more you put in, the more you get out in a quicker time frame and, once you see the results, you won't look back. So many people become hooked once they see the results – people often say how amazed they are at how it makes them feel as well as how it makes them look."
It'll Keep You Constantly Challenged
The beauty of reformer is that it's suitable for all fitness levels, and every single exercise can be progressed and regressed to suit you. From those with a running-induced injury to pre- and post-natal and desk workers, reformer is complementary to all lifestyles. Plus, one of the main benefits of a reformer class is that they tend to be small, with a teacher who can pay you full attention. However, it's important to ease yourself in slowly. "If you're new to reformer, always start with a beginners' class," says Kendall. "While you'll never be left to your own devices in a reformer class, it's important you understand how to engage muscles correctly and hold each position with the correct form. Start by doing a couple of beginners' classes and go from there, trying the various types of classes a studio offers, and seeing what works for you."
Feeling inspired? These are the studios to try…
Heartcore: Heartcore's signature dynamic Pilates workout fuses classical Pilates with athletic conditioning. The zen-like surroundings of Heartcore's various studios adds to the charm.
Visit Heartcore.co.uk
 
Pilates in The Clouds: Situated on a west London rooftop, Pilates in the Clouds boasts a two-month waitlist, with clients including the Royal Ballet, actresses and aristocracy.
Follow @PilatesInTheClouds
 
KARVE: A New York-inspired studio on High Street Kensington, KARVE's 50-minute sessions are designed to challenge, combining pulses and isometric holds to initiate a serious burn.
Visit Karve.Club
 
Ten Health & Fitness:  With studios dotted across London, there's no excuse not to get your reformer fix. Start with a beginner class before trying a faster-paced intermediate session.
Visit Ten.co.uk
 
Trevor Blount Pilates: With two clients to one teacher and sessions lasting 75 minutes, Trevor Blount is all about bespoke results.
Visit TrevorBlountPilates.com
 
For more information visit Ten.co.uk, EastwoodFit.com, Heartcore.co.uk and follow @DynamicPilatesTV on Instagram.
 
DISCLAIMER: Features published by SheerLuxe are not intended to treat, diagnose, cure or prevent any disease. Always seek the advice of your GP or another qualified healthcare provider for any
DISCLAIMER: We endeavour to always credit the correct original source of every image we use. If you think a credit may be incorrect, please contact us at info@sheerluxe.com.