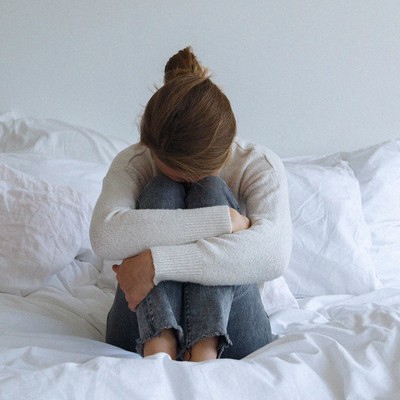 World Mental Health Day: The Names, Apps & Websites To Know

Whether you're feeling overwhelmed by life or struggling with feelings of loneliness post-pandemic, World Mental Day reminds us it's okay to ask for help. From hypnotherapy to psychology, these are the names, apps and sites which might be able to offer a bit of guidance and reassurance.

THE NAMES TO KNOW
Holli Rubin
BEST FOR: Multiple disciplines & issues
As a qualified psychologist, social worker and therapist with The Soke, Holli takes an integrative approach to mental health. As well as working with clients within a singular therapeutic relationship, she's known for combining physical and psychological interventions to treat a host of issues. When necessary, Holli will also introduce colleagues with particular areas of expertise to different clients, ensuring various specialisms are used to offer the best outcome to clients. She also specialises in body image issues, specifically among younger people. 
PRICE POINT: Prices vary depending on location, therapist and service required. All enquiries can be made by emailing reception@thesoke.uk. 
Visit TheSoke.uk
Elaine Slater
BEST FOR: Those who want to talk it out
Elaine is a psychologist, as well as a psychotherapeutic counsellor. A certified life coach and neuro linguistic practitioner, too, she's also trained in meditation and breathwork, and runs her services out of a private practice on Harley Street and in Chelsea. With additional experience treating patients at the Priory Hospital Roehampton, Elaine has also practised at the Grace Clinic Belgravia and Bamford Haybarn Spa in the Cotswolds. Her directive and solution-focused sessions aim to expand your self-awareness, releasing feelings of panic, worry, shame, guilt, fear and anxiety, while her talking therapy will help you heal emotional wounds and challenge deep-seated behavioural patterns and belief systems. From there, Elaine offers coping strategies and psychological resources to manage the demands of modern life.
PRICE POINT: An initial consultation lasts around 90 minutes and costs TBC. 
Visit ElaineSlater.com
Suzy Reading
BEST FOR: Mums who are feeling overwhelmed
An SL favourite, chartered psychologist Suzy Reading is a name to know when it comes to self-care, especially if you're a new mum. It was Suzy's life experience of motherhood colliding with the terminal illness of her father that sparked her passion for self-care, which she now teaches to her clients to better cope during periods of stress and change. If you feel your emotions and stress levels are all over the place, Suzy can help – book a session with her over Zoom or the phone. Suzy's Instagram (@SuzyReading) is also full of helpful content, and every Monday at 9am Suzy hosts her weekly Monday Micro Moment, which explores a different theme to boost wellbeing. Previous sessions are saved on Suzy's IGTV, too, meaning there's plenty of content for you to dip into.
PRICE POINT: From £125 per one-to-one session, but reduced rates are available.
Visit SuzyReading.co.uk
Fiona Arrigo
BEST FOR: Online therapy
The founder of A Place To Heal, Fiona Arrigo is a profoundly intuitive healer, mentor and life teacher. A psychotherapist and a Fellow of the Institute of Biodynamic Medicine, she offers mentoring services which are designed to help clients examine their lives and how they fit into the greater picture. In this time of change, Fiona's expertise can offer support, guidance, advice and understanding of the changing world around us, with her aim always to help people move towards a more balanced state of being. Additionally, as part of the organisation, Fiona relies on a select group of experts to help with issues spanning anxiety, trauma and even couples' counselling. Today, all appointments, whether they be one-on-one or group, are conducted online, too.
PRICE POINT: Prices are on request, depending on the therapist and service required. However, there are several free resources available via the website.
Visit APlaceToHeal.co.uk
Fiona Lamb
BEST FOR: Hypnotherapy
By working at theta brain wave activity, hypnotherapy has been shown to be 93% effective after just six sessions compared to 38% effective after 600 psychoanalysis sessions. Specialising in mental health, addiction, emotional eating and insomnia, Fiona will help you manage negative thoughts and behaviours on an unconscious level through the power of hypnotherapy. On a mission to remove the taboos surrounding hypnotherapy, Fiona's approach is fresh and modern, and her realistic, soothing advice has earned her the reputation as of one the capital's top practitioners. Fiona is usually based on Harley Street, but online sessions have been proven to be just as effective – all you need is a decent pair of headphones. 
PRICE POINT: Sessions are priced from £200 but a package of six is recommended for the best results. 
Visit FionaLamb.com
APPS
The Calm App
BEST FOR: Anyone struggling to sleep
If you're struggling with disturbed sleep patterns, you're probably not alone. After a year of disruption – not to mention continued anxiety over the state of the world – thousands of people say they don't get the quality or quantity of sleep they need to function at their best. Enter the Calm app. Billed as the number one app for sleep, meditation and relaxation, it's been downloaded more than 100 million times and earned over 1.5 million five-star reviews. Best known for its 'Sleep Stories' these chilled out tales are narrated by some of the world's biggest stars – think Matthew McConoughey, Stephen Fry and Regé-Jean Page.
PRICE POINT: There are some free resources available online, and there is a seven-day free trial available. Thereafter, monthly subscriptions are billed at £28.99 or you can pay a one-off fee of £299.99 for lifetime access.
Download it here
Deliciously Ella Feel Better 
BEST FOR: An all-round approach
Perhaps best known for her game-changing approach to healthy eating, Deliciously Ella has recently updated her popular app to include a host of meditation, wellness and mental health-focused content. Once you download it, you'll have access to 700 plant-based recipes, 250 movement classes, a range of sleep tools and a wellness tracker. Compatible with mobile, laptop and desktop, think of it as 360° route to better health.
PRICE POINT: There's a free trial available for new users, with monthly subscriptions charged at £2.33 thereafter. 
Download it here
Headspace
BEST FOR: Daily mindfulness
With increasing studies showing meditation and mindfulness are crucial for looking after your mental wellbeing, it's worth downloading Headspace, which recently released a series of free content designed to help you navigate change, reframe anxiety and deal with tough times. During the current global crisis, Headspace is also offering free premium access to the app to all NHS health care professionals. Whether you're struggling to sleep, feel constantly anxious or overwhelmed by the news, Headspace offers essential tools for managing stress at this tricky time. 
PRICE POINT: Headspace's Weathering The Storm content is free to download via the app.
Download it here 
The Anxiety Solution
BEST FOR: Anxious types
Today, anxiety is one of the most common mental health complaints, with an estimated 275 million people around the world experiencing symptoms. The Anxiety Solution app has been dubbed 'a complete anxiety toolkit', and looks at the numerous ways anxiety can manifest, including low self-esteem, racing thoughts at night, difficulty making decisions, procrastination and difficulty speaking in front of others. Thankfully, founder and anxiety expert Chloe Brotheridge also offers a range of solutions via her platform, from CBT techniques to mindfulness meditations to help you understand what your anxiety is trying to tell you and how to manage it in your everyday life.
PRICE POINT: A free trial is available to new users with a range of subscription packages available thereafter, priced from £5.99 per month.
Download it here 
Mindshift
BEST FOR: Young people & teens
Young people are under more stress than ever before, so it's understandable if they want some extra support to help them navigate the journey into adulthood. This app is designed to do just that, using scientifically backed strategies based on cognitive behavioural therapy. Tackling issues from anxiety to panic attacks, eating disorders to social awkwardness, teens can interact with helpful and easy-to-use resources, including the daily anxiety check-in tracker and the simple coping cards which offer instant encouragement.
PRICE POINT: The app is entirely free to use.
Download it here
WEBSITES
NHS Every Mind Matters
BEST FOR: Simple, straightforward advice
Whatever the ailment, the NHS website is often a good place to start – and the same goes for mental health. With far more awareness around the subject, the national healthcare professionals have put together a list of resources, articles and advice pieces to help you explore your own mental health. There's advice for parents dealing with anxious children, those struggling to cope with the effects of the pandemic and anyone looking for ways to get outside and improve their mental clarity. Not sure where to begin? The Get Your Mind Plan is entirely tailored to your needs and can be delivered to your phone after answering five simple questions.
PRICE POINT: The service is free.
Visit NHS.uk
BBC Headroom
BEST FOR: Men who want to explore mental health
By now, we all know men find it far more difficult to open up and share their feelings than women. If you're concerned about the man in your life, direct him to the BBC's Headroom site – a platform full of interesting and informative articles and videos tackling different mental health issues. A lot of the content is directed specifically at men, while other pieces dig deep into controversial mental health treatments like psychedelic drugs and music therapy. You'll also find sleep playlists, exercise tools and a host of other coping method suggestions here.
PRICE POINT: Everything uploaded onto the service is free to consume, although some content does require a TV licence. 
Visit BBC.co.uk 
Oliva
BEST FOR: Personalised Therapy
Offering a bespoke approach to online therapy, each Oliva journey starts with a 60-minute chat with one of the team's therapists to better understand your objectives and how you're feeling. Within 24 hours, you'll be matched with a therapist and after your first two sessions, the team will check in to see how you're doing. Trained to help with everything from depression and relationship issues to grief and adapting to parenthood, every Oliva therapist has a minimum of seven years' practising experience and goes through a six-step recruitment process. Sessions can be booked between 7am and 8pm on weekdays and can be rescheduled up to 48 hours before the scheduled time.
PRICE POINT: New customers can book a free 20-minute video chat with the Oliva team; prices start from £85 per session thereafter.
Visit Oliva.House
Healingclouds 
BEST FOR: Affordable therapy
Having recently been named as 2020's Best Mental Healthcare Platform, Healingclouds is on a mission to remove the obstacles faced by those needing support. One of the UK's lowest-priced therapy providers, this online service connects users to a pool of therapists via video call, with 60 to 90-minute sessions from as little as £35. A range of therapies are available from accredited practitioners – think CBT, psychological counselling and psychotherapy – and the service also offers therapist-led courses, giving users access to expert mental health knowledge from just £7 a month.
PRICE POINT: Healingclouds offers several monthly subscription packages, from £45 per month to include one therapy session, to a more premium package including four sessions at £140 per month.
Visit HealingClouds.com
The Help Hub
BEST FOR: Alleviating isolation or loneliness
The pandemic has forced many of us into unwanted isolation – a habit several are finding hard to break. Whether you're looking to chat to someone over Zoom, Skype or just the phone, The Help Hub's team of 800 qualified therapists are here to help. The service is free, and every Help Hub member is a trained therapist or counsellor who can listen without judgement, support you and signpost ways to manage moving forwards where possible. 
PRICE POINT: The service is entirely free to use, with appointment bookings made online via a simple enquiry form. 
Visit TheHelpHub.co.uk
DISCLAIMER: Features published by SheerLuxe are not intended to treat, diagnose, cure or prevent any disease. Always seek the advice of your GP or another qualified healthcare provider for any questions you have regarding a medical condition, and before undertaking any diet, exercise or other health-related programme.
DISCLAIMER: Features published by SheerLuxe are not intended to treat, diagnose, cure or prevent any disease. Always seek the advice of your GP or another qualified healthcare provider for any questions you have regarding a medical condition, and before undertaking any diet, exercise or other health-related programme.
DISCLAIMER: We endeavour to always credit the correct original source of every image we use. If you think a credit may be incorrect, please contact us at info@sheerluxe.com.