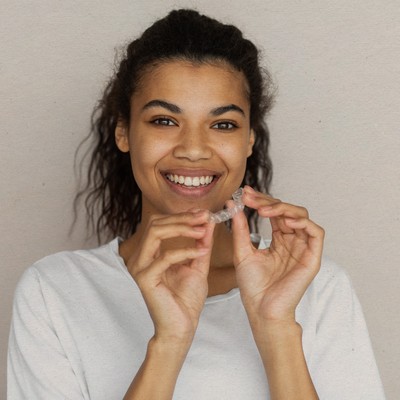 An Affordable Way To Straighten Your Teeth

A good smile can make or break your face – and your confidence. Luckily, your dream smile doesn't have to cost a fortune – taking dentistry to the next level, SmileDirectClub's at-home solution means it's never been easier to straighten your smile. Here's why it's a brand to know…

CREATED IN PARTNERSHIP WITH SMILEDIRECTCLUB
It's Incredibly Discreet
Clear aligners have fast become one of the most popular options for straightening teeth. Compared to traditional fixed braces, clear aligners are discreet, and because they're removable, they don't get in the way of eating and drinking. Making teeth straightening more accessible than ever, SmileDirectClub is a brand to know. Offering access to affordable and convenient clear aligner therapy through its first-of-its-kind dentistry platform, SmileDirectClub will send custom-fit aligners straight to your doorstep. Plus, with check-ups done virtually, there's no need for regular in-person visits, saving you time and money. On that note, the average SmileDirectClub experience costs up to 60% less than traditional braces, with prices starting from just £70.09 per month. 
It's Easy To Get Started
Forget time spent in dentist waiting rooms – with SmileDirectClub, everything can be done remotely, including the initial steps, if that's more convenient for you. "You have two options to start your journey," says Dr Jeffrey Sulitzer, chief dental officer at SmileDirectClub. "You can either book a free appointment at a SmileShop – there are eight across the UK – to have a 3D image taken of your teeth, or you can order a dentist-prescribed, easy-to-use at-home impression kit. A UK registered dentist will then prescribe your treatment plan and you'll receive your custom aligners within a few weeks." 
If your schedule doesn't allow, or if there isn't a SmileShop near you, the impressions are easy to do from the comfort of your own home, but if you're someone who'd rather talk things through, the option is there. "All our dentists have at least five years of aligner therapy experience, and have straightened over 1.5 million club member smiles worldwide," Jeffrey adds.
There's An Option For Everyone
If time is of the essence, SmileDirectClub's invisible aligners are the perfect choice. Wear them for 22 hours a day (factoring in time for eating and drinking, when they'll need to be removed) and you can expect to see results in four to six months, depending on your starting point. If, however, you're more conscious of wearing aligners during the day and time isn't as big an issue, consider the Nighttime Aligners, which, when worn for ten hours a night, guarantee results in around ten months. It's also worth bearing in mind that SmileDirectClub's aligners are suitable for adults aged 12 upwards (with a parent or guardian permission for under 18's).
You're Supported Throughout The Process
Throughout your journey, you'll have regular virtual check-ins with a dentist and access to 24/7 customer and dental care support. "Your dentist will closely monitor your case and check in with you every 90 days to ensure your teeth are moving safely," says Jeffrey. "We also offer a Lifetime Smile Guarantee™, which means we'll support you for life. Once you finish your treatment, it's recommended you buy a set of retainers to keep your smile in check, and as long as you replace them as prescribed every six months, you'll qualify for a free aligner touch-up every year if you need one."  
It Puts Comfort First
If you've had traditional braces, you'll know how uncomfortable they can be, but SmileDirectClub's clever Comfort Sense™ laser technology means their aligners are cut to give a smoother fit. Instead of being trimmed around the gum line, they're shaped in a straight line across the top of the aligner for improved fit and comfort. SmileOS™, SmileDirectClub's innovative new treatment planning software enables its affiliated network of UK-registered dentists to treat more patients, more accurately predict tooth movements, and better visualise their patients' treatment​​. "We also have 24 patents when it comes to creating your bespoke aligners, helping us create the most comfortable treatment plan to straighten your smile in the shortest time possible," says Jeffrey.
It's Surprisingly Affordable
"SmileDirectClub's mission is to make premium oral care accessible, affordable and convenient," Jeffrey tells us. "Costing up to 60% less than traditional braces, prices start from £70.09 a month, or £1,539 upfront." Keen to find out more? To get started, visit SmileDirectClub.co.uk, where you can take a free, 30-second Smile Assessment to find out if the aligners are right for you. 
Want in? Get access to SmileDirectClub's Black Friday offers now, including £100 OFF your aligners using the code BFRIDAY21. You can also start your SmileDirectClub journey with an £8 at-home impression kit (usually £39), for a limited time only. For more information visit SmileDirectClub.co.uk
DISCLAIMER: Features published by SheerLuxe are not intended to treat, diagnose, cure or prevent any disease. Always seek the advice of your GP or another qualified healthcare provider for any questions you have regarding a medical condition, and before undertaking any diet, exercise or other health-related programme.
DISCLAIMER: We endeavour to always credit the correct original source of every image we use. If you think a credit may be incorrect, please contact us at info@sheerluxe.com.