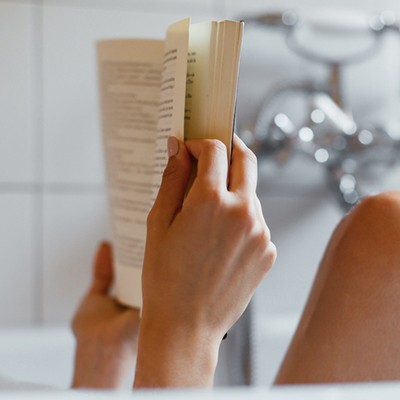 6 Ways To Boost Your Bath-Time

Under normal circumstances, self-care is something you might just squeeze in: a sheet mask while you're cooking dinner, deep-breathing exercises on the bus. Now, with more time on your hands at home, there's ample opportunity to kick it up a notch. A fad-free way to incorporate a little mindfulness into your day, a bath is a time-tested method to soothe an anxious body and mind. Here's how to supercharge your soak…

1. Switch Up Your Routine
Your bath doesn't have to be an end-of-the-day scenario, says Suzanne Duckett, journalist and author of Bathe: The Art of Finding Rest, Relaxation and Rejuvenation in a Busy World. "We use our stress hormones morning, noon and night, so if you are anxious as a person, a morning bath could be worth thinking about," she says. Levels of cortisol, our stress hormone, peak first thing in the morning, so giving your hormones a helping hand via a restorative soak could be the answer to a more productive day. When it comes to specific ingredients, steer clear of oils and other blends that feature sleep-promoting lavender – Aromatherapy Associates' Revive Morning Bath & Shower Oil, £48, brimming with invigorating juniper, neroli and grapefruit, comes highly recommended.

2. Soak in Salts
Epsom salt has long been praised for its bliss-inducing properties, essentially because it is rich in magnesium, also known as nature's relaxation mineral. Countless holistic experts say we need more magnesium in times of stress – in fact, stress can deplete magnesium levels and a deficiency can negatively affect the way we deal with a high-pressure situation. As well as anxiety, magnesium can also be a boon for PMS-related concerns like migraines, restlessness, irritability, mood swings and cramps. It can also reduce inflammation and regulate cortisol levels. To reap the benefits of an Epsom salt bath, be generous with how much you pour in – aim for 500g for a 20-minute soak.
3. Banish the Sniffles
If you're feeling under the weather, there's nothing like a restorative soak, but studies show the benefits are more than psychological. A 2011 study found raising body temperature through a bath can help certain elements of the immune system to function more efficiently, warding off infections and viruses. Heat also opens up blood vessels in the circulatory system and nasal passages, helping to relieve congestion and even headaches and muscle tension. Therapie's Himalayan Detox Salts, a blissful cocktail of Himalayan mineral salts, powdered amethyst and essential oils of lemongrass, juniper and geranium, are our favourite way to rebalance emotional and physical wellbeing when feeling run down.
4. Know Your Essential Oils
When it comes to choosing your bath soak, choosing the right one for your mood can have a huge impact on your wellbeing thanks to the power of aromatherapy. As aromatherapist Annee de Mamiel explains, "Aromatherapy oils affect the way we feel because they affect the limbic system, commonly known as the 'emotional brain'. There is a common misconception that essential oils just 'smell nice', when in reality, upon inhalation, they are able to balance hormone levels and alleviate emotional tension." When it comes to specific oils, Annee recommends rose, frankincense and chamomile for stress; jasmine, lavender and vetiver for insomnia; bergamot and peppermint for focus; and rosemary, eucalyptus and grapefruit for productivity. 
5. Encourage A Restful Sleep
The benefits of quality slumber are widely recognised, but how to clock in your eight hours remains elusive to many. One theory claims a colder core body temperature can induce sleep, explaining why some experts recommend lowering your bedroom thermostat. But a warm bath before bed can yield similar results. At night, our body temperature naturally drops, which triggers production of melatonin, the sleep hormone. Soaking in the tub will raise your body temperature, and force it to cool down rapidly afterwards, kick-starting melatonin production to better prepare you for sleep. If you're feeling down, add a few drops of ilapothecary's Beat the Blues Bath Oil to the tub – it's laced with calming tuberose, energy-balancing geranium and strengthening clary sage. 
6. Soothe Aching Muscles
While immersing yourself in cold water has become the trendiest way to soothe sore muscles, experts say soaking in warm water can also speed regeneration after a workout. A hot bath boosts circulation, aiding recovery, and psychologically takes the edge off tight, overworked muscles. As Annee explains, "Your skin releases endorphins in response to soothing, warm water in the same way endorphins are released when you feel the sun on your skin. Therefore, submerging yourself in a hot bath is both therapeutic and reinvigorating, boosting blood flow." Maximise the benefits by stretching or foam rolling after getting out of the tub, while muscles are still warm and pliable. The Organic Pharmacy's Arnica Soothing Muscle Soak is SL's Wellness Editor's go-to for a sore body – she went through at least three tubs when training for the marathon back in 2018.
Take your bath to the next level with our edit of the ultimate bath soaks and salts…
DISCLAIMER: We endeavour to always credit the correct original source of every image we use. If you think a credit may be incorrect, please contact us at info@sheerluxe.com.