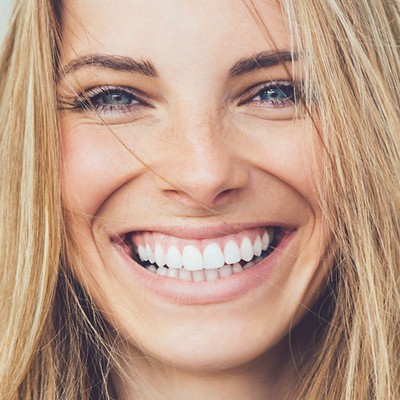 9 Teeth Whitening Rules From A Top Dentist

From strips to kits to professional treatments, the beauty world is teeming with options when it comes to the promise of a brighter, whiter smile. But when it comes down to it, which actually work? And which are really safe? We spoke to Dr Uchenna Okoye, resident cosmetic dentist at London Smiling, for her words of wisdom. Read on and take note…

1. You Have Options
There's an array of different options when it comes to teeth whitening. The best option in terms of results and price is at-home whitening prepared by your dentist – a mouthguard is usually custom-made for you which you wear at night filled with a small amount of whitening gel.
If you choose to have your teeth whitened at the dentist, your dentist will use 'laser' whitening, a surgical procedure that lightens the teeth using a photosensitive gel activated by light. This process usually takes around an hour.
Meanwhile, previously only available in the US, a plethora of teeth whitening strips can now be bought in the UK – these also guarantee great results. 

2. Always Choose A Dentist
Did you know it's illegal for anyone who's not a dentist to whiten teeth? You see the service offered everywhere from beauty salons to spas but always book in with a dentist for the real deal. Yes, you may pay more, but the results and service will be worth it. Plus, if something goes wrong, you'll have nothing to fall back on.

3. Prices Vary
It pays to do your research – expect to pay anything up to £1000 for a professional teeth whitening at the dentist. Always look for three things: location, level of experience and method. Like asking why prices of cars vary so much, all take you from point A to B.
Don't be afraid to ask follow-up questions or clarifications and ask for examples of successful cases to get an understanding of the treatment.

4. Go Electric
Still not using an electric toothbrush? If you're after whiter, brighter teeth, a manual toothbrush just won't cut it. I recommend OralB electric toothbrushes to all of my patients – they come with the option to buy a separate whitening head and these act as a great way to whiten your teeth at home and improve your dental health in the process.

5. Think About Aftercare
If you've made the decision to invest in whiter teeth, it's worth thinking about your diet and lifestyle too for long-lasting results. A good-quality treatment should last two years but try to think of your teeth like a white T-shirt – they're easily stained and need proper care.
 
In terms of drinks, tea is actually worse than coffee, especially dark herbal varieties like peppermint while you should also be wary of curries and red wine.

6. Don't Forget To Floss
It might sound obvious, but flossing is crucial for optimal oral health. Regular flossing will help remove plaque and bacteria in between your teeth, reducing the possibility of stains sticking and keeping your teeth whiter in the long run.
 
Also consider that the majority of oral health problems, including cavities, occur from bacteria lurking in-between your teeth.

7. Invest In The Best
Do your research when it comes to toothpaste – you don't need to spend a fortune but know that some formulas are more abrasive than others and can affect your teeth's enamel. OralB do some of the best whitening toothpastes that really guarantee results and don't compromise the health of your teeth in the meantime.
 
When buying a toothpaste, the most important ingredient to look out for is fluoride: it strengthens teeth and helps prevent cavities.

8. Be Wary Of At-Home Kits
Be careful with over-the-counter teeth whitening kits. There are hundreds on the market but many of them are abrasive and can actually damage your teeth. It's best to think of whitening toothpastes as stain removers.

9. Don't Compare
Remember that some people respond better to teeth whitening than others. It all comes down to the amount of enamel on your teeth and how dark your teeth were at the outset. The darker the difference is between the whites of your eyes and your teeth, the more effective whitening will be. 
 
For more information, or to book an appointment with Dr Uchenna, visit LondonSmiling.com
DISCLAIMER: We endeavour to always credit the correct original source of every image we use. If you think a credit may be incorrect, please contact us at info@sheerluxe.com.