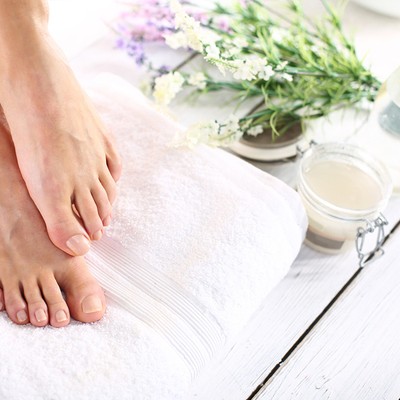 Beauty 101: How To Treat & Prevent Yellow Toenails

Yellow toenails aren't that nice a topic, but that doesn't mean it shouldn't be discussed. We spoke to Fionnuala Esah, a foot expert and podiatrist at Margaret Dabbs, to find out the best ways to treat them, why they occur, and how you can prevent them from developing in the future…

Identify The Issue First
You need to establish with a podiatrist if your nail is discoloured, or if it has a fungal infection – the two can often be confused. A nail stained from polish, migrated fake tan, food colourant or excess dehydration can benefit from a light buffing of a block, or a layer of a serum that's laced with tea tree oil. The latter works to nourish, repair and protect against any potential infections. If the issue is identified as fungal, you'll be offered different advice, which can include laser therapy to break down the infection. When the issue is fungal, the nail will usually look yellow and thicker, but a specialist can confirm this for you.
Up Your Vitamins 
There are many causes for yellowing of the nail, but certain deficiencies can play a part, including a lack of zinc or vitamin B12. Always speak to your GP or healthcare provider if you're concerned or are worried about any underlying health conditions that could be a contributing factor. 
Quit Your Bad Habits 
Smoking is a key cause of yellowing of the nail. It can trigger peripheral arterial disease (PAD) which can decrease your circulation by narrowing the arteries and restricting blood flow. In turn, this leads to a lack of circulation and oxygen, which prevents the vital supply of nutrients to the nails. On the feet, the extremities are more at risk because the arteries are narrower, so the circulation is affected more easily. When this happens, the toenails become thickened, brittle and discoloured, and this can leave them more susceptible to fungal nail infections. 
Seek Out Key Ingredients 
Topical applications can be applied. Success may depend on the longevity of the fungal infection and how advanced it has become, but typically there are three ingredients that work. Firstly, tea tree: some studies suggest it attacks the membrane of the fungus, causing it to die out. Secondly, terbinafine can change the permeability of fungal cells, causing them to fade out over time. Finally, amorolfine creates holes in the membrane of fungal cells, which helps to well and truly eradicate the fungus. Keep your eyes peeled for all three on any ingredients list. 
Minimise Your Use Of Polish 
Yellowing of the nail can occur from polishes that include chemicals and darker pigments. Troublesome chemicals can include things like formaldehyde, nitrocellulose and ethyl acetate –check labels if you want to avoid them. They can create a chemical reaction (oxidisation) between the polish and the keratin within the nail plate. As a result, nails can become brittle, discoloured and yellowed. Fungal spores can also breed under dark environments, so leave the polish off when you can. Instead, paint on a clear solution to keep a close eye on any worsening colour.  
Invest In Shoe Sanitisers
If it's a fungal issue, invest in a shoe sanitiser to get rid of any bacterial spores in your footwear. This saves you washing your shoes, preserving both them and the health of your nails. The same is true for foot sprays like Margaret Dabbs Shoe and Insole Spray. This helps to protect against re-infection as well as neutralising odour. 
Be Strict With Footwear 
Yellowing of the nail can often be accompanied by a thickening of the nail. This happens naturally as we age, but it also occurs from trauma and excessive pressures on the nail – mainly from footwear. With this in mind, it's important to always wear shoes that are wide enough and deep enough to prevent trauma or any tightness on the nails. It's also recommended that you see a podiatrist regularly if you start to suffer with yellowing – they can assess the nail safely and reduce any thickening with a burr to return the nail to its normal appearance.
Cut The Right Way
It sounds trivial, but cutting the right way is paramount to a healthy nail. All nails should be cut straight across with the use of proper toenail clippers. These are much safer and easier to use than scissors, which can cause injury, as well as trauma to the nail. If you suffer from any underlying health conditions – diabetes, rheumatoid arthritis or ingrown nails – consult your podiatrist, who will cut and assess the nail for you. 
Shop Our Edit Of Products & Treatments Below…
DISCLAIMER: We endeavour to always credit the correct original source of every image we use. If you think a credit may be incorrect, please contact us at info@sheerluxe.com.