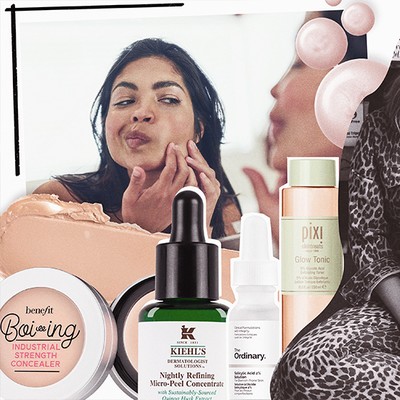 The Beauty Insider: Everything You Need To Know About Spots

Make-up artist Lisa Potter-Dixon is here again with her fortnightly beauty column, sharing her tips and tricks of the trade on what's new, what's cult and what you really need to know in the world of beauty. This week, she's tackling spots and how to best to deal with those dreaded pimples...

Spots are a bitch. Whether you have just the one or a face full of them, there's nothing good about a spot. Unless, perhaps, one is positioned perfectly, and you can colour it in with an eyeliner, and transform into Cindy Crawford! Anyone else done that? No? Just me?
The reality is that spots are frustrating. There's no good time for them to appear, but there are many reasons why they do. Hormones, stress, and partying too hard are just a few of them. But don't panic, there are also many things you can do to help tame the volcano. Here's my top tips.
Squeezing-Yes or no?
There is something strangely satisfying about taking action into your own hands and squeezing your spots. However, this can make things worse. Don't even think about doing this if the spot is red, painful or under the skin. These babies need to be left alone. Unless the head is white, avoid touching or squeezing your blemish full stop. Squeezing can cause scarring, it can make the area super painful, and delay the healing process. If it is squeezable. Do it properly. Have a shower as the steam will soften it slightly. Alternatively, place a warm flannel over it for a few seconds.  Make sure your hands are clean and squeeze either side until the job is done. Clean with a dry tissue. Stop if it's too painful.
Reducing a spot
There are loads of spot treatments out there. For me, I always go back to the old classic of putting a bit of toothpaste on it before bed as this seems to take the swelling down for me. As does putting a touch of Manuka honey the inflamed area. Manuka is known for its anti-inflammatory qualities and is a great natural treatment.
If you're prone to spots, make sure you're regularly including products with Salicylic, Lactic and Glycolic acids into your skincare routine. These are great for your skin. My fave products which include one or more of these ingredients are as follows.
Great for brightening, soothing and balancing your complexion. A cult classic for a reason.
Kiehls Nightly Refining Micro-Peel Concentrate
This overnight serum accelerates the cell turnover process which helps to refine the feel of rough texture. It helps to reveal newly radiant, refreshed skin and  smooth the skin too.
Paula's Choice Skin Perfecting 2% BHA Liquid 
This is a non-irritating, high-strength Salicylic Acid in a toner formulation. It's great for targeting mild to moderate acne. It doesn't sting the skin which is an added bonus, particularly for sensitive skin.
Mario Badescu's Glycolic Acid Toner
Great for all skin types. It's non-irritating and a skin-friendly option that does not sting or overly dry out skin and great for all skin types and helps balance and brighten.
Sarah Chapman's Liquid Facial Resurfacer
The powerful botanical ingredients leave the skin looking softer and smoother as well as targeting the signs of ageing with a complexion-correcting formula.
Using the above products will help prevent blemishes and keep your skin looking smoother. However, spots will  reappear and when they do, use a product that is specifically made to combat them. These tend to be super powerful and are basically, in my opinion, magic! Apply them as soon as you feel a blemish brewing. My favourites are:
This includes A combination of spot-fighting actives including, salicylic acid, azelaic acid, niacinamide and dioic acid It comes in a gel form which refreshingly cools and soothes the area.
Kate Sommerville Eradikate Acne Treatment
This is a potent treatment which is formulated with the highest level of sulphur allowed in skin care (10%). This helps to minimise breakouts and prevent further blemishes.
The Ordinary Salicylic Acid 2% Solution
Featuring salicylic acid and witch hazel, this blemish-battling solution penetrates the interior walls of pores to unclog and clear impurities.
The same stuff I used as a teenager. This classic formula fights the bacteria that causes spots and works quickly to dry them out.
Make-up
When it comes to spots and makeup, the rules are simple. Avoid it where possible. That will help the healing process. When this isn't possible, apply concealer with clean fingers or clean brushes. Leave the spot covering until the end of your makeup routine to prevent spreading the bacteria. Always wash your hands and brushes after application.
My fave concealers to cover are:
This beauty is oil-free and brightening. The perfect combo for concealing your new mate.
Benefit Boi-ing Industrial Strength
A full coverage concealer with a lightweight finish. It will cover anything and look natural too.
Another one for great coverage, plus, it has an SPF35, great for summer days and holidays.
That's the end of my blemish busting advice. Hopefully my tips will help to keep you calm during a breakout.
As always, feel free to ask any questions below.
 
Love & Lipstick,
Lisa xx
 
Lisa Potter-Dixon is a presenter, make-up artist and Head Make-Up Artist for Benefit Cosmetics. Follow her @Lisapotterdixon, tag her in your beauty pics with #LearnwithLisa and @Sheerluxe on Instagram.
DISCLAIMER: We endeavour to always credit the correct original source of every image we use. If you think a credit may be incorrect, please contact us at info@sheerluxe.com.