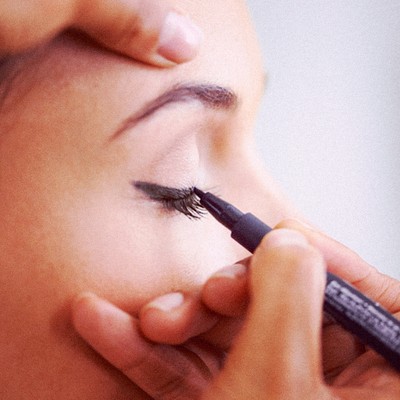 Eyeliner Hacks Everyone Should Know

Some people avoid eyeliner altogether because they think it's too hard to apply. The truth is it can be eye opening. Here make-up master and liner pro Hannah Martin shares her top tips and hacks that everyone should know…

Prep The Lids If Necessary
Prepping your lids before eyeliner application depends on how oily they are. Most liners stay put well, so unless your lids have a lot of slip, a primer isn't always necessary. If they are prone to greasiness, use a primer first, then a smattering of powder on top to mattify. A primer can also be useful if you want to smudge a soft kohl pencil, but need it to last. I recommend both the Urban Decay Primer Potion and NARS Smudge Proof Eyeshadow Base – both prolong the longevity of even the softest pencils.
Persevere & Practice Technique
This is especially true for liquid liners. They're a joy to do once you've mastered the art, but it takes time to perfect – even for make-up pros. When applying your liquid liner, hold your head back and look downwards into a hand-held mirror, keeping your eyes open. It sounds odd, but this will ensure you're focused on your lash line and that you have a really clear view of it. Then, rest the tip of your eyeliner onto the base of your lashes and start doing short strokes – a bit like dot to dot – to create a smooth, gradual line.
Trace Your Shape First
Always start slim with your liner – be it pencil or liquid – it's easier to ramp up the thickness than it isto take it away. If you want to create a large, winged effect, don't be afraid to trace the shape first with powder or a pencil, then go over it with the gel liner once you're happy. The key to a good winged liner is to take your formula into the very outer corner of the eye, then pull up and line outwards. I recommend doing your eyeliner first, then picturing where you want your flick to end so you can draw back from that point, pulling the liner in to meet where you've already drawn.
Get Acquainted With Your Shape
All eyes are beautiful, but different shapes will dictate what liner look will suit you best. For example, if your eyes are close set, avoid taking your liner into the inner corners of the eye. Instead apply a light shadow to the lids for a brightening effect, then focus on extending your liner a little at the edges to create the illusion of wideness. If your eyes are wide set, then do take your liner into the inner corners to help them appear less far apart. For hooded eyes, try tight-lining. This sounds complex, but really just requires you pushing your liner in between the lashes from underneath rather than on top, so you can keep what is visible of the lid light with eyeshadow. Eyes a little round? Try lining the outer third to create a more almond shape.
Use Pencils For Mature Skin
If you have more mature skin around the eyes, it can become increasingly difficult to create exaggerated looks because of fine lines. My preferred liner look on a more mature eye is a little bit softer. I recommend smudging a kohl pencil (dark brown or charcoal grey) along the lash line, keeping it slim in the inner corners of the eye, and slightly thicker towards the outer area. As you go, use your finger or a brush to buff the shade for a softly diffused finish – this is much more flattering than a hard line. I then recommend taking a very thin line of black, with either a liquid or gel, right at the base of the lashes to ensure the lash line looks as dark as possible. You can also use a dark powder to smudge everything a little, but this isn't always necessary – only if you want a more intense finish.
Try Starting In The Middle
If in doubt, try applying your liner in the middle of your lash line first. This goes for pencils and liquids. You can then extend into the inner corners of the eye – or not, depending on what you're after – then extend towards the outer area of the eye. It's the simplest way of getting a seamless line, with just a few stops and starts.
Don't Forget Your Remover
Like all make-up, liner can be tweaked to perfection, which is part of its beauty. All you need is a cotton bud and some eye make-up remover. Try cleaning underneath your liner by dragging the tip of a soaked cotton bud from the outer corner along the entire length of your liner. This will take away any jagged edges and create a very fine tip to your wing. You can also sharpen the tip of your flick by dipping a fine brush into remover and running that in the same direction too.
Invest In Some Handy Tools
You will master the art of liner with practice, but there are some great tools that can help. For starters, you can apply surgical tape from your lower lash line out towards the temple and use that to create your wing. Simply apply your liner up to and over it, let it dry then remove the tape to reveal a sharp, clean line. Some brands also sell what look like guitar picks that you can place at the outer corner of your eye for the same technique, but if all else fails then try something like Ciate's Stamp and Drag product. It has a felt-tip liner on one end and a wing stamp on the other for ease. You just place the stamp at the outer corner of your eye, then use the other end to complete the look.
Powders Work Just As Well
If you find liquids and pencils too tricky, try using a dark shadow to create a similar effect while you hone your skill. When you're confident doing a powder shadow, wet the brush for a more intense look, then progress to pencils once you're altogether more familiar and confident with application techniques.
Shop Our Edit Of The Best Liners & Tools Below…
DISCLAIMER: We endeavour to always credit the correct original source of every image we use. If you think a credit may be incorrect, please contact us at info@sheerluxe.com.