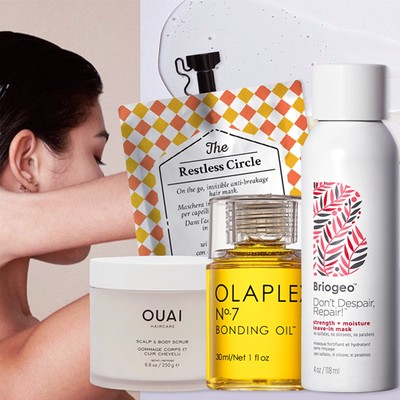 5 Easy Ways To Boost Your Hair Health

From leave-in masks to nourishing oils and scrubs, there are multiple ways to restore moisture, softness and even brightness to your hair. Here, we share five of the best, including how to use them and what to expect…

Scalp Treatments & Scrubs
Scalp treatments and scrubs are relatively new, but they can make a significant difference long-term. Working to keep the hair follicles clean, they clear blockages and soothe any inflammation caused by products, which in turn prevents thinning hair later in life. The benefits don't stop there – scalp scrubs also help to exfoliate dead skin cells and regulate excess sebum. Limit use to once or twice a week at most, and ensure you're using a gentle touch. Massaging too vigorously can cause irritation and sensitivity. 
Leave-In Masks
Leave-in masks can be left on overnight or all day for extra moisturising benefits. Different to regular masks, they provide deeper hydration and replenish nutrients faster to strengthen weak strands. Anyone can use them, but dry or brittle hair types will benefit most. When it comes to application, nourishing ingredients absorb better when applied to wet hair – you can then cover the hair with cling film to ensure the formula penetrates as deeply as possible. If you're wearing it overnight, make sure to cover with a regular hair cap to prevent absorbtion into your pillow – come morning, rinse out to see silky-smooth results. 
Deep Conditioners
We all know conditioners add shine and soften hair, but they can also act like a mask at a fraction of the price. Deep conditioners are better at coating the hair than certain products, and can provide optimum protection against heat – it's why experts recommend them for those who colour or straighten their hair. Ingredients tend to cling to the hair and don't rinse off, either, so you'll continue to reap the benefits post-wash. Deep conditioners also help to improve hair elasticity and strength over time, and there's no limit to how often you can use them – the more moisture, the better. 
Quick-Fix Masks
Leave-in options are popular, but remember, a mask doesn't need to take hours. There are plenty of quick-fixes that deliver instant gratification and require only a two-minute application while you shave in the shower. The key is to choose one specific to your needs – whether that be hydration, damage-repair or shine... the options are endless. Aim to use them twice a week in place of your usual conditioner. Comb it through wet hair to distribute the product evenly, before rinsing it out with cold water – this closes the cuticles and pores in the scalp, in turn, enhancing shine. 
Hair Oils
Regardless of your hair texture, oils are great for keeping dry strands looking and feeling hydrated. However, it's essential you choose wisely, based on what you want them to do. For instance, if your goal is to enhance shine, experts recommend looking for ingredients like olive, carrot, or jojoba. If you're after one that provides heat protection, silicone coats the hair and ensures heat penetrates slowly and evenly. As for application, always use a light hand. Work a small 5p-size amount between your palms, rub it over the bottom of wet hair in the shower and leave it on for 10-15 minutes, allowing the steam from your shower to open the cuticle and let the oil penetrate further. You can also use it as a styling product to keep hair smooth and free of flyaways. A top tip is to apply it at the back first, where your hair is thicker, and use whatever is left for the front. 
INSPIRATION CREDITS: Instagram.com/theouai
DISCLAIMER: We endeavour to always credit the correct original source of every image we use. If you think a credit may be incorrect, please contact us at info@sheerluxe.com.