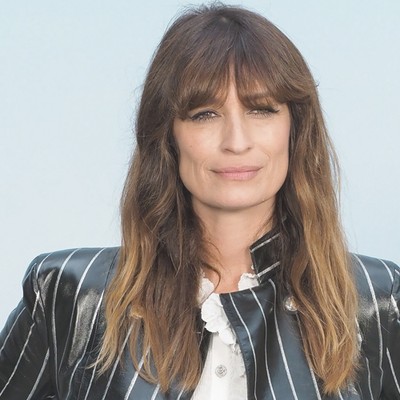 6 Things To Consider If You Want To Get A Fringe

Fringes come in and out of fashion, and for Spring 2020, they're definitely in. But regardless of whether you follow hair trends, getting a fringe could be flattering for your face shape. Tempted but nervous about taking the risk? We asked hairdresser and creative director, Adam Reed, what to consider first.

Think About Your Face Shape 
Anyone of any age can wear a fringe because they're adaptable to every hair style and most face shapes. Having said that, bangs are personal, and it's important to ask your hairdresser to recommend something that works for you. When cutting a fringe, it should help make the face look as close to an oval shape as possible, because it's universally flattering. If you're still not sure, the following is a good guide: 
Long and narrow faces: Blunt fringes are best, especially ones that hit just below the brows as this will make your face look fuller.

Round or square faces: Bangs can make circular faces appear even wider, so ask for a graphic, curved style that will flatter bone structure. The thicker the better, as wispy versions have less impact.

Heart-shaped faces: You can get away with pretty much everything in this case – short, long or arched. But the ideal style is layered and feathered, where the shortest pieces hit the arch of your eyebrows, and the longest meet the outer corner of your eyes.
Never Underestimate The Styling Process
One of the main things to consider pre-chop is how much styling your fringe will need, and if you're happy to maintain it. While it does depend on your hair type, most people will need to invest in tools and products, like an anti-frizz cream, to comb through a damp fringe to prevent it from puffing up as it dries. A hairdryer will also be vital, especially its nozzle attachment, which can direct airflow up from the roots for extra lift. Just don't use hairspray directly on top of your fringe as it will make it sit flat – instead, spray some onto your brush and then brush through for a soft hold. 
Keep It Long To Begin With
If you're new to the idea of a fringe and worried about whether you'll like it, ask your stylist to cut you a 'gringe' which basically means, a grown-out version. That way, if you don't like it, it'll grow back quicker without that awkward in-between stage. As it grows out, use the time to experiment with different shapes, such as a side-sweep when the fringe gets long enough, or pin it at the sides with hair accessories. 
Know That Even Curly Hair Types Can Try Them
Anyone who says people with curly hair can't have a fringe is mistaken. It's just key that both you and your stylist consider how the hair will look – both smooth and curly - before cutting it. It's why hair is often cut dry, as it takes out some of the guesswork when it comes to how the bangs will look with their natural texture. A good trick is not to let the fringe grow below the brows, so it doensn't drag the face down. As for styling, comb the bangs down and apply styling gel. Once dry, use a mini flatiron to smooth (not straighten) ends.
Don't Let A Cowlick Put You Off 
While cowlicks can be troublesome, they shouldn't put you off having a fringe. You'll never get rid of it – especially if it's been there since childhood – but you can train it to sit flatter. Mini flatirons are great for ironing out kinks, and it's worth investing in rollers to train your fringe to sit right. Velcro ones may seem old-school, but they're affordable and the perfect remedy to unruly, flyaway fringes. 
Ask Your Stylist About Your Forehead
It's not just the face shape that comes into play - your forehead should be considered, too. Remember to ask your hairdresser how far back they think your fringe should start - especially if there's not much space between your brows and hairline. There are many different variations you can try to make a small forehead appear longer or vice versa, so make sure you consider what you want before taking the plunge. 
DISCLAIMER: We endeavour to always credit the correct original source of every image we use. If you think a credit may be incorrect, please contact us at info@sheerluxe.com.