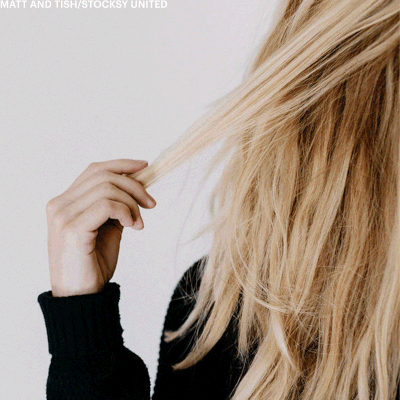 How To Bring Damaged Hair Back To Life

From diet and stress to excessive styling, so many things can affect the length and strength of your hair. If yours could do with some TLC, you're in the right place – here, four industry experts explain how to bring damaged hair back from the brink and encourage healthier growth in the future.

All products on this page have been selected by our editorial team, however we may make commission on some products.
Identify The Problem
"Often, people think damaged hair is useless and there's no way of reviving it," says Paul Edmonds, A-list stylist & Shu Uemura Art of Hair ambassador. "But this isn't true. If you're willing to spend a bit of time and money, there is always a way forward. It's like dealing with an old house – it needs constant attention, but can still look beautiful. Before you start anything, it's important to identify the main problem. Damaged hair can be dry, brittle, over-processed or dull and weak from too much heat/colouring. There is a product to help with every concern, but the key is to address it, stabilise the issue, then move on."
Use Conditioner Pre-Shampoo
"For extremely damaged, brittle hair, try using a conditioner before your shampoo," advises Darren Fowler, Kérastase expert and founder of Fowler35 Salon. "This will prevent further breakage as you wash. Target breakage with a rich conditioner – like Kérastase Thérapiste Soin Premier – which contains six types of amino acids to work on the most frazzled strands and repair any damage internally. After a few minutes, emulsify and rinse before following up with a strengthening shampoo."
Be Gentle With Wet Hair
"Brushing your hair when its wet and at its most fragile will cause breakage and splitting," warns celebrity hair stylist and Charles Worthington ambassador, Ken O'Rourke. "Try combing a conditioner through your hair immediately after you've washed it. This will bind the product right into the hair shaft for maximum benefits, plus, the smoothness of the formula will mean you're less likely to pull or snag your hair. Look for products containing proteins too, as these will strengthen the hair from the root, in turn promoting better growth. The same goes for drying your hair after washing it. Avoid any vigorous towel-drying as this can cause extra damage to the cuticle. Instead, loosely wrap your hair in a towel and leave it to dry naturally." Ryan Forsythe, Senior Director at Trevor Sorbie for L'Oréal Professionnel agrees: "Wet hair has far more elasticity than dry hair, so that's why it's so at risk of breakage, especially if you tie it back too aggressively. Try to use soft elastics, like silk, satin or smooth scrunchies. It sounds like a simple switch, but it will make all the difference." 
Don't Rely On Haircuts
"A common misconception about hair growth is that regular trimming makes it grow faster – it doesn't," continues Ken. "While haircuts are essential and will keep your hair looking and feeling healthy, they work from the bottom, and growth begins at the top in the follicles in your scalp. That's why hair treatments are essential when it comes to strengthening and lengthening, so find a good conditioning routine and stick to it." Ryan agrees: "It is a myth that cutting damaged hair helps your hair grow – for this to happen, you've got to focus on the root. Trimming the ends regularly will prevent split ends from tearing up your hair shaft, however, which will keep everything at least looking healthy and strong." 
Up The Ante On Masks
"If you can, do a weekly mask and leave it in for as long as possible," recommends Paul. "Do one every time you shampoo, then finish with a small amount of conditioner to seal it in – you can give instant mask treatments a try too, as there are plenty available, including sprays that don't weigh your hair down. Likewise, it's important you don't wash your hair every single day. If you are using the right, nourishing products you won't need to. In fact, too much washing can lead to your scalp and hair drying out more."
If you're willing to spend a bit of time and money on your hair, there is always a way forward. It's like dealing with an old house – it needs constant attention, but can still look beautiful and be revived.

Focus On Certain Ingredients
"Look for strengthening and nourishing ingredients when you shop for hair products," adds Darren. "That includes proteins and hydrating oils. The former help to reinforce your hair cuticle, while oils add moisture back into the follicle, making it more supple and flexible. For hair growth, it's also important you take vitamins like biotin, which are proven to promote better hair strength. Also, wear your hair down more, otherwise it can become over stretched."
Use Coconut Oil With Care
"Dry, parched hair is not good for natural regrowth," adds Ken. "To counteract brittle strands, invest in coconut oil. It's incredibly nourishing, working like a secret weapon to repair damage and conceal split ends. You can use it wet, or dry, but it will help with dry texture almost immediately. Try slathering it on from root to tip, and then twist your hair into a bun. This way, you'll be conditioning your hair while also looking chic. Those with finer hair should use it sparingly, however – it's very rich and can make thin hair limp."
Pay Attention To Your Scalp
"The scalp is where undamaged hair starts, so it pays to nurture it as much as possible," says Paul. Darren agrees: "We tend to forget our scalp is the first step to healthy hair. It's affected by several conditions – dirt, oil, sweat and pollutants– all of which can hinder hair's ability to grow longer. It's why you should try regular scalp scrubs to cleanse and exfoliate, freeing the scalp from impurities and dead cells to allow for better growth. Massage your scalp with your fingertips – you only need to do so for about three minutes a day, but it will help gently stimulate the hair follicles."
Minimise Heat Styling
"Try to avoid heat styling as much as you can," continues Darren. "Embrace your natural texture and leave hair to air-dry when possible. If you have to use heat, always ensure you're using a heat protector first to minimise the damage – they're not a myth, they really do work. Look for hair sealing products which strengthen and rebuild hair from the inside out, while repairing the outer layer and leaving behind a protective topcoat that shields it from damage. My final tip is to sleep in a hair mask  and try sleeping on a silk scarf or pillowcase – either one will reduce friction which can cause further breakage and damage." 
Try A Texturiser
"Growing out your hair – damaged or not – is a lengthy process," finishes Ken. "A great tip for concealing any brittleness as you go is to try a texturiser. They're a great way of concealing dry strands as they coat the hair to give it a 'lived-in' look, therefore hiding any obvious signs of breakage. Sadly, they're not a long-term solution, so make sure you're maintaining a good haircare regime daily for proper results."
  
Shop our product edit...
DISCLAIMER: We endeavour to always credit the correct original source of every image we use. If you think a credit may be incorrect, please contact us at info@sheerluxe.com.