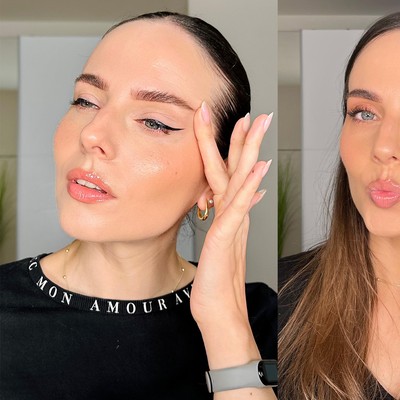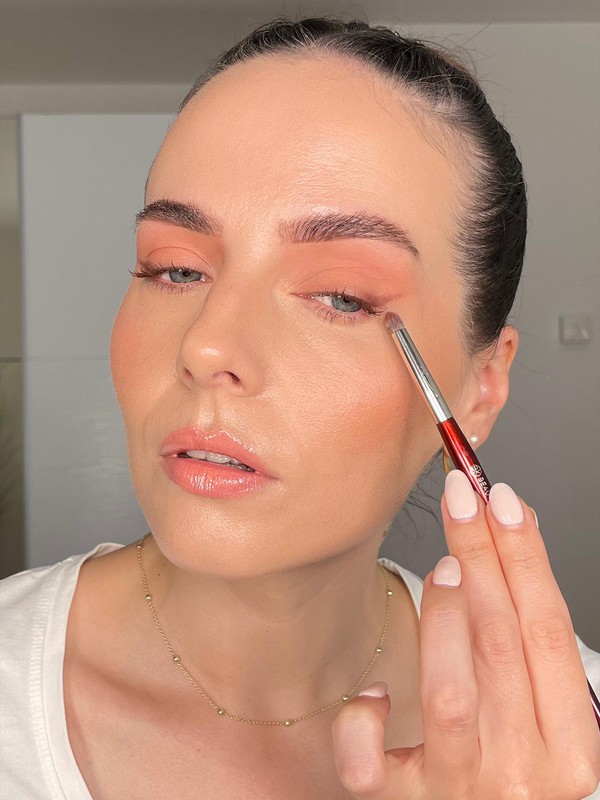 12 Beauty Hacks A Top Make-Up Artist Swears By

It's clear why Asta Jurksaite has amassed an Instagram following 324k. Her authentic approach, reliable product recommendations and clever make-up tricks have made her a favourite among beauty fans. Here, we asked her to share some of her best hacks – from the game-changing 'Velcro effect' to the countless ways to use highlighter…

By Rebecca Hull
All products on this page have been selected by our editorial team, however we may make commission on some products.
01
Never Use The Tip Of A Liquid Liner
"They may seem difficult to use, but a little practice goes a long way with liquid eye liners. First, always place your elbow on a table for stability – it will help you to have more control when you draw the line with your pen. Never close or overstretch your eye either as it might not end up looking the way you wanted it to when you release and reopen. Instead, relax your eye, look directly into the mirror, apply a slight pressure around your temple with your middle finger, then begin drawing a wing from the outer part of your eye. It's important you don't use the tip of then pen when lining your lashes. You want to hold it parallel to your eye, stamping the pen along your lash line as you go, using the flat side. Keep going until you're happy with the thickness. I recommend keeping the inner corners of the eye thinner for a more flattering effect. Lastly, connect your wing back to the lash with your eye open, filling in any gaps as you go."
"The easiest way to nail a winged line is by using an angled brush and a piece of cardboard – or a side of folded tissue. Dip your angled brush into your colour of choice, place a piece of card or tissue on the outer part of your eye and draw your wing along the sharpest edge. You can also do a stamping motion along the edge of the card – just don't move. This will give you a good idea of where your line should go so that you can retrace your flicks with a gel or pen liner. Eyeshadow is ideal for mapping out your wing as it's easier to fix any mistakes."
03
Try The 'Velcro Effect' With False Lashes
"Lots of us apply falsies the wrong way by applying the glue directly to the lashes. Try what I call the 'Velcro effect' instead where you apply glue to your lash line first. Once you've done this, line the band of falsies with the glue, but wait about 30 seconds for it to get tacky. You'll find they immediately stick together like Velcro does. It's easier than it sounds, trust me."
"You've probably heard of underpainting by now, but it's one of my favourite ways to create a natural-looking base. You want to apply your cream bronzer, blusher and concealer onto bare skin. Then, blend each product one by one, before applying the smallest amount of lightweight foundation or a BB Cream on top, concentrating only on the areas that need more coverage. It's one of the best techniques to try if you want to give your complexion a beautiful, natural-looking finish." 
05
Place Your Blush Carefully
"If you're wondering where to apply your blusher, try placing two fingers beside your nose and buffing it on just above them. It's the most flattering placement and suits all face shapes. Start with a small amount of blusher, then gently tap a little more onto your upper cheek area to boost volume and definition. If you feel the blusher looks too intense, go back to the foundation brush you've used to apply your base and tap this around the edges to soften the look. The key is to take a tapping motion – never rub, or you'll ruin the colour. Finally, I recommend cream blushers over anything else. They melt into the skin and as a result, look more natural. If you're unsure what tones suit you, choose neutral ones like a mauve, or a combination of pinks and peaches."
"Before you do anything, brush your brows into place with a spoolie to get a feel for the shape. Keep the start of your brow nice and light – don't go in with a dark colour, it's better to go a shade lighter than you naturally are here. If you're using a pencil or a pen, apply them in the direction of your brow's hair growth, taking light-handed, deft motions as you go. Start at the front of your brows and then assess everything – you don't want to fill your entire brow with colour, instead, just fill in areas of sparseness so it looks natural. Set brows with a gel – it can be clear or tinted but it will help to give your arches more dimension and keep them nice and neat-looking."
07
Keep Your Inner Eye Area Bright
"Do this by using a nude, matte or light shimmer eyeshadow on the inner part to the mid centre of your eyelids. Then take a shadow that's a few shades darker and use this at the outer edges – the contrast of the two will make your eyes seem bigger and brighter. You can try using a highlighter too on your tear duct area. Adding any colours that are shimmery or light to the curvature of your inner eye will instantly create a widening and awake effect. Don't ignore nude eyeliners either – these can help you look more rested and cancel out any redness."
"My favourite way to prolong the life of my lipstick is by lining and filling the whole lip first with a pencil. Then, I'll apply my chosen colour on top – which should be similar to the liner – and blot it with a tissue before reapplying once more. This layering technique makes your lipstick last for hours. It also means that when the top layer wears off, you have just a hint of something underneath. Another hack is to hold a piece of tissue paper on your lips – post-lipstick application – then use a small fluffy brush with some translucent powder on it and run it over the paper. It sets everything in place and gives it a matte, long-wearing effect."
09
Work In Small, Thin Layers
"The secret to flawless foundation is to work in small, thin layers and blend everything out by tapping your brush gently against your skin. Start from the centre of your face and work your way out. Don't overdo it – if you feel you need more coverage in certain areas, just use a little concealer. This means you'll look smooth and even, but without the heavy or cakey finish of layers of foundation."
10
Work Your Highlighter Harder
"I am often asked how to create a soft, healthy glow and the answer isn't foundation, it's soft illuminators and highlighters. You want to skip anything that describes itself as matte – look for formulas that claim to be radiant, dewy or hydrating. I love a cream highlighter applied to the skin before any foundation. I also recommend using just a small amount on the highest points of your face – your cheekbones, above your brows and down the sides of your nose. Apply it anywhere you can see the light reflects off your face – it will give you the kind of subtle definition that looks luminous and fresh."
11
Prep Lids To Prevent Smudges
"Eyelids are often forgotten but prepping them with an eyeshadow primer can help prevent your mascara from transferring. This is because there's then zero oiliness or grease for the mascara to stick to. If you don't want to use a primer, try a small of face powder or blotting sheets before you apply any other eye make-up. Either way, apply the priming product you choose from your lash line all the way up to your brown bone. Another way to prevent mascara from smudging is to use a small amount of translucent powder on the tips of your lashes. This sets the formula in place and prevents any product fallout, too."
12
Finally, Don't Drag Your Concealer
"I often see people drag their concealer over their skin – specifically underneath their eyes. Instead, you want to use a brush or your finger and apply it in a tapping motion. Let it settle for a moment, then blend again if you need to, dabbing and tapping until it's smooth and settled. Not only does this give you better coverage, but you also get fewer creases, too. It's a small tweak but it makes a big difference to the appearance of your overall look."
---
SHOP SOME OF ASTA'S FAVOURITE PRODUCTS
DISCLAIMER: We endeavour to always credit the correct original source of every image we use. If you think a credit may be incorrect, please contact us at info@sheerluxe.com.