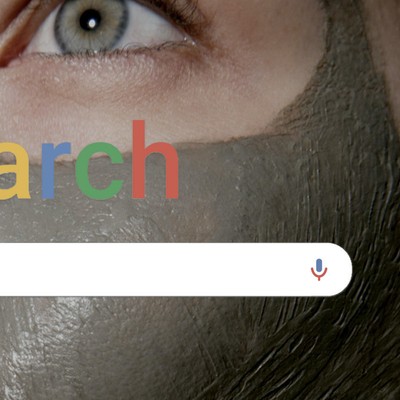 The Most Googled Beauty Questions of 2021, Answered

Ever wondered when beauty products expire? Or in what order to apply your moisturisers and serums? You're not alone. This year's most Googled beauty questions are in – and we've put them to a skincare expert and a make-up artist. From why you should avoid mixing vitamin C and AHAs to the best way to create luminous-looking skin, here are their answers.

By Rebecca Hull
All products on this page have been selected by our editorial team, however we may make commission on some products.
01
Is There A Way To Make Lashes Look Longer Without Applying Falsies?
"It's perfectly possible to get a strong and thick lash without using false eyelashes," says make-up artist Jessica Kell. "Start by smudging a soft black kohl pencil right into the bottom of your lash line and blend it out slightly. This creates a shadow at the root of the lashes which makes them look longer when they're finished. Then, use an eyelash curler starting at the root and give them a good curl at the bottom, middle and just below the tip for a full dimensional curl. After that, apply a lengthening mascara, really working it at the root and apply pressure as you swipe it to the ends. Do one eye and then the other and go back in for a second and third coat, keeping the brush pushed up against the lashes. My favourite mascara is the Hourglass Cosmetics Caution Mascara." 
02
What's The Correct Order In Which To Apply Skincare?
"In the morning, you should always begin with a cleanse, followed by a toner, then apply your serum, followed closely by your moisturiser, and finally an SPF," advises facialist and skincare expert Michaella Bolder. "In the evening, start by cleansing and toning again, but after that, exfoliate (at least twice a week), then apply your serum and a retinol before finishing off with a night-time moisturiser or facial oil. This is the routine I recommend to all my clients for visible results. It's also the correct order in which to apply all your different skincare textures, so you never get any pilling – maximum absorption means maximum results." 
03
Do You Have Any Easy Tips For Feline Flicks & Cat Eyes?
"Create your cat eye with shadows first, then amplify it with liner," says Jessica. "Start by creating the shape with a matte shadow in the crease and taking the crease to more of a wing in the outer corner. Once you've created the shape with the shadows, exaggerate it with a soft kohl liner by lining the lashes and bringing the liner into a lifted flick. Always finish with a couple of coats of very black mascara."
04
Why Is Vitamin C So Beneficial In Skincare?
"Vitamin C in a stabilised condition travels deep into your cells to stimulate collagen production," says Michaella. "It also repairs free radical damage (caused by pollution), brightens the skin and promotes healing through its antioxidant powers, which keep our cells healthy and strong. In short, it's the kind of ingredient that works hard to keep everything in check. It's why it's often referred to as an anti-ageing powerhouse." 
05
How Can You Fix Make-Up That's Become Cake-y?
"Cake-y make-up can be a real problem, especially throughout the day or if you like fuller coverage, but there are a few tricks to fix it," advises Jessica. "Often, make-up starts to appear cakey because there's too much product build up on the skin, so starting with a clean and really well prepped base is key. Make sure you properly hydrate the skin before make-up application with a great hydrating serum and moisturiser – I love the Hydrobio range from Bioderma. Then, apply your make-up in light layers – especially your primer and foundation. Start with less than you think you need and add it sparingly only to the areas that need it most. Use a round buffing brush and apply your foundation onto the skin in circular motions. Also, try switching from a heavy pressed powder to a lightweight finely milled loose powder when it comes time to set your concealer in place. The Laura Mercier Loose Setting Powder is a pro favourite."
06
Niacinamide Is Everywhere Now – Is It Worth A Try?
"Niacinamide – also known as vitamin B3 – carries high anti-inflammatory benefits," says Michaella. "It helps to balance your skin's pH levels and regulate excess oiliness. Niacinamide also improves our lipid barrier function, which means it restores hydration and reduces oxidative stress. The result? A calmer, smoother and healthier-looking complexion. It's a must-try for those prone to sensitivities." 
07
What Are Some Of The Best Make-Up Brushes?
"Make-up brushes do a lot of the work for you, so it's worth investing in the right ones," advises Jessica. "You'll find My Kit Co. brushes in almost every professional make-up artist's kit. I couldn't live without My Flawless Face Brush. Kit Stars is another great budget-friendly brand that offers brushes with both natural and synthetic hairs depending on your preference. My favourites are the fluffy eyeshadow brushes and the synthetic Shaping Veil Brush. If you're looking to splurge on a brush that will last a lifetime, try the Suqqu brush range. They deliver the perfect amount of product and can totally transform your final look. The Smudging Eye Brush is always in my kit, and I also love the Black Blush Brush."
08
Which Skincare Products Don't Mix Well Together?
"Vitamin C likes to be kept in a dark place on its own," explains Michaella. "Apply this ingredient to clean skin and leave it be for at least two to three minutes before you apply anything else. Likewise, mixing acids and retinols can be too stimulating, so try to balance these ingredients out by applying only one of them a day, rather than all at once. Another rule is to stick to vitamin C in the morning and retinol at night – never the other way around as retinol sensitises your skin in daylight, whereas at night it has time to absorb properly. Finally, avoid using vitamin C and AHAs together too often. They can over-stimulate the skin and can cause sensitivity, so again, try to avoid using them both on the same day." 
09
What Role Do AHAs Play In Your Skincare Routine?
"AHAs are a family of chemical exfoliating acids," says Michaella. "They are blended into skincare products to encourage cell turnover, which results in smoother skin and less oil production. Depending on what product you buy, they can be very well tolerated by most – just make sure you patch test it first, or introduce them gradually, building up your usage over time. They're ideal for anyone with dull skin wanting more glow."
10
Any Advice For Achieving A Natural-Looking Make-Up Look?
"Natural make-up is all about enhancing your best features, without overpowering them," says Jessica. "It's less about looking like you have nothing on, and more about focusing on the key areas. I love a lightweight base on top of dewy skin. For the rest of your complexion, it's all about a soft bronzer, buffed out from the hairline, over the cheekbones and a little on the nose too for a soft glow. The Victoria Beckham Bronzer contains two shades, so it keeps you glowing all year round. A touch of chocolate brown shadow used along the lash line also adds definition, while a good layer of mascara will finish the look nicely. If you want something on the lips, but want it to look natural, try a tinted balm instead of a lipstick. It gives a softer, healthier finish. My new favourite is the Tinted Balm from Typology, which is hydrating with a lovely, juicy colour."
DISCLAIMER: We endeavour to always credit the correct original source of every image we use. If you think a credit may be incorrect, please contact us at info@sheerluxe.com.