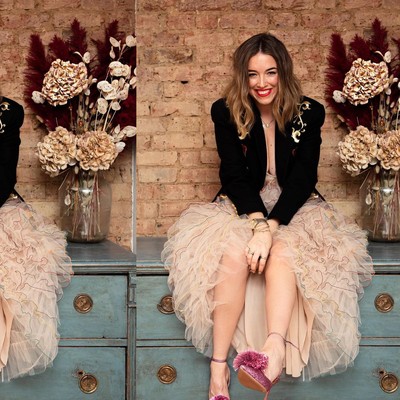 My Life In Beauty: Lisa Potter-Dixon

Lisa Potter-Dixon is one of the most well-known make-up artists and influencers working today. Loved for her incredible tutorials, game-changing hacks and sell-out books, she has an impressive clientele. It's not just her work that's made her so popular – her warm, honest and realistic approach has helped her stand out. Here, she shares her career highs, as well as the products she's never without and the importance of staying in your own lane.

All products on this page have been selected by our editorial team, however we may make commission on some products.
My career didn't take a traditional path. I can't put a definite answer on when I began make-up artistry – I never actually trained, but I was always surrounded and fascinated by cosmetics, with my mum being a model in the 70s and 80s. There are pictures of me as young as three in lipstick, and being the eldest of seven siblings, I had a lot of people to practise on. I studied drama and theatre, and I always did the make-up for every play, so in a way I self-trained. Back then, there was no social media so I never believed I could make a career out of any of it, then I moved to London at 18 and realised it was possible. I was rotating three jobs when I began working for Benefit cosmetics as its brow expert. I managed its boutique in Covent Garden and was constantly surrounded by journalists, including Elle's ex-editor in chief Lorraine Candy. It was Lorraine who suggested I did a shoot with them, and the rest, as they say, is history. 
Benefit gave me ten incredible years. It was a great, grounding experience, and by the time I left I had a team of 40 and had created its first ever global make-up artist team. You must be brave and push yourself – people can only say no, and until they do, never hesitate, just ask the question. We're all scared of refusal, but my motto is: ask the question, and if you get it wrong, then ask for forgiveness after. 
The looks I create are always about skin. I am obsessed with good skin and it's become my signature look. I never want photographers to retouch too much, so I make it a key focus whenever I am applying make-up. It's taken me 20 years to perfect dewy, even skin. Kevyn Aucoin was a real inspiration for this and I always researched his work and how he created an even canvas. The secret is prep work – I need a good hour to focus on the complexion, and 25 minutes of that will be pure skincare. That includes a face mask for 15 minutes to deeply hydrate, then I'll layer a rich, juicy balm like Elizabeth Arden's Eight Hour Cream on top. After this I like to apply an oil-serum hybrid like Glossier's Futuredew for further prep. I avoid primers – they are great for the everyday woman who is shiny or uneven in tone, but on set and for cameras it's an unnecessary layer. If you use a primer and find your make-up never sits right, I recommend just taking it out. It's not always needed. Above all, always take time to apply everything.
Lucia Pica gave me the best advice. Ten years ago, I assisted Lucia for the PPQ show at fashion week. It was such a buzz and one of my best memories. She turned to everyone and said: "Before we start, I want everyone to put on a red lipstick." So we did, and once it was applied, she said: "Now you're ready to crack on." It sounds basic, but it's stuck with me and I've kept this in my mind. It's obviously nothing to do with the lipstick; it's about feeling good and, in turn, ready and prepared to take things on. It applies to everything – not just beauty – but it does also show the power of make-up. If you feel like crap, put lipstick on – I promise it'll empower you. My go-to red is Lisa Eldridge's Velvet Morning.
There are five products I'm never without. Firstly, the Make-Up Forever Flash Palette. If I wanted to, I could use this to create a whole look easily. Secondly, I adore Armani's Luminous Silk Foundation – it's a classic for good reason. The Chanel Baume Essential stick is, in my opinion, the brand's best launch. It's so versatile with a beautiful texture that's glass-like – it elevates any look, no matter your skin tone or age. Next up are the Danessa Myricks Colorfix tubes. They are amazing as again, they multi-task, so you can use them on your eyes, lips, cheeks – anywhere. Finally, I genuinely couldn't be without the Victoria Beckham Kajal Eyeliners. The texture of them is unlike anything else I've tried. They're blendable, but the pigment is incredibly rich and strong, so that even when you blend, you get a beautifully intense look that doesn't water down – they are stunning.
If you have pain, anger or struggle, you have to ask yourself, what are you going to do with it? It's important you transform it into some form of goal, no matter how hard that feels.

I love lesser-known beauty brands. When it comes to shopping, I like Guru Make-Up Emporium as it promotes lots of small, niche brands. I also swear by Cozzette Beauty. It has incredible pigments and so many cool products to browse. Liberty is great too – if you're ever stuck on inspiration, you'll always pick up new finds there. Finally, three brands that don't get enough attention: Suqqu, Surratt and Danessa Myricks. All three are incredible and well worth checking out. The Surratt Lid Lacquer is one of the best beauty products of all time.
Many people inspire me in the industry. I've mentioned him already, but the late Kevyn Aucoin was a huge inspiration to many. He created the 90s supermodel look that's still so famous to this day. Likewise, I love the work of Whitey Snyder – Marilyn Monroe's make-up artist – who was very brave and never changed Marilyn into someone else. He just enhanced what she had. I admire that. In terms of the here and now, I love the OGs, including the likes of Lisa Eldridge, Val Garland, Pat McGrath, Andrew Gallimore and, of course, Charlotte Tilbury. 
There's one mentor I know I can call any time. Again, this is Lorraine Candy. She's known me since the beginning of my career and has always told me to just go for things. There's lots of people in this industry she's inspired. Probably the smartest woman I know, she's always there for me and I know I can call her at any time for the best advice. Plus, she got me into cold water swimming, which I'll be eternally grateful for.
My ideal client would be Cher. She is such a legend. Kevyn Aucoin did a make-up look for her where she wore heaps of glitter and a painted curl on the front of her head. I often look to this reference – give it a Google, it's so iconic. 
Every struggle is a learning. Virgil Abloh once said it's the struggles in life that make things worth it. I've always been someone who lives by this way of thinking throughout my career and life in general. I forget everything that was a 'hard time' and see it instead as growth and adventure. For me, everything is about driving forwards – never backwards. If you have pain, anger or struggle, you have to ask yourself, what are you going to do with it? It's important you transform it into some form of goal, no matter how hard that feels.
One key beauty moment stands out for me. This was when I led and created the make-up look at London Fashion Week for the Matthew Williamson show. That was a huge moment in my career. To be trusted by a huge designer is something I'll never forget. Also of course, creating and launching my books has made me very proud of myself. 
Inspiration is everywhere – you can't be closed off. Everyone says it, but I've always loved watching people walking down the street, and whenever I travel I'll take the time to sit in a coffee shop and do so. It's not just make-up, it's how someone walks, behaves – it's everything. Brighton is one of my favourite places to seek out inspiration – there's so much vibrancy there. It sounds silly but nature has a huge impact on me, too. The other day, I was shooting for Wonderland and used the colours on a leaf I found on the floor to inform the looks I created that day. As an artist, you can't ever be closed off – everything should be looked at and taken on board. 
I never use moodboards. I hate them on shoots as I feel they completely stifle you. I write a line on what I want the look to be and then go from there. It's key as a make-up artist – in my opinion – to work in the moment. When it comes to make-up, you have that flexibility to play. It's not like fashion where you need a plan – hair and make-up can follow and it can be adaptable. I advise aspiring make-up artists to think like this, so you're always pushing boundaries. Another tip? Practise every single day – you're never too good to practice.
Balance is key in my job. It can be intense, and there's rarely downtime, but I believe in carving out time for yourself to prevent burnout. Without fail, I have a bath every day with a cocktail of products. As I said earlier, I love cold water swimming too. It's a huge stress-reliever and is the only time I fully switch off and decompress. Going to the pub with friends also helps me stay relaxed – maintaining a bit of everything is so key.
The career tip I swear by is to stay in your lane. There is a show I love on Netflix called The Defiant Ones, which is about the rise of music legends Dr Dre and Jimmy Iovine. Long story short, Jimmy worked his way up from an intern as he was a brave risk-taker who believed everyone should behave like race horses. Race horses wear blinkers, so they can only look forward – never left or right – and stay fully in their lane. It's really key for all lines of work, but especially the beauty industry where it's easy to compare yourself to others.  You have to focus on your uniqueness and what you can bring to the table. The minute you compare yourself to others, you lose a little of your own magic. So, in the words of Jimmy, run your own race. I believe you should lift others up too – it's far more admirable and you'll be remembered for it.
My own advice to everyone is just go for it. Especially when it comes to make-up – wear the glitter. It doesn't matter when, or where. Just wear it and embrace everything. 
 
Follow @LisaPotterDixon and visit LisaPotterDixon.com
DISCLAIMER: We endeavour to always credit the correct original source of every image we use. If you think a credit may be incorrect, please contact us at info@sheerluxe.com.