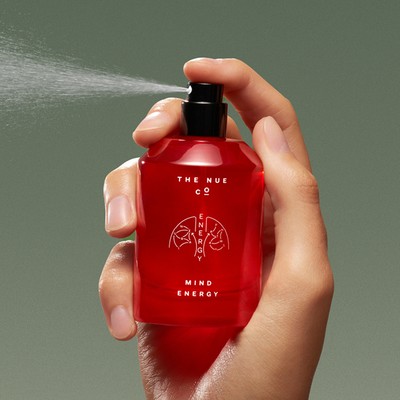 The New Fragrance For Boosting Your Mood & Energy

When it comes to wellness brands, probiotics, supplements and skin care, you'd be hard pushed not to have heard of The Nue Co. – its rise to the top has been hugely admired by the industry, as well as those who rely on it day in and day out. Refusing to take its foot off the gas, its latest launch is MIND ENERGY, a peppery, fresh spray-on scent designed to shift brain fog and improve your focus. A fragrance that lifts your mood and gives you a mental pick-me-up? What's not to love?

CREATED IN PARTNERSHIP WITH THE NUE CO.
 
Remind us, what's The Nue Co. all about?
The Nue Co.'s industry-approved range is a staple in the SL office – particularly the bestselling DEBLOAT+ supplement – and loved by those in the know. The brand was the outcome of founder Jules Miller's own experience with IBS and her frustration at the lack of proven solutions available. Fast-forward several years and The Nue Co. is renowned for its targeted solutions – whether you're looking to ease IBS symptoms, have a better night's sleep or get on top of stress levels, its products could be the solution you've been searching for. 
So, what's new?
Continuing to break the mould when it comes to clever formulations, The Nue Co.'s range of fragrance supplements has fast become our favourite health boost, and the new MIND ENERGY scent is our latest obsession. Designed to deliver a mental pick-me-up for anyone suffering with brain fog and low energy, the fragrance uses patented neuroscience technology to prompt a shift in your emotional state. It may sound far-fetched, but it works. Consumer trials of MIND ENERGY found significantly enhanced focus, improved productivity levels and increased levels of alertness over 30 days, with 86% of people saying they felt more focused and 76% saying they felt more alert.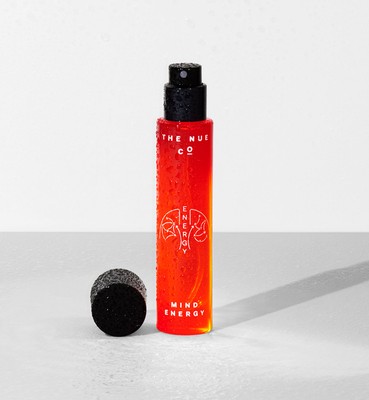 "The way we use supplements is ever evolving. MIND ENERGY is bright, fresh and zesty – and my go-to for sluggish moments, like afternoons working from home."

What's the scent like?
Like everything The Nue Co. does, quality is key. Using sustainable and upcycled extracts sourced from community-focused projects around the world, the team worked in tandem with perfumer Stephen Nilsen to formulate MIND ENERGY, which blends clary sage with juniper, pink peppercorn and clove for a scent that's peppery and fresh with a warm, velvety base. Rest assured it's doing the planet good, too. MIND ENERGY – and all The Nue Co. fragrance supplements – are free from any nasties, are suitable for vegans and are cruelty free. 
How do you use it?
Use daily as your regular everyday fragrance, or when you need an energy boost. Spritz onto your wrists and neck for the best results, inhaling for eight seconds, holding for four and exhaling for eight. Two sprays per dose is all you need for full-body energy support.  
What about the other fragrances in the collection?
MIND ENERGY is the third sensory supplement in the form of a functional fragrance from The Nue Co. The first, FUNCTIONAL FRAGRANCE, is an anti-stress remedy launched in 2017. Drawing on scientific research about the connection between scent and emotion, FUNCTIONAL FRAGRANCE calms the nervous system using olfactory triggers, and smells clean, woody, spicy and smoky. Packed with green cardamom, iris, palo santo, violet and cedarwood, it's the perfect unisex scent.
FOREST LUNGS came three years later and sold out 11 days after launch. Created by a world-renowned perfumer, it replicates the stress-relieving compounds produced by trees that are credited with balancing stress levels, and its woody blend of vetiver, cedarwood, benzoin and pine makes it the perfect autumnal scent. 
Finally, who are they for?
Whether you're already a fan of The Nue Co., or are looking for new ways to improve your health, MIND ENERGY and the brand's other sensory supplements come highly recommended. 
MIND ENERGY is available now at TheNueCo.com. Plus, SheerLuxe readers can get 30% OFF until 31st October by using MINDENERGYSL at checkout. 
DISCLAIMER: Features published by SheerLuxe are not intended to treat, diagnose, cure or prevent any disease. Always seek the advice of your GP or another qualified healthcare provider for any questions you have regarding a medical condition, and before undertaking any diet, exercise or other health-related programme.
DISCLAIMER: We endeavour to always credit the correct original source of every image we use. If you think a credit may be incorrect, please contact us at info@sheerluxe.com.