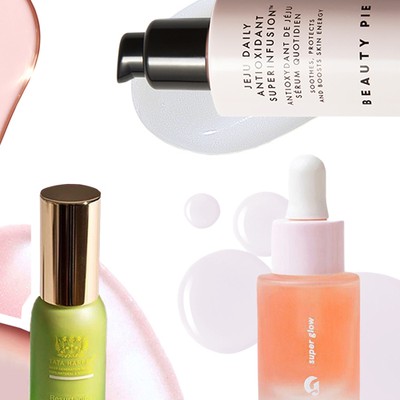 The Best Antioxidant Serums For Every Budget

Anti-pollution skincare has been named one of this year's key beauty trends – unsurprisingly, considering how high the levels are in London right now, with Oxford Street reportedly having the worst pollution in the entire world. But out of all the new products hitting the shelves, antioxidant serums are still the best way to combat the premature ageing, lack of plumpness and loss of elasticity city living can cause…

As Dr Noor Almaani, Consultant Dermatologist at The Private Clinic explains, pollution has been shown to increase harmful free radicals in the air, which in turn decreases skin's production of collagen and damages DNA. That's where antioxidants come in – able to interact with these free radicals whilst they're in the air, they've been proven to stop pollutants in their tracks before skin cells are damaged. 
That's why along with a good moisturiser to boost your skin's barrier, an SPF to protect against UVA and UVB damage, and a thorough evening cleanser to get all the grime off, antioxidant serums are a must in any city-dweller's skincare routine. In fact, they're one of the most important steps of all… Not only do antioxidants shield skin against further environmental stress, they can actually reverse damage that's already been done – including pollution damage, sun damage and even acne scarring. 
And there's another (purely aesthetic but very appealing) benefit – their powerful glow-giving and anti-ageing properties. Paula Begoun, skincare guru and Founder of Paula's Choice, says what happens as a result of using an antioxidant-packed serum is "truly impressive" – as antioxidants are anti-inflammatories that aid in healing, they can calm stressed-out skin; reigniting its vitality and vibrancy. "Skin's appearance begins to turn around," she says. "It regains a firmer feel and more even skin tone – and those wrinkles you're not fond of can visibly soften." 
Due to their unrivalled ability to defend skin against environmental stressers, Begoun believes antioxident serums are best used in the day – but there's no harm adding one into your night-time regime, too. Research has shown skin does better with a diverse range of effective antioxidants rather than just one, so essentially, the more in you use, the better.
When it comes to which antioxidants to look out for, Begoun says there are "dozens and dozens of effective antioxidants for skin", including the likes of vitamins A, C, and E, green tea extract, soy extract, pomegranate extract, turmeric, and grape extract. And her final words of wisdom? To get the most out of your serum, opt for a powerhouse formula: "Antioxidants should be joined by skin-replenishing ingredients like ceramides, hyaluronic acid, and glycerin plus a range of skin-restoring ingredients like retinol, peptides, and niacinamide."
DISCLAIMER: We endeavour to always credit the correct original source of every image we use. If you think a credit may be incorrect, please contact us at info@sheerluxe.com.