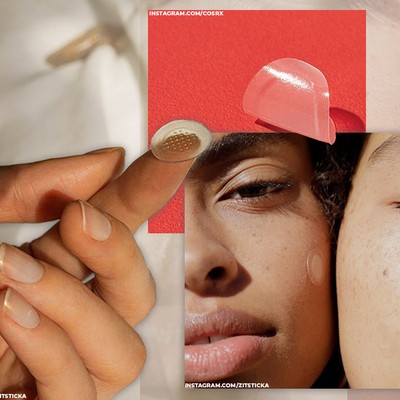 Spot Stickers: How They Work & The Ones Worth Trying

The acne treatment market is always innovating and the development of pimple patches is on the rise. Designed to protect existing blemishes from unwanted bacteria and reduce inflammation, we break down how they work and the best ones to try…

It's A Targeted Treatment
Spot-healing patches are small and translucent stickers which can be applied to a forming, or already developed pimple. "They act locally, providing an anti-bacterial and healing effect," says Dr Tiina Meder, dermatologist and founder of Meder Beauty. "They're a good targeted SOS treatment when you need to make something fade, or take down redness quickly."
Generally, There Are Two Versions 
Typically, acne patches either come with or without active ingredients. Many of the options available are formulated with hydrocolloid dressing, which is traditionally used to promote the speedy healing of wounds – hence why it's hailed as a good treatment for blemishes. It gets to work absorbing excess fluid and pulling out unwanted debris from the affected area. Other variations still include hydrocolloid, but also contain active ingredients like niacinamide, bakuchiol and benzoyl peroxide, which can further reduce redness and inflammation. Dr Anita Sturnham confirms: "Pimple patches have been around for years, and they keep getting revamped with new ingredients that add to their existing benefits. Try looking for patches that contain salicylic acid as the main active, as it works well to treat bacteria deep down and unclog dirty pores."
Patches Offer Multiple Benefits 
Aside from drying out your spots and reducing their appearance, patches also prevent you from picking or touching an active pimple. Picking not only increases inflammation and slows the healing process, it can cause scarring and possible infection. Patches also lock down and seal active ingredients into the skin, making them extra effective.
Experts Only Consider Them A Quick Fix
"Acne patches are certainly another fun import from the Asian market, but they shouldn't be relied on entirely, unless you're someone who suffers from the occasional zit," adds Dr Tiina. "On their own, they can't make your skin healthy, regulate the sebum production or restore the skin's natural protection barrier. However, they do make for a good complementary product, just don't count on them to play the starring role in any acne-fighting regime."
This Is The Bottom Line…
If you're concerned about unusual breakouts or if spots are returning more frequently, you should always seek out a skincare professional, GP or dermatologist. Pimple patches aren't a practical treatment for everyone and they're not one-size-fits-all, either. It's important you seek advice before relying on them as a key treatment. 
Shop our go-to pimple patches below…