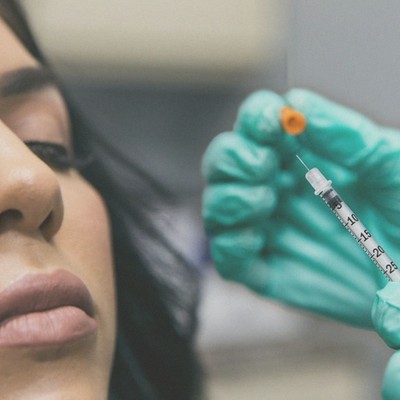 The Top 5 Tweakments For Beginners

If a fear of looking overdone or not like yourself has stopped you from dipping your toe into the world of non-surgical 'tweakments', you needn't be concerned. Modern-day treatments tend to take what Dr Tracy Mountford – director of The Cosmetic Skin Clinic – calls a 'just enough but not too much' approach. In other words, they offer natural, balanced and understated results, while an initial consultation with a registered cosmetic professional can also be key to dispelling any fears. Indeed, a good practitioner will help you establish a treatment plan that contains a step-by-step breakdown of the procedures, available aftercare and support. Curious? Here are five services worth considering…

PROFHILO
What It Is: Answering a growing need for treatments that offer skin enhancement, Profhilo, which is made of 100% hyaluronic acid, works by stimulating and harnessing the skin's own natural collagen production.
Who It's For: Even if you've not tried it, chances are you've heard of it, thanks in no small part to its ability to deliver impressive improvement in skin elasticity, firmness and radiance. "It's a game changer for practitioners and patients alike, because it doesn't alter looks at all; it simply delivers an 'airbrushed' quality to the skin," says Dr Mountford. 
How It Works: As well as adding a juicy vitality to the face, Profhilo is increasingly used to treat areas other on the body with great success, too. "We're incorporating it into treatment protocols for crepe-y skin on the arms, abdomen and thighs," says Dr Mountford. It also delivers great results when used in conjunction with other tweakments such as Coolsculpting. "On bingo wings we can reduce fat, tone and muscle [while] the Profhilo complements it by smoothing the skin and increasing the elasticity," adds Dr Mountford.
Final Thoughts: Think of Profhilo as an extension of your beauty routine, albeit one that works harder than any topical serum could. While the injected gel stops hydrating skin after around a month, the gradual diffusion means results keep coming – for roughly six more months. And apart from a little bruising and redness around the injection sites, it's pretty much side effect free.
EMSCULPT NEO
What It Is: Using High Intensity Focused Electro-Magnetic Technology directed onto areas of the body, EMSculpt NEO induces muscle contractions that go beyond what can ever be achieved in the gym. One 30-minute treatment can cause around 20,000 muscle contractions or the equivalent to 20,000 crunches.
Who It's For: Body treatments have long lagged behind those for the face, but NEO is one that harnesses sophisticated non-invasive technology to achieve some pretty outstanding results. A next generation body contouring treatment that can simultaneously melt fat while building muscle, on average you can achieve 30% more fat reduction and 25% more muscle volume in just four 30-minute sessions. "It's often referred to as the 'lunchtime lift'", says Sherina Balaratnam, surgeon and cosmetic doctor, Medical Director and founder of S-Thetics Clinic. "The procedure takes around 30-minutes to complete in clinic, requires no anaesthetic and zero downtime post treatment. Patients can walk out and resume daily activities straight after." 
How It Works: Economical and effective, the targeted paddles of the NEO sculpt and tone up to nine areas including the abdomen, buttocks, front, back thighs, calves, biceps and triceps. "It is the first and only device that treats fat and muscle on all four sides of the thighs," adds Balaratnam. "The device is also clinically proven to reduce diastasis recti, the abdominal separation that can be experienced during pregnancy, by 19% on average."
Final Thoughts: Although results aren't instant – you'll need around four to six treatments in total – plus, they're permanent if your fitness levels are maintained.
Find your nearest EMSculpt NEO clinic here
DERMAL FILLER
What It Is: Composed of both natural and synthetic substances, dermal fillers are primarily made from hyaluronic acid and are used to help restore lost volume in the face to give a fuller, lifted and more structured appearance.
Who It's For: While fillers are commonly used in the cheeks and lips, they can be used to great effect all over the face, including under the eyes to plump out sunken hollows and in the jaw line to add definition. "Different fillers have different properties, so you're going to have some that are for bone placement which are very robust and give a lot of projection [and] some that are very thin which are [more] for hydration," says Dr Sarah Tonks, an aesthetic physician in Knightsbridge.
How It Works: Evolution in formulas and techniques mean practitioners can do so much more, including targeting frustrating post-menopausal symptoms. "Labial dermal fillers go in the outer labia to plump, and you can also use them inside the vagina for hydration." And if years of squats have got you nowhere, you can even use filler in the bottom to correct a noticeable dip.
Final Thoughts: The effect of filler is reversible, so hesitant first timers needn't be overly concerned. According to Dr Tonks, because hyaluronic acid is a natural substance found in the skin, there's a very low rate of tissue reaction so it has a good safety record.
ULTHERAPY
What It Is: If needles are out but you still want some skin-tightening benefits, this non-invasive procedure is a great entry level treatment. Using clever thermal ultrasound technology, it penetrates the skin at a carefully considered temperature and causes micro injuries in the deep structural layers. This triggers the skin's own repair systems and the creation of springy new elastin and collagen. 
Who It's For: Unlike similar technologies, the beauty of Ultherapy is that practitioners can actually see the areas they need to treat, right down to the muscle level, which allows for better predictability of the outcome. As Dr Mountford explains: "In the more mature patient, when combined with dermal fillers, uUltherapy can give significant lift and work synergistically with deep level dermal fillers to give results similar to a facelift."
How It Works: A one-time treatment doesn't just offer short-term tightening and lifting, it works to bank your collagen and futureproof the health and quality of your skin. "The exciting thing is its preventative nature," agrees Dr Mountford. "By treating patients from their 30s and 40s we can maintain skin health over time to work in a proactive way."
Final Thoughts: If there is a downside then it's that Ultherapy isn't totally painless. As the wand passes over your skin you might experience a tingling, hot sensation, a bit like elastic bands snapping on its surface. The good news is that although it takes around three months to notice results, you can expect them to last for more than a year.
BOTOX
What It Is: No tweakment guide would be complete without Botox (the name of one such brand of botulinum toxin). Although it's line-reducing capabilities have been on our radar for years (it works by interfering with muscle contractions that create and accentuate wrinkles) it's more versatile than you might think. 
Who It's For: Don't be put off by bad Botox jobs you might have seen online or even in person. Done properly, it's not about freezing your face to the point of emotionless, rather it offers a subtle, gentle way to freshen up your appearance. If you've yet to try it for yourself, you might be surprised to know it's not just adept at softening expression lines, it's also fantastic at treating excessive sweating and correcting a naturally downturned expression in order to brighten up the look of the face. And the list goes on. "You can use it if you suffer from painful migraines or if you clench your jaw a lot or grind your teeth," says Dr Tonks. "You can [also] use it for facial slimming to make the face go into more of a V-line and some people use it to slim the calves."
How It Works: Botox doesn't just give near-instant gratification (although it does that well, with results kicking in after around two weeks) it works preventatively, too. "If you're constantly moving a muscle and you get a crease in that area, it's quite hard to get rid of it. If you prevent that line from appearing in the first place, it's easier to remove," adds Dr Tonks.
Final Thoughts: A numbing agent is usually used when administering Botox but even without, it's a virtually painless procedure. A true lunchtime treatment thanks to its lack of downtime, it's also good value for money and can last anywhere between two to six months, meaning it's a great maintenance treatment to dip in and out of when you want.
For more information, visit CosmeticSkinClinic.com, SThetics.co.uk and TheLovelyClinic.co.uk
DISCLAIMER: Features published by SheerLuxe are not intended to treat, diagnose, cure or prevent any disease. Always seek the advice of your GP or another qualified healthcare provider for any questions you have regarding a medical condition, and before undertaking any diet, exercise or other health-related programme.
DISCLAIMER: We endeavour to always credit the correct original source of every image we use. If you think a credit may be incorrect, please contact us at info@sheerluxe.com.