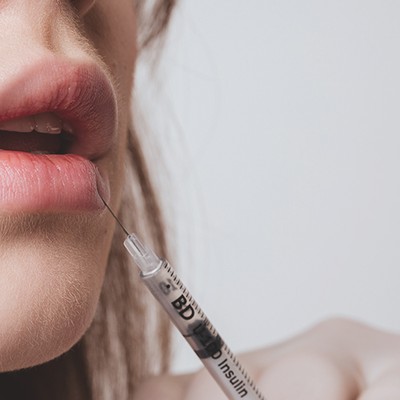 What It's Like To Have Lip Fillers Removed

With news that Kylie Jenner has dissolved her infamous fillers – soon to be the subject of an intimate, self-edited vlog about her experience – lip filler removal procedures have been on the rise. So what exactly does the process entail? And can you really go back to how you looked before?

Why are people dissolving their lip filler?
Whether Jenner decides to keep her new natural look or not, we're officially a nation obsession with artificially enhanced pouts. In 2016, it was the most popular non-surgical treatment in Britain; UK Google searches for lip fillers were ten times higher than they were four years prior (they've since skyrocketed even more) – and cosmetic clinics across the country have been cashing in. The problem is, a lack of laws and regulations around cosmetic procedures means anyone can train to inject fillers, including those with no medical or nursing training.
Plus, with no compulsory accreditation for training programmes (meaning practically anyone can set one up and teach people how to inject filler), no compulsory process of registering with a medical body and no requirement to keep up-to-date with the latest skills and knowledge, less-than-stellar results are all too common – picture overfilling, lumps and unevenness.
In fact, Save Face – a government-approved register of accredited practitioners – says it has seen an "alarming" rise in reports of botched cosmetic procedures in the UK. According to the organisation's figures, the number of problems related to treatments such as lip fillers and Botox has almost tripled, jumping from 378 in 2016 to 931 in the space of 12 months. Not too surprising when you consider the latest data also showed 83% of these procedures were administered by non-medics.
And, as Dr Alexis Granite, Consultant Dermatologist at Mallucci London tells us, recent years have seen lip filler patients opting for a more natural-looking result. "It has been rumoured Kylie Jenner was having in excess of 6ml of filler placed into her lips, which is a very large amount of product for this area," she says. "I generally recommend no more than 1ml of product be injected into the lips in one sitting."
 

How does the dissolving procedure work?
"Hyaluronic acid fillers like Juvederm and Belotero can be reversed with an enzyme called hyaluronidase," Dr Granite explains, revealing that this is the reason many practitioners prefer using them over different types of filler. "This enzyme is diluted to varying concentrations and is injected in small amounts to break down the hyaluronic acid filler in a localised area. Results may be seen immediately or up to 48 hours following treatment."
As for the risks, bruising and swelling following injections with hyaluronidase are quite common (as they are with any injection). There's also very small risk of allergic reactions to the hyaluronidase enzyme, so it's highly recommended that patients have a patch test performed prior to the procedure. "If a patch test isn't done, it's advisable for a patient to be monitored for at least 30 minutes in the office following treatment," says Dr Granite.
Can you have lip fillers again afterwards?
Yes, but not immediately. Although re-injection of filler technically could technically be done after 48 hours (when the hyaluronidase is no longer active), Dr Granite advises patients to wait at least one to two weeks to allow any residual swelling to settle.
 

Anything else to know?
If you're unhappy with your lip fillers and debating having them dissolved, SL's Features Editor Rosy Cherrington – who tried the procedure herself in 2016 – has a few words of advice: "If you can afford it, do it.
"Despite it being two years since I'd last had lip injections (by a non-medical practitioner – definitely a mistake), the effects weren't budging. My lips were lumpy, uneven and too full, with filler spreading up above my top lip. After having tried massaging them daily to break them down quicker without any success, I finally decided to try the dissolving procedure.
"The whole process took no longer than 20 minutes, and didn't hurt any more than getting the fillers in the first place. Initially, my lips doubled in size due to the hyaluronidase fluid injected, but when I woke up the next morning everything was gone, dissolved, poof!
"Not only did it give me a newfound self-confidence, it taught me a major lesson: When it comes to cosmetic treatments, it pays to pick your doctor wisely. That's why now when I get fillers, Dr Granite is my go-to – someone with an eye for detail, and who knows that less is definitely more, is worth their weight in gold."
 
To book an appointment with Dr Alexis Granite, visit Malluci-London.com or call 0203 915 7400
DISCLAIMER: We endeavour to always credit the correct original source of every image we use. If you think a credit may be incorrect, please contact us at info@sheerluxe.com.