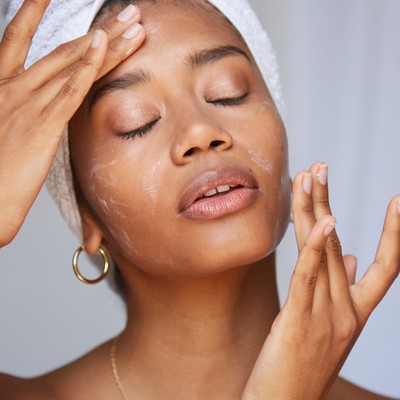 What To Know Before You Try An At-Home Face Peel

Keen to try an at-home facial peel? They may not give you the same results as a trip to the clinic, but some stand out from the crowd when it comes to helping smooth skin and boosting better glow. We went to the beauty experts to find out more…

All products on this page have been selected by our editorial team, however we may make commission on some products.
Know They Target Specific Skincare Concerns
"At-home peels are pre-packaged solutions which target specific skincare conditions, such as spots, clogged pores, hyperpigmentation or uneven skin tone," says Dr Uliana Gout, founder of London Aesthetic Medicine. "They come in small volumes with generally low percentages to keep them safe, as they're acid-based." You don't need the supervision of a professional to use them at home, but it's still important to be cautious about whatever you put on your skin. Dr Benedetta Brazzini, dermatologist at The Marylebone Clinic, explains: "At-home peels generally contain salicylic or glycolic acid, which are both great for exfoliation, reducing bacteria, and reducing the production of sebum." Not all are created equal however, so it's important to get advice from a professional if you've never used them before. "You must be very careful when choosing them, as you don't want to burn or damage your skin," says Benedetta. 
Choose Active Ingredients Carefully 
To get the most out of an at-home peel, it's important to choose ingredients that will target your concerns, explains skincare expert Frances Turner Traill. "Make sure the peel and its ingredients reflect what you want to improve. For example, salicylic acid targets breakouts. Penetrating deep into the skin by breaking down the skin's top layer, it unclogs pores and is great for eliminating sebum and excess oils or dirt. Similarly, glycolic acid works to remove dead skin cells, breaking down the bond between those and the next layer. This causes the peeling effect, which in turn can help skin look much smoother – ideal if you have sun-damage and want to improve its appearance. Lactic acid will tackle uneven tone, including hyperpigmentation and age spots. AHAs usually range from 2-10% in concentration. In chemical peel agents, they need to be at concentrations of up to 20%, although you can always start off with a lower percentage and gradually build up. BHAs have similar effects to AHAs, but provide more anti-inflammatory properties – they're best used at around 1-2% concentration." If you have oily or acne-prone skin, look for peels containing pyruvic acid or retinoids, suggests Benedetta. "Not only do they help pigmentation, they also have anti-ageing properties. It'll make for a great all-rounder." 
Avoid Them If You Have Sensitive Skin
"Everyone – regardless of age or skin type – can use peels, unless you have sensitive skin or suffer from conditions like eczema, rosacea and psoriasis," says Uliana. "The key here is to get a proper medical consultation first before buying a kit – after all, they are acid and if not managed properly, can result in damage." explains celebrity facialist and skincare expert Abigail Oleck. "Sensitive skin has a compromised barrier, which means the barrier function must be repaired and the skin prepped and hydrated to be able to withstand and work with active ingredients. Always do a sensitivity test to start – behind the ear is a good place. Check your skin's reaction after 48 hours and always follow manufacturer instructions. Also, don't combine active ingredients like AHAs, lactic and salicylic acids, or retinols when using at-home peels as it could overload the skin and compromise the barrier." 
Face peels are best done during the winter months when it is easier to stay out of the sun. It will reduce the chance of sun damage, which your skin will be more susceptible to post-peel.

Only Use Them Once A Week
If you've never used a peel before, start slowly. Once you've found a peel that suits your skin, build up to using it once a week to see results, says Frances. "You need to make sure your skin has enough downtime to rest. And avoid doing peels close to events or times when you have to apply lots of make-up etc. It's always beneficial to allow your skin time to recover and repair." To get the most out of the peel, apply it at night so the ingredients can penetrate the skin's barrier. "Skin regenerates when you sleep," explains skincare expert and brand manager at PCA Skin Lizzie Shaw. "At night, your skin is most receptive as it isn't being exposed to dirt and pollution like it is during the day. It's the best time for renewal."
Avoid Retinols & Exfoliators 
At least a day before you use a peel, avoid using any other exfoliator, explains Amish Patel, skincare expert at Intrigue Cosmetic Clinic. "At-home peels already contain exfoliating ingredients. You might feel the temptation to use an additional exfoliator to 'hurry the process up' if your skin begins to peel and flake, but that could cause undesirable results, including scarring. Also, avoid retinol-based products at least two weeks before. It's quite a powerful ingredient, so I would err on the side of caution, even if you use it regularly." Finally, allow your skin time to heal in between sessions and protect it from sun exposure. "Face peels are best done during the winter months when it is easier to stay out of the sun," says Frances. "It will reduce the chance of sun damage, which your skin will be more susceptible to post-peel." 
Don't Skip Aftercare 
Aftercare is incredibly important, emphasises Lizzie. "After a peel, use products that add moisture and nourishment back into the treated skin. I recommend a clean and nourishing moisturiser – ingredients like niacinamide are perfect to help the skin's natural healing process as it's soothing and locks in moisture." Then, always follow with a daily SPF. "After the peel, your skin will be more photo-sensitive so it's extremely important to add extra protection from the sun by using a high SPF, at least factor 30, to prevent skin damage," says facialist Ada Ooi. "You could also try hyaluronic acid, green tea or aloe vera to add moisture and soothe your skin afterwards."
Remember They're Not As Effective As Salon Peels
At-home peels can make a difference, but the results won't be comparable to professional peels, says Uliana. "Please don't assume that at-home peels will achieve everything you need – they are very gentle and cannot be compared to clinic-grade medical peels. Salon peels can be ten to 100 times more effective than those done at home, so if you have several concerns, or want to speed up the process, go to a professional." They might offer immediate results, but at-home peels do not penetrate the microbiome of the skin the same way, explains Amish. "Results will not be as long-lasting. In-clinic peels go deep and help tackle skin concerns at a deeper cellular level. Ultimately, at-home peels are great for top-ups in between professional dermatologist or facialist sessions."
Ready To Give It A Go? Shop Our Edit Of At-Home Peel Products…
DISCLAIMER: We endeavour to always credit the correct original source of every image we use. If you think a credit may be incorrect, please contact us at info@sheerluxe.com.