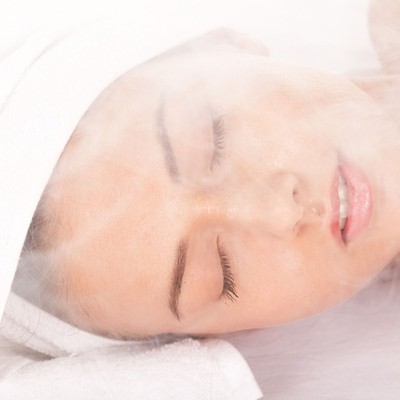 What You Need To Know About Skin Steaming

Traditional skin steaming is back in vogue, with both facial teas and steam-extraction treatments enjoying newfound popularity. With Miranda Kerr and Victoria Beckham said to be fans of the technique, we decided it was time to find out more. Here, facialist Sarah Chapman explains all…

All products on this page have been selected by our editorial team, however we may make commission on some products.
Start Your Routine With A Facial Steam
"I always try and begin my facials with a steam, so my clients – and me when I'm going DIY – can benefit from its pore-purifying and deeply hydrating properties. You can also combine steaming with a thick, balmy cleanser if you're after a deeper clean. The heat from the steam will loosen the dirt and sebum in your pores, while your fingers help push the formula into the dermis. There are so many DIY steamers on the market now, it's easier than ever to enhance your daily regime and unlock this professional advantage at home."
Understand The Key Benefits Of It 
"There are so many benefits to steaming, it's little wonder it has stood the test of time in terms of effectiveness. It helps to boost moisture levels rapidly, leaving the skin silky, supple and firm with fine lines and wrinkles minimised slightly. What's more, steaming also helps to warm and soften dead cells on the skin's surface, as well as debris stuck within the pores, so everything can be swept away for a clearer, brighter-looking complexion. The gentle heat also increases micro-circulation, giving skin a subtle flush, allowing more oxygen and nutrients to travel to your tissues, which increases both collagen and elastin production. This results in dewy, deeply cleansed skin which is perfectly prepped for any products applied afterwards. As it softens debris on the skin's surface, you'll find your serums, creams and masks will penetrate much more deeply, as they won't be held back by any layers of detritus or dirt. That's why, after steaming, you should apply a high-potency serum or elixir for best results."
Stick To Just Two Sessions A Week
"Try steaming for a maximum of two or three 10-minute sessions a week. This is enough not to overdo it or cause your skin to dry out. It's important you use your skin as a guide to when you should steam. For instance, if you're feeling dry and uncomfortably tight, try steaming over a thin layer of a rehydrating face mask. It's a great way to get some instant gratification and only takes a few minutes." 
Get Steaming To Minimise Breakouts
"If you are congested, steam is especially good at loosening blocked pores and minimising breakouts and blackheads. It softens the oil trapped in pores and makes extractions much easier, meaning any exfoliation you do afterwards is far more efficient. Open pores are more susceptible to bacteria, so avoid touching your face after steaming to avoid further breakouts. The dewy, plumping effects are instantly visible, making it an ideal step in preparing your skin for an event or night out."
Don't Overdo It If You Suffer From Irritation
"Dehydration and congestion are very common and can affect all of us. Steaming is a great addition to every skincare routine and suitable for all skin types, but avoid over-steaming if you have couperose skin (redness with lots of capillaries). Stick to it just once a week if you're overly sensitive or suffer with conditions like rosacea. It's also worth noting that you may notice a little redness post-treatment, but don't be alarmed: flushing is natural and just shows your blood is stimulated underneath."
Invest In The Right Tools
"While using hot water or the steam from your shower will undoubtedly provide some skin benefits, professional devices are the best way to get results. For example, my Pro Hydro-Mist Steamer emits particles with a negative ionic charge. When these particles meet the positive ions in our skin, the two are attracted to one another, drawing the mist deeper into the skin than regular steam for supercharged effects. A device will also allow you to carefully control heat for your individual skin needs."
Boost The Benefits Of Your Steam
"You can really get more from your steaming session with the products you use afterwards. For instance, if your skin is dull or congestion prone, then apply an exfoliating serum post-steam. The pore-purifying acids will be drawn deeper into the skin, thanks to the steam, enhancing decongesting and smoothing effects. If your skin is dehydrated, use a hyaluronic acid serum after your treatment. This will lock the steam's moisture into your skin for intensive hydration. Alternatively, if you suffer with dullness, always follow up with a vitamin C to increase luminosity."
Finally, Treat It As A Self-Care Moment
"As well as providing skin benefits, steaming is a great opportunity for some self-care. It allows you to switch off and take some time out to relax and rebalance your complexion. It's part of the reason it's become so popular recently, because many of us are seeking high-performance treatments at home that are easy to do and yield results quickly. Another reason it's more popular is because we're all wearing less make-up right now, which has led to a focus on achieving smooth skin without the need for foundation. Steaming boosts the skin's overall health while imparting a dewy glow. Finally, many of us are gravitating towards skincare treatments that feel indulgent and comforting – cocooning the skin in warm steam has added that sensorial element it encourages you to switch off and indulge."
Follow @SarahChapman
 
Shop our edit of facial steamers here...
CREDITS: ISTOCK/KIRILLICA
DISCLAIMER: We endeavour to always credit the correct original source of every image we use. If you think a credit may be incorrect, please contact us at info@sheerluxe.com.