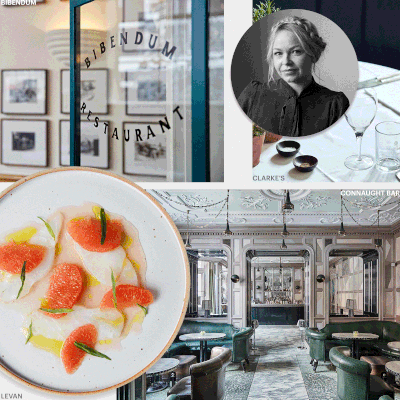 11 Cool Women Tell Us Their Favourite Restaurants

In need of fresh restaurant inspiration? Here, some of our favourite women share their favourites – from old favourites to new openings – and the dishes they love to eat.

Lucy Carr-Ellison and Jemima Jones, Wild by Tart
"We love east London spot Som Saa for incredible Thai food, which was hard to come by in lockdown. Not only is the food amazing, but so are the cocktails and the vibe. Levan in Peckham is also on the list – the gnocchetti, ricotta, peas and courgette looks so good. Brat is an all-time favourite of ours, and such a treat especially when tucking into the killer wine list. We love the crab tartelette. And finally Smoking Goat, just because it's insanely delicious."
Visit WildByTart.com
Nina Parker, Chef & Cookbook Author
"I love The Dusty Knuckle. When you find yourself east-side, there's no better stop-off for a bite to eat. It's tucked away behind Dalston Junction station in a sunny courtyard and serves some of the best grub around at great value. It predominantly offers pastries and bread, of course, but the bakery also serves incredible lunches. It reminds me of a place in Los Angeles called Gjusta where they make sandwiches in a backyard in Venice. Dusty has similar life-changing sandwiches filled with incredible veggie and meat options. Last time I had roast beets, whipped goats' cheese with toasted seed mix and salsa verde, all squished together in focaccia sourdough. Total heaven."
Visit NinaFood.com
Rosie Birkett, Chef & Cookbook Author
"I love all the places we've featured in the new update of the East London Food book, but particularly a 'Mirror Margarita' and taco at Hacha in Dalston, followed by a wine-filled dinner at Bright or supper at Hai Cafe on Lower Clapton Road where they make the most wonderful Vietnamese dishes. I have really great memories of The Sportsman in Kent, where we celebrated one of our wedding anniversaries. It's an old Shepherd Neame pub (a local Kent brewery) that was taken over by self-taught chef Stephen Harris and now has a Michelin star. It's on the salt flats of Sea Salter near Whitstable and Stephen pays particular attention to the local terroir. He uses as much Kentish produce as possible, really showcasing what the region has to offer, particularly in dishes like slip sole cooked in seaweed butter, where he has foraged ingredients himself. We had a wonderful boozy lunch there and ate oysters, new-season lamb, celeriac and truffle tart and rhubarb souffle."
Visit RosieBirkett.com
Lucy Barlow, Barlow & Barlow
"Is there anything more spoiling than being able to walk from your front door to a fabulous restaurant? Ten minutes away from me is Jackson Boxer's Orasay. It has everything you want from a restaurant: seasonally inventive but failsafe food options, laid back 'not trying too hard' decor and knowledgeable staff. Plus it's the perfect size to be buzzy, but cosy."
Visit BarlowAndBarlow.com
Alexandra Dudley, Food Writer & Come For Supper Podcast Host
"Ducksoup is one of my favourite restaurants in London. It serves heavenly small plates, mainly inspired by the Mediterranean and Middle East. The fritters, which come in various seasonal guises are a must whenever I go. The wine list is excellent too and focuses on natural, low-intervention wines. I also love Elliot's, an excellent restaurant-meets-wine bar in Borough Market. I love the Cantabrian anchovy toast and I highly recommend the stone-baked pizzas too. Brutto is another one I am very excited about. It's set to open later this year and is the newest restaurant from Russell Norman – the man behind Polpo – who has been inspired by the trattorias of Florence. And finally, The Connaught. The best place for a martini, in my opinion."
Visit AlexandraDudley.com
India Sehmi, The India Edit
"As a self-proclaimed foodie, it's almost impossible for me to choose my favourite restaurant, but one I have visited time and again is Ducksoup in Soho. Contrary to its name, I've never seen duck or soup on the menu. It's a natural wine bar and restaurant serving seasonal plates that are perfect for sharing. The eclectic menu changes weekly and there's no single cuisine served – each time I've been the menu has featured Italian, French and Middle Eastern influences. It has an intimate, cosy and low-key vibe with a focus on good food and good wine. My favourite type of place!"
Follow @TheIndiaEdit
Lily Jones, Lily Vanilli
"Bibendum is perfect for a blow-out, glamorous and decadent lunch – it also has the perfect outdoor space for this grizzly weather we've been experiencing, with proper cover and heaters. I'm a big fan of Little Georgia – there are two sites both serving up hearty, warming traditional Georgian stews, borscht and khatchapuri (Georgian cheese bread). I also love my local, Morito, for the polenta-fried aubergine with labneh, mint and date molasses."
Visit LilyVanilli.com
Laura Whitmore, TV Presenter
"I'd probably say Corrigan's on Park Lane. It's run by an Irishman (TV chef Richard Corrigan) and he does the best oysters – I love seafood. It's fancy, but homely. If you ask me, it's so important for a restaurant to have good lighting – it helps it feel more like a bar when you're in there. If you go to this one, order the chips. They're great."
Follow @TheWhitmore and visit Dare2Be.com
Victoria & Emily Ceraudo, Ceraudo
"Our favourite restaurant has to be Clarke's in Kensington. It's the perfect balance between old-school British fine dining and a light, relaxed atmosphere. The food is absolutely delicious and the service is second to none. It always feels like a real treat to go there. It's also on one of our favourite streets, Kensington Church Street, and is opposite the ever-colourful Churchill Arms."
Visit Ceraudo.com
DISCLAIMER: We endeavour to always credit the correct original source of every image we use. If you think a credit may be incorrect, please contact us at info@sheerluxe.com.