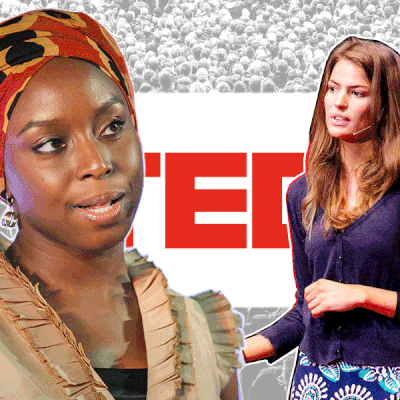 The 25 Best TED Talks To Watch Now

Whether you're after a bit of career motivation or insight into the worlds of music, acting and science, TED Talks are some of the most uplifting and inspiring sources available. Best of all, they're free to watch, too. Here are some of our favourites…

FOR BETTER MENTAL HEALTH
Brené Brown: The Power Of Vulnerability
We're big fans of Brené Brown here at SL, and this funny and poignant talk sees the highly acclaimed research professor delve deep into the power of human connection, as well as our ability to empathise, belong and love. Brené shares insights from her own research, including one which sent her on a personal quest to get to know herself better, as well as broader humanity. 
Watch here.
Susan Cain: The Power Of Introverts
Susan Cain's book Quiet: The Power of Introverts in a World That Can't Stop Talking became an international bestseller back in 2013, winning a legion of high-profile fans – including Emma Watson – along the way. Here, she explains why it can be difficult, even shameful, to be an introvert in a culture where being social and outgoing are prized above all else. Watch as Susan argues why introverts bring extraordinary talents and abilities to the world, and why they should be encouraged and celebrated.
Watch here.
Dan Gilbert: The Surprising Science Of Happiness
In this ground-breaking lecture, Harvard psychologist and author of Stumbling on Happiness Dan Gilbert challenges the idea that we'll be miserable as long as we don't get what we want. Here, Dan argues that, according to undeniable science, our "psychological immune system" still lets us feel truly happy even when things don't go as we expect. An encouraging thought. 
Watch here.
Cameron Russell: Looks Aren't Everything. Believe Me, I'm A Model
In a world dominated by social media, it's easy to fall victim to the idea that the way we look is everything. Model Cameron Russell is more than willing to admit she hit the 'genetic lottery' – which was enough to propel her to superstar status as one of the world's leading lingerie models. In this fearless heart to heart, Cameron explains why it's never good to judge someone on their looks, as well as giving the audience the inside track on the highly seductive modelling industry.
Watch here. 
Mike Cannon-Brookes: How You Can Use Imposter Syndrome To Your Benefit
The term 'imposter syndrome' is widely understood these days, but that doesn't mean we've found an effective way to deal with it. One thing's for sure – you're not alone, says entrepreneur Mike Cannon-Brookes, as he shares how his own experiences of impostor syndrome helped pave the way for his success before showing how to use it to your advantage, too.
Watch here.
FOR A CAREER BOOST
Carol Fishman Cohen: How to Get Back to Work After a Career Break
For many women, attempting to return to the world of work after a career break can feel like a daunting task. In this talk, career expert Carol Fishman Cohen details not only her own experience of returning to work, but her work championing the success of 'relaunchers' and how employers are welcoming employees back into the fold. Would you ever consider an internship? Let Carol tell you why the answer should be yes.
Watch here.
Kelly McGonigal: How To Make Stress Your Friend
Stress. Suffice to say, it's a widespread problem. But while public health authorities are determined to make it their top concern for the millennial generation, psychologist Kelly McGonigal is here to help us see stress as a positive. In this illuminating talk, she introduces the audience to an unsung mechanism for stress reduction: reaching out to others.
Watch here.
Nigel Marsh: How To Make Work-Life Balance Work
If stress is a top concern, then work-life balance surely is, too. Here, author of Fat, Forty and Fired Nigel Marsh explains why striking the right balance between time at home and hours spent in the office isn't something to be left to your employer. As well as laying out the ideally balanced day between family time, personal time and productivity, the audience also benefits from some stirring encouragement to make it happen.
Watch here.
Alain de Botton: A Kinder, Gentler Philosophy of Success
Writer Alain de Botton is perhaps best known for his prosaic essays on human love, so it's no surprise to see him take centre stage to talk about our ideas of success and failure. Watch as Alain questions the assumptions underlying these two judgments: is success always earned? Is failure? In his usual eloquent style, he argues why it's important to move beyond snobbery and find true pleasure in our work.
Watch here. 
Julian Treasure: How To Speak So That People Listen
It's probably the case for many of us that, at the office, we talk only to feel that no one hears us. Thankfully, sound researcher and business consultant Julian Treasure is here to demonstrate the right tools for powerful speaking – including some handy vocal exercises and advice on how to make better use of empathy at work. 
Watch here.
 
FOR CULTURAL INSIGHT
Chimamanda Ngozi Adichie: The Danger Of A Single Story
Fans of Chimamanda Ngozi Adichie might already be familiar with her now-famous 2012 TED Talk We Should All Be Feminists. Lesser known is her 2009 talk on how she found her authentic, cultural voice, which helped her to write novels including 2014's Americanah and Half Of A Yellow Sun – winner of the 2007 Bailey's Women's Prize For Fiction. Her warning? If we hear only a single story about another person or country, we risk a critical misunderstanding.
Watch here.
Mark Ronson: How Sampling Transformed Music
If you're one of those people who feels like they don't know that much about the music industry, tune in to hear DJ and record producer Mark Ronson on why nothing is ever really new when it comes to song writing.  Watch as Mark scrambles 15 TED Talks into an audio-visual omelette, and traces the evolution of 'La Di Da Di' – Doug E. Fresh and Slick Rick's 1984 hit – to prove how it's been reimagined generation to generation. 
Watch here. 
America Ferrera: My Identity Is A Superpower – Not An Obstacle
Last year, actor, director and activist America Ferrera took to the stage to implore Hollywood to take issues around diversity on screen more seriously. Tracing the contours of her own career, she makes the call for more authentic representation and a cultural,  dramatic shift in how we tell stories through film and television. 
Watch here. 
Adam Driver: My Journey From Marine To Actor
Before he teamed up with long-term collaborator Noah Baumbach or took to the galaxy as Star Wars' Kilo Ren, Adam Driver started his adult life as a United States Marine, enlisting shortly after 9/11. Here he tells his story, as well as detailing the complex transition from soldier back into to civilian life and eventually, Hollywood. Finally, Adam gives a well-deserved shout out to Arts in the Armed Forces, his non-profit organisation that brings theatre to military personnel.
Watch here.
Thandie Newton: Embracing Others, Embracing Myself
Back in 2011, British actress Thandie Newton took to the TED stage to give an emotional but uplifting talk about how finding her "otherness" – initially as a child growing up in two distinct cultures and then as an actor – finally led her to the success and happiness she enjoys today. TED itself describes her words as warm and wise. We couldn't agree more. 
Watch here.
FOR CREATIVE INSPIRATION
Elizabeth Gilbert: Your Elusive Creative Genius
Eat, Pray Love fans will want to catch up on Elizabeth Gilbert's transfixing talk on tapping into your own creative genius. Drawing largely on her 2015 non-fiction book Big Magic: Creative Living Beyond Fear Elizabeth explores all of the impossible standards imposed on artists and geniuses to keep creating. She even posits the idea that, instead of 'being' a genius, it's possible that all of us 'have' genius somewhere inside. We just need to know how to release it. 
Watch here. 
David Kelley: How To Build Your Creative Confidence
Even if you don't realise it, you probably work or go to school in a place subtly divided into 'creatives' and 'practical people'. In this talk, founder of design firm IDEO and Stanford University professor David Kelley suggests creativity shouldn't just be limited to the chosen few. Instead, David offers the audience a range of different ways we can all be creative – drawing on stories from his own design career.
Watch here.
Adam Grant: The Surprising Habits Of Original Thinkers
It's one thing to think you're a creative person, but the desire to come up with constantly fresh ideas can feel like a challenge for all of us. Here, organisational psychologist Adam Grant examines the habits of what he calls 'originals' – thinkers who dream up new ideas and take action to put them into the world. Unusual habits include having plenty of bad ideas and even embracing failure.
Watch here. 
Sir Ken Robinson: Do Schools Kill Creativity?
As far as intimidating CVs go, the one belonging to Sir Ken Robinson is nothing short of staggering. An author and international advisor on education in the arts and to the government, he was professor of arts education at the University of Warwick and is now professor emeritus at the same institution. Having been knighted in 2003, Sir Ken made this entertaining and profoundly moving case for creating an education system that nurtures, rather than undermines, creativity in 2006. 
Watch here. 
Steven Johnson: Where Good Ideas Come From
If it blows your mind to understand how people come up with original ideas, popular scientist Steven Johnson is here to take the audience on a ride from London's networks of Victorian-era coffee houses all the way up to the invention of the internet. Based on his book of the same name, Steven explains why people shouldn't always credit their ideas to individual 'Eureka!' moments.
Watch here.
 
FOR ANSWERS TO THE BIG QUESTIONS
Stephen Hawking: Questioning The Universe
It doesn't get more philosophical or mind-blowing than this. Listen to professor Stephen Hawing in this 2008 lecture explain some of the biggest questions about our universe, including exactly how life began and why it's entirely possible we might not be alone…
Watch here. 
David Christian: The History Of Our World In 18 Minutes
Using stunning illustrations, historian David Christian narrates a complete history of the universe, from the Big Bang all the way up to the internet, in just 18 minutes. It's an enlightening, wide-angle look at the complexity of life and humanity, set against what is ultimately our tiny share of the cosmic timeline.
Watch here. 
Sheryl Sandberg: Why We Have Too Few Women Leaders
In this now sharply prophetic talk, Facebook COO and author of Lean In Sheryl Sandberg examines why such a small percentage of women reach the top of their professions compared to their male counterparts. Watch as the executive powerhouse offers three key pieces of advice to women aiming for the boardroom. 
Watch here. 
Tony Robbins: Why We Do What We Do
Life coach and motivational speak Tony Robbins has made his career out of knowing why we do what we do. His TED Talk is your chance to find out why Tony regularly sells-out mega venues with people ready to benefit from his life-changing advice and insights. Here he discusses the 'invisible forces' that motivate everyone's actions. Be careful not to miss the moment he high-fives Al Gore in the front row.
Watch here. 
Casey Gerald: The Gospel Of Doubt
What are you supposed to turn to when your firmly held beliefs turn out to be untrue? When Casey Gerald's religion failed him, he had to find something new to believe in – whether it was business, the government or philanthropy. In this moving talk, Gerald explains why he only found false saviours, and urges the audience to fully question their beliefs and embrace uncertainty.
Watch here.
INSPIRATION CREDITS: Ted.com/talks & YouTube.com
DISCLAIMER: We endeavour to always credit the correct original source of every image we use. If you think a credit may be incorrect, please contact us at info@sheerluxe.com.