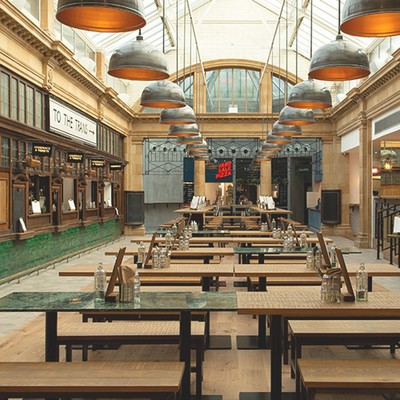 Food Halls: The Dining Trend That's Taking Over London

Once the reserve of shopping centres and motorway service stations, food courts have a new place in the little black books of foodies everywhere thanks to a raft of stylish new openings that put Instagram-worthy dishes and a convivial atmosphere at the heart of their business. SL's Lifestyle Editor Heather Steele pulls up a seat at the (communal) table to explore why we're dining en masse…

When I think about the term 'food hall', I'm immediately taken to Freshney Place, Grimsby. Once a thriving precinct filled with Clinton's Cards, Woolworths and Tammy Girl, today it's a tired shopping centre that screams boarded-up rather than bustling. Yet in the 90s, its food court, accessible via an escalator flanked by fountains with rusting 'lucky' pennies glittering in the water, was one of the centre's highlights. Filled with families, a lot of plastic trays and the smell of jacket potatoes, it was a community hub that thrummed with activity. Today, the space it once occupied has been transformed into a TK Maxx.
The atmosphere of Market Hall Fulham couldn't be further from the rough-and-ready canteen vibes of Freshney Place. Housed in the former ticketing hall of Fulham Broadway station, this recent opening makes the most of the Grade I-listed, Edwardian space: the original brickwork has been given a polish, the wood-panelled ticketing booths have been transformed into a lengthy bar, while a deli and ice-cream seller are housed behind the building's vintage-tiled shopfronts.
The project is the brainchild of Market Halls, a group of UK-based, community-minded property investors and restaurateurs. The team had just one aim when it decided to open Fulham's newest dining destination: to redefine the concept of British food halls by turning unloved public spaces with historic interest back into thriving communal places once more. "As we're going through changing social times, our high streets and public buildings aren't what they used to be," says Simon Anderson, Director of Restaurants and Operations at the venue. "We need to give them some life and a future so they can be enjoyed by the general public again".
 
With a 200-seat capacity, the concept allows guests to take their pick of the wares, mixing and matching meals as they go, before grabbing a spot at one of the group tables. It's not just a spot for lunch and dinner (although with nine traders, including fried chicken joint Butchie's and Yard Sale Pizza, it's hard not to be tempted) – this all-day dining destination also has a children's play area and plenty of conveniently-placed plug sockets for anyone looking to combine work with a flat white and doughnut from Press Coffee.
It's this culinary variety that keeps the locals flocking back. "It's hard to arrange a night out, even with my wife!" says Anderson. "So places like this are great: you can go out with your fussiest friends and at least find something everyone's going to eat. Plus, it's got the feel of a restaurant, but you've got options".
Soon there'll be an app to make the stall-to-seat experience even more seamless – which means no more queues. This autumn, another hall is opening in the former Pascha nightclub in Victoria. Anderson describes this venture as more "vibey", adding that it'll have one hall focused on grab-and-go wares, and one centred on a dining experience, plus three bars. This will be followed by the team's biggest site yet in a building previously occupied by BHS on Oxford Street – a "totally different beast" as Anderson puts it, as there's going to be lot more scale to play with. Then there are plans for more across the country. We're predicting something of a UK takeover…
It's hard to arrange a night out. Here, you can go out with your fussiest friends and at least find something everyone's going to eat!
Half the joy of communal dining is that it brings food, drink and partying all under one roof. Hackney's Mare Street Market, which opened in March 2018, has this ethos at its core. Four years in the making, the market brings together a clutch of local businesses – from Rebel Rebel florists through to the Flying Horse coffee shop and roastery, Stranger Than Paradise record store and Pure White Lines furniture shop – alongside food outlets, including a cocktail bar and two restaurants, the Deli and the Open Kitchen.
For Marc Francis-Baum, Co-Founder of Barworks (the company behind the market, which also owns and operates Electricity Showrooms, The Diner, 5CC Cocktail Bar and tons more of your favourite east London hangouts), the concept for the site as an all-encompassing space was inspired by beer hall culture: "I knew about food halls in Denmark and Sweden, with their markets and delis," he says. "And I was obviously familiar with the likes of Street Feast here in London, but I wanted to do something I felt more comfortable with: my history is booze and bars. But I wanted added extras in there, which is where the shops came in." 
This decision was also inspired by the former occupants of the building. Given that it was owned by Hackney council (it was previously four floors of offices) it wouldn't have been "good politics" to sell it off for one restaurant or bar. Instead, the team opted for a multi-purpose space, giving the retail spaces to new businesses rent-free for a year. "There isn't a catch," Francis-Baum explains in regards to Stranger Than Paradise, which is run by a former Rough Trade manager. "The idea is that we get them set up and on their feet with a brand-new business, and in exchange we get a great record shop and podcast space."
Today, Mare Street Market is 10,000sq ft of industrial-styled space, filled with communal benches, concrete pillars, exposed ceilings, statement lighting and a spacious outdoor terrace. It was on the latter where, last weekend, Brooklyn Beer and New York BBQ legends Fette Sau came together to celebrate beer and brisket via an exclusive menu put together by the latter's founder, Joe Carroll, and Mare Street Market's Creative Food Director, Gizzi Erskine. Social media was awash with photos of pork sausage links with chilli and apricot BBQ sauce – evidence of another packed-to-the-rafters weekend at the venue.
It's this partnership between Barworks and Erskine that really got foodies excited when the project was announced at the start of the year. Although Francis-Baum explains it was a position originally given to Chiltern Firehouse's Nuno Mendes: "I didn't want to serve burgers and fish and chips. I knew the area we were opening up in and what people wanted, so I needed someone who also knew Hackney and knew food. And initially Nuno was that person," he explains. "He was probably going down a more serious route, to tell you the truth. He wanted it to be more high-end, which I wasn't too comfortable with because I knew the crowd would be a little more relaxed and casual".
Enter Hackney-dwelling Erskine, who Francis-Baum describes as always being his next choice. As Creative Food Director, she oversees the menus and the design of each dish in the Open Kitchen. And come September, she'll be opening her first-ever restaurant – The Dining Room – in the market. A 50-cover space, the eatery will be housed in the Pure White Lines furniture shop, à la Brunswick House, and offer a fine-dining menu.
Meanwhile, visitors are making the most of cosying up to strangers by way of the communal tables. "When Wagamama came out it felt strange to be seated next to people, but everyone got used to it quite quickly," says Francis-Baum. "Even when people work these days, a lot of it is via shared desk space; it's all quite mobile, so it just feels like that's transferred into the restaurant scene."
When Wagamama came out it felt strange to be seated next to people, but everyone got used to it quite quickly.
For now, the team is focusing on making improvements to the set-up (installing soda guns for speed, for example, and plotting an extension for a new kitchen), its frantic launch period being "everything we wanted, but were afraid as to whether it would happen." Even the traditional downtime period is busy: during Monday-Friday daytime, you'll spot people on laptops, groups meeting for lunch, mums with kids and people walking their dogs. As Francis-Baum puts it, "It's a real neighbourhood hub, which was the whole idea on the first place."
From train stations and ex-authority buildings, back to their traditional homes in shopping centres, The Japan Centre – ­and its partner Cool Japan Fund – chose to place its newest (and Europe's largest) site in Westfield Shepherd's Bush. Named Ichiba, the venue launched in mid-July. At 17,500sq ft, the site provides an authentic, multi-purpose space that offers visitors the opportunity to dine, shop and experience Japanese cuisine and culture.
The team, who launched The Japan Centre in 1976, describes the new store as being "designed with socialising in mind, making it a perfect venue for a catch-up with friends and family, or a work lunch with colleagues." Enter the food stations, which serve up everything from katsu curries to sushi to sashimi, and authentic street food including takoyaki, tempura and noodles made fresh to order. There's also a traditional Japanese bakery and café serving items such as dorayaki pancakes and hot or iced matcha lattes – practically Instagram essentials.
In-store experiences are a key part of the new concept. Theatrical kitchens are set around seating for 200 covers with a changing schedule of weekly cooking demonstrations and workshops, events, regional food and drink festivals and saké tasting seminars. It's these extras that elevate the launch from typical food court to an actual event. "We wanted to bring an element of theatre to the dining experience," the Japan Centre team explains. "We know that immersive experiences are more popular than ever with the public and think it's important for customers to be able to see the journey from produce to plate. It's a great way to inspire and educate."  
Step inside Ichiba and it couldn't feel further away from the hurried aisles of Westfield. The group's commitment to design is evident from its contemporary surroundings: Japanese-style paper structures, flags and traditional noren curtains break up the largely minimal space, while lights inspired by chopsticks, lanterns and traditional wooden furnishings help customers navigate the different zones. Those inspired by the aesthetic will be pleased to learn that the store also sells a large range of homewares, including books, beauty products and ceramics. Elsewhere, Japanese staples and kitchen essentials are available to purchase, from rice, miso and tea to a wide selection of saké and confectionery – much cheaper than a flight to Tokyo.
Immersive experiences are more popular than ever, and we think it's important for customers to be able to see the journey from produce to plate.
Another shortcut to the hallowed food markets of Japan comes by way of newcomer Japan House. A slickly designed three-floor space in an Art-Deco building on Kensington High Street, the venture (the third in the world, following launches in São Paulo and Los Angeles) comprises an exhibition gallery, event space, library, shop, and an immersive Japanese restaurant.
On entry, you'll find The Stand, a drinks and snack bar where visitors can sample authentic Japanese teas, such as hot or iced matcha, hojicha and sencha teas. We're keen to try its Nel Drip coffee, made using the pour-over method, filtered through a nel brewer ('nel' being short for a flannel filter).
But it's in the ground-floor retail space that the culture centre becomes more than just a restaurant, as The Shop introduces Japanese products, the designers who make them, and the history and social context of how they are used. As per Ichiba, an appealing selection of meticulously organised Japanese ingredients and authentic cookery utensils will help visitors recreate ramen, sushi and curries at home.
For dinner outside your own four walls, guests should head to the top-floor Akira, a fine-dining robatayaki and sushi restaurant. Here, guests are immersed in Japanese-style omotenashi hospitality and experience the theatre of cooking as chefs prepare dishes over roaring robata flames. Part kitchen and designed to recreate doma (a Japanese sense of place and home), the team describes the restaurant as "a social space where family, friends and neighbours gather." We can't think of a sleeker spot to organise a saké-fuelled group get-together.
DISCLAIMER: We endeavour to always credit the correct original source of every image we use. If you think a credit may be incorrect, please contact us at info@sheerluxe.com.