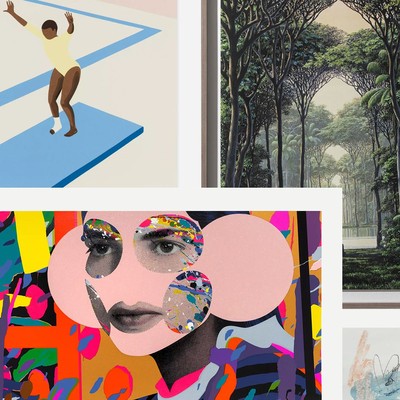 How To Start An Art Collection – According To The Pros

There's little doubt online galleries can take the pressure and intimidation out of buying art. Avant Arte, which started life as an Instagram account, offers contemporary pieces at prices ranging from £250-£1,000+ to the largest, most engaged online art community in the world. Want to know more? Here, chief curator Gemma Rolls-Bentley answers some key questions to get you started.

IN PARTNERSHIP WITH AVANT ARTE
What are some of your top tips for someone looking to start an art collection?
First and foremost, buy artwork that you love. Anyone can be an art collector, whatever their budget, whether they're buying limited editions or original works. Collecting is personal, so take a look at works that instinctively appeal to you, whether you've seen them in a museum, or scrolling on Instagram. What do you like about it? Is it the colour palette, the medium, the fact that it's by a female artist, or that the work makes you feel a particular way? Use that as your starting point and find out more about the work or the artist; Google them, look them up on Instagram, talk to people about them. Every collection starts with the collector's interests – that's what makes art so special. 
Who do you think are some of the big names to look out for this year? 
Tomás Sánchez, one of the most important living Cuban artists, is having a real moment. His works are going wild at auction and the pieces seem to really resonate with people. Everyone from major NBA players to my friends who are new to art love his work. He creates these beautiful, dreamy landscapes that celebrate nature but also explore its destruction. He's also influenced by his meditation and yoga practices, and his works create a beautiful moment of pause. We have a timed release with him available now for 24 hours (ending 5pm GMT Friday 28th January) for his work 'En el paisaje interior' or 'in the inner landscape' which is emblematic of his landscapes and the meditative nature of his work. This release is a unique opportunity to acquire a limited edition of one of his landscapes for £300. His original works usually go for hundreds of thousands and his limited editions in the thousands, so it's an exciting one for people thinking about starting their collection. 
I'm also really excited about Antonia Showering, a young British artist who has just opened her first solo show at Timothy Taylor and who depicts friends, family and lovers in these dreamy landscapes. Her career is skyrocketing. Alongside Antonia, I'll be putting a spotlight on artists whose careers are at an inflection point and whose work inspires me this March. They include Jessie Makinson, who is working with us on her first ever print following a brilliant solo exhibition at the end of last year with Lyles and King and Arghavan Khosravi, who is creating this amazing collage print that incorporates different textures and fabrics inspired by the materials she had at home during the pandemic when she couldn't visit her studio. You can subscribe here to find out more.  
Do you have any advice for buying art online?
Buying art can be a pretty mystifying process. Oftentimes, prices aren't readily available and the whole process can seem very intimidating. Thankfully, buying art online has really helped to open up this opaque process.  There are now so many ways to discover and buy art. My main tip would be to ask questions. Avant Arte has a brilliant collector team who are on hand to answer any queries, whether you want to find out more about a particular artist, discuss how to grow your collection or ask why a work is priced the way it is. We want to break down any barriers and support people in finding and owning pieces they love.  
What are some of the best ways to discover different artists?
There are lots of ways to find artists online. If you have an artist you love, Google is a good first step.  Lots of galleries and platforms will provide further information on the artist's work. If I'm unable to visit an artist in person, I'll often see if there are interviews and videos online – which is one way to virtually experience their studio practice. A lot of artists also have their own websites and social media accounts that'll offer a great insight into their inspirations and what they're working on. Scrolling through Instagram is also great. I discovered Jessie Makinson and lots of other incredible artists on there. 
Avant Arte started life as an Instagram account (@Avant.Arte) initially to share the art and artists we loved, and we now have a community of over 2.4 million people who come to us to learn more. We share works we love, interviews with artists, as well as deep dives into contemporary artists and their careers.  Our most recent deep dive was on Bridget Riley, but we've also featured Betye Saar, Jenny Holzer, Judy Chicago and Tracey Emin to name a few – you can find them in our Highlights tab. Our @AvantArteInsiders Instagram account is a great way to connect with other people buying art and to get a behind the scenes look at the artists we collaborate with. 
Where do prices start from at Avant Arte?
Our prices start around the £250-300 mark. We work closely with leading contemporary artists including Antonia Showering, Tomás Sánchez, Donna Huanca and Sola Olulode to create limited edition works, from sculpture editions to works on paper and hand-finished screen prints. We're setting the gold standard for what editions can be and work with the best producers around the world, involving the artist at every stage to bring their visions to life.  We're constantly pushing the boundaries of edition making; many of our editions are hand-finished by the artists so that each one is unique. 
Tell us more about Avant Arte's 'timed releases' – how do they work?
The timed release is a new format we've launched which is designed to support those who may be new to buying art and looking to start collecting high-quality works by the best contemporary artists at a lower price point. A timed release is available exclusively on Avant Arte for a set period of time, usually for 24 hours. The edition size depends on how many people place an order during this period. Once the 24 hours is up, the edition size is confirmed, and the edition is no longer available to order. We work really closely with artists on the timed releases to open up access to their work. Our current timed release is with Tomás Sánchez, one of the most important living Cuban artists and his work is available for around £300/€350. 
Are limited edition prints really worth the money or should you always invest in originals?
The key thing with limited editions is to do your research and make sure you're buying a piece that the artist has worked on closely and that is made to the highest quality. Not all editions are created equal. We work incredibly closely with artists to support their practice and create new and exciting one-off, limited runs of their work. These are unique editions whether we're collaborating on their first foray into sculpture or they're hand-finishing a print edition so that each piece is original. These works are investments as well as works that bring joy. Ultimately, most collectors will have a mix in their collections as they build over time. 
Is it always worth having a budget in mind?
That really depends on the person – why they're buying art and what their budget is in general.  Are you more of an instinctive, impulsive person who sees a work and has to have it, or do you like to take your time, understand the back story and draw up a budget for yourself? The key thing to think about is to invest in and support artists whose work and story resonates with you. 
Is it best to think of art as an investment or is it better to just buy what you like?
It can be both – buy what you love and do your research. Find out more about the artist, what stage of their career they're at and where they're going. Spending money on the artists that you love can be a really meaningful way to support them. 
Finally, how else can Avant Arte help you become part of the art collecting community?
We're here to make discovering and owning art accessible and I hope, fun, as well. Follow us on our main Instagram page, @Avant.Arte, to find out more about the best contemporary artists out there. If you want to find out more about upcoming releases and artists we're working with check out @AvantArteInsiders and sign up here and one of our collector team will be in touch to find out more about your interests and share artists that might be up your street. 
For more information visit AvantArte.com.
DISCLAIMER: We endeavour to always credit the correct original source of every image we use. If you think a credit may be incorrect, please contact us at info@sheerluxe.com.