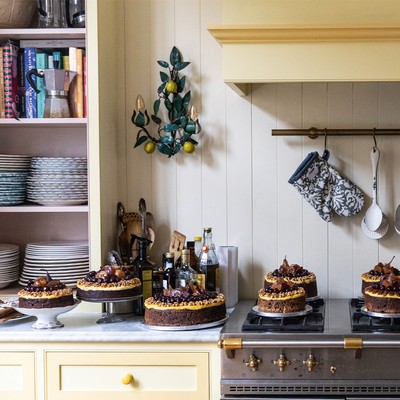 Inside My Kitchen: Skye McAlpine

Cookery writer and Sunday Times columnist Skye McAlpine was born in London and moved to Italy with her parents when she was six. Now, she divides her time between London and Venice, and is the author of two cookbooks: A Table in Venice, which celebrates the Venetian home-cooking of her childhood, and A Table for Friends, which explains how to cook for friends and really enjoy it. This love of Italian dolce vita is the inspiration for Tavola, Skye's new homeware launch. To find out more about her cooking must-haves, love of cakes and her secrets to entertaining in style, she took us inside her southwest London kitchen....

The best thing about my kitchen is that it's painted a sunshine yellow colour by Farrow & Ball. I'm always happy cooking there. We also had our kitchen custom made. My friend and brilliant architect Ben Pentreath designed it for us, and it's mostly made up of free-standing pieces of furniture and appliances we've pieced together. We wanted the space to be as flexible as possible, and I love that if one day we tire of our kitchen island, we can move it somewhere else or just sell it on.
In terms of designers, I love Plain English and British Standard kitchens. Their designs are classic and feel incredibly cosy. A kitchen should always feel warm and welcoming.
When it comes to buying kitchenware, Liberty has a great selection, including lovely enamel roasting trays, storage bits and mixing bowls. When it comes to plates, I mostly buy vintage. However, I'm excited to have just launched my own collection of tableware, Skye McAlpine Tavola this month. We've created these really pretty hand-painted plates with forest berries on them, that will look lovely at Christmas.
For glassware, I love Murano. They're investment pieces, but are so beautifully made. I collect them and display them in a large dresser in the kitchen. I've designed some glass tumblers for my new range, which I'm absolutely obsessed with. My favourites are the balloton tulip tumblers in cranberry and green – they look like jewels and the glass is blown in a special way, so they shimmer beautifully in the light.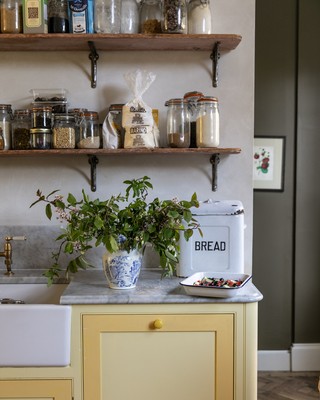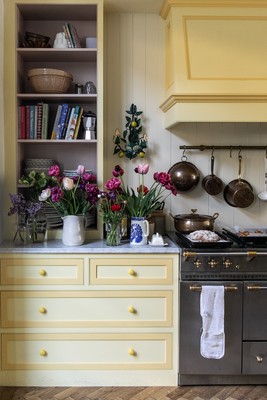 My must-have kitchen accessories are a good chopping board; a rubber spatula; and lots of glass jars for storing food. They look lovely and it's a great way to see what ingredients you have to hand. I also love my KitchenAid mixer. I've had it for years and use it most days to make everything from homemade mayonnaise to meringues and baking cakes. My most recent purchase was a sugar thermometer, which I needed to make Italian meringue buttercream icing. 
I love Ruffoni copper pans. They're expensive, but they last a lifetime. They're also a dream to cook with. I always keep an eye out for second-hand ones on eBay.
The first dish I learnt to make was tiramisù. It was also the first thing I ever made for my husband and it's still one of my favourite recipes today. You can find my favourite recipe in A Table in Venice.
My most-used ingredient in the kitchen is a good bottle of olive oil. I don't have a go-to brand, as I like trying new ones out. I love cinnamon, because it's the scent of Christmas. I use a lot of saffron, too – in sweet dishes as well as savoury ones. I also always have lots of nuts (pistachios, almonds and walnuts) and chocolate in my cupboard. Somehow you can work some real magic with nuts and chocolate. I love to buy ingredients at Trude's Grocer on Clapham Common and The Butcher's Table on St John's Hill for meat.
At this time of year, I love cooking with persimmons. I'll either use them when they're really ripe to make a jelly, or if they're a little on the firm side, I like to roast them in the oven with a little cinnamon and honey. I'm also obsessed with chestnuts, both in savoury dishes and as a sweetened chestnut puree in chocolate cake.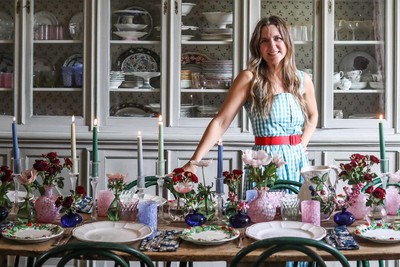 If I'm entertaining at home, I think it's quite hard to beat a good roast chicken with roast potatoes and a crisp salad. I then like to follow it up with something super indulgent, like a flourless chocolate cake or pannacotta. Just keep things simple so you can really enjoy yourself – then your guests will too.
One of the most memorable meals I've ever cooked was a fun dinner at home for my birthday a few years ago. I cooked roast beef with salsa verde; new potatoes with lemon and parsley; and a lovely tomato salad. Pudding was birthday cake – a pistachio sponge cake with Italian meringue buttercream. It was delicious.
My go-to midweek meal is a good, cheesy frittata. There's a recipe for spinach, mint and melted cheese frittata in my book, A Table for Friends, and it's one of my absolute favourites. 
Choosing a favourite cookbook is an almost impossible ask, as I have so many that are favourites for different reasons. Recently I've fallen back in love with Joanna Wenberg's How to Feed Your Friends with Relish. It's one of the books I first learned to cook (and to love to cook) from and is full of stories and the kind of food I just want to eat. I also love The Flavour Thesaurus by Nikki Segnit; The Kitchen Diaries by Nigel Slater; and The Essentials of Classic Italian Cooking by Marcella Hazan.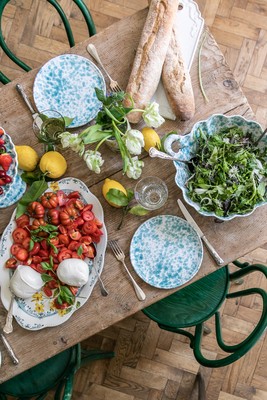 I love a good negroni. They're so easy to mix, almost everyone likes them, and they look so festive. I don't have much by way of fancy barware, but I've collaborated with Coco & Wolf to create some sweet cocktail napkins in a vibrant chintz and with a ruffle edge. They really make drinks before dinner feel like a glamorous affair. 
My idea of the perfect Sunday lunch is with lots of friends – one of those meals that lingers on well into dinnertime.
I have quite a sweet tooth, so for breakfast I'll either have a slice of breakfast cake or (at this time of year) a slice of panettone; or sometimes Greek yogurt with fruit. 
When it comes to talking photos of food, natural always light makes everything look more appetising. And keep things as simple as you can. Pretty plates also make things look better.  
My best advice for running a kitchen is to fill it with the people you love. Cooking for someone you love is the best way to learn how to enjoy cooking. As for the rest: take every shortcut available to make life easier, and don't think twice about it.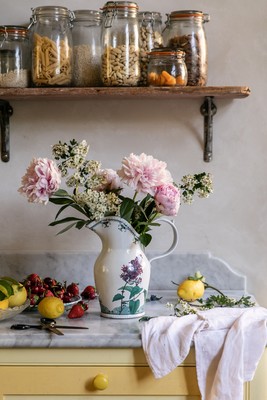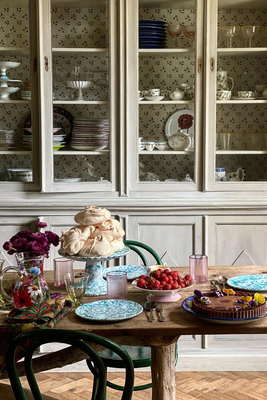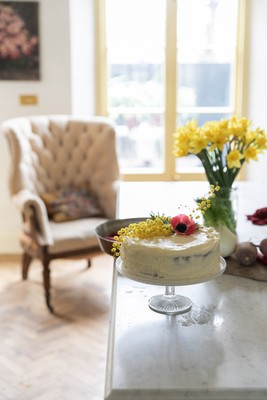 Inspired? Shop Skye's hacks and tips below…
DISCLAIMER: We endeavour to always credit the correct original source of every image we use. If you think a credit may be incorrect, please contact us at info@sheerluxe.com.