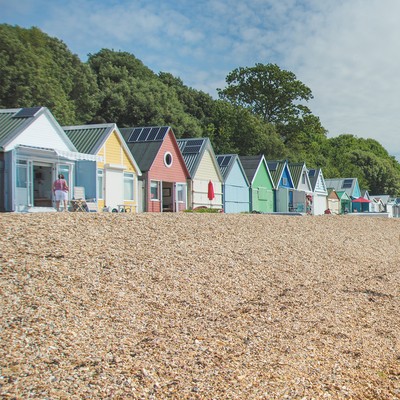 The New Beach Pop-Up Hotel To Visit This Summer

If you're considering a staycation this year, the Cadland Estate is one to have on your radar. Located in the New Forest, it's set to open a new pop-up beach hotel this summer. Offering guests a luxury glamping experience, expect stylish accommodation, activities the whole family can enjoy, and a new exciting menu – all within walking distance of the beach. We spoke to Fi Drummond, the woman at the helm of Cadland, to find out more…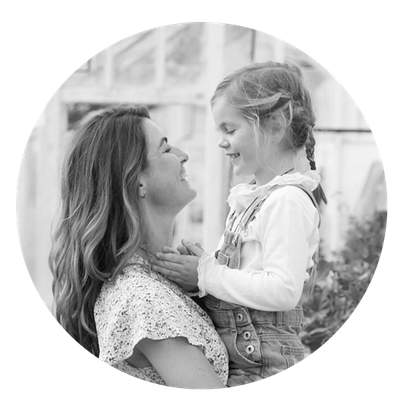 Can you tell us more about Cadland and where it all started?
I've been here for about 14 years and I feel incredibly lucky to live between a kitchen garden and the sea. Nature has always been my passion , and it was the first thing that drew our family to Cadland generations ago. 
Set on a historic estate in the New Forest National Park, we want our guests to feel lost in ancient wilderness, while also feeling connected to the beautiful English landscape. It's truly an extraordinary place and the history and style of the estate is incredibly evocative.
What was the inspiration behind the estate?
Everything we do is about looking backwards to be able to move forwards. The heritage of the estate, alongside the people who have been here over the years, really make Cadland what it is today. The Drummonds (the family which has resided here since the 11th century) were all super chic, cool, academic, well-travelled and well-read, with grand Gatsby-esque style. The interiors also speak for themselves – layers of generational history with modern twists, and interiors by David Hicks, make it totally unique. 
What's the history of the estate?
The Drummond family flourished in the 14th century, and even produced two Scottish queens – the wives of David II and Robert III. The family were well respected, steadily progressing up the ranks until the 17th century. Over the generations, my family have lived on the Solent shore for over 249 years, though Cadland has only passed through seven generations. Today, I live on the estate with my husband and children – and we've turned Cadland into a modern destination that will hopefully be around for decades to come.
Tell us a bit more about the location?
Our ancient woodland and New Forest National Park backdrop blends seamlessly into the sea, with a unique conservation coastline. The combination of wetlands, marshland and beach with a water sports centre at one end of the estate make it totally unique. It's such a varied landscape and is just over 90 minutes away from London – an ideal destination for a luxury staycation. I feel very lucky to have such beautiful surroundings on my doorstep.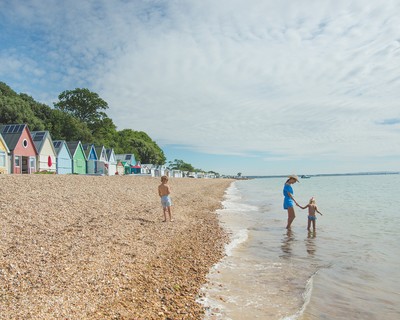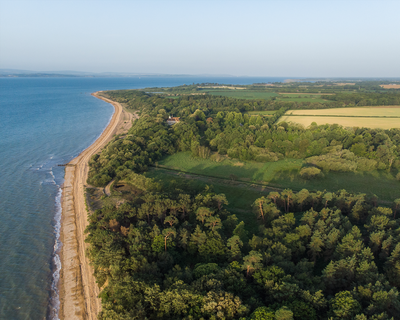 Who is the typical Cadland guest?
Somebody who seeks adventure, is interested in high-quality experiences, and wants to have a connection with the local people. Everything we do is of the highest possible standard and it's an extension of our own life through the pop-up hotel. During the summer, guests will be able to enjoy a range of water sports, including kayaking, paddle boarding, canoeing, windsurfing, sailing and rock climbing – ideal for lovers of the outdoors. Equally, if guests want to relax on the beach with a glass of rosé, or take part in breathwork and yoga classes, that's also an option, too. 
Can you tell us about the interior design?
Being natural and remaining authentic to the location is key, and we also endeavour to be as sympathetic to the environment as possible. We want guests to feel like they are being fully immersed in the landscape while they are here. 
So, what will the new accommodation look like?
We've partnered with The Pop-Up Hotel to launch a stunning, socially distanced sea-view glamping site complete with beach access, a full-service bar, and a cliff-top restaurant. In terms of accommodation, guests can stay in premium glamping rooms scattered in the meadows directly above the beach on the estate, only a few steps from the beautiful beach. We have so much space you'll be far enough from your neighbours, but only a short stroll from the restaurant, bar and other amenities, all of which will operate in a sustainable manner. Guests can choose from classic glamping tents, luxury beach huts, 'Safari Suite' tents and even the 'Raj Tenthouse Suite' which has all the amenities you'd expect from a hotel, like fluffy towels and luxe toiletries. There will also be a concierge to welcome guests on arrival, hot cubicle showers with a separate toilet area, and a large lounge area with table service and beautiful sea views. Guests can even opt for room service to their tent. Whether you're after a romantic staycation for two, or a luxury holiday the whole family can enjoy, there are plenty of options for everyone.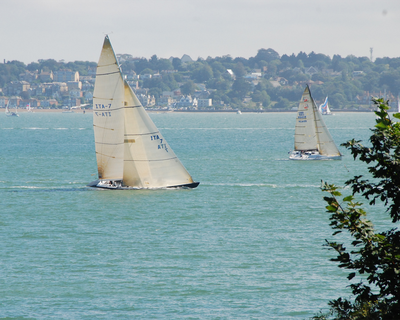 The great thing about the location is that you can retreat into the wild meadow and be away from the sea on the cliff or be right on the beach – it offers two completely different environments.
What's on offer at the beach restaurant?
In the restaurant, guests can enjoy a range of fresh and seasonal ingredients, including Solent lobster, Solent line-caught bass, Isle of Wight tomatoes, New Forest meat, English wines and Cadland Estate honey. Everything is sustainably sourced and supports a range of local businesses. The floral styling and installations will be created by me, and there will be woodland private dining experiences by Fire & Wild, too. 
What are some of the other facilities available?
There will also be a yoga and wellness tent, new paddleboards, and outdoor 'bushcraft' activities for the whole family. The great thing about the location is that you can retreat into the wild meadow and be away from the sea on the cliff or be right on the beach – it offers two completely different environments. Low tide really draws me in – it's a great time to explore with kids and wander around. The sunrise is absolutely mesmeric, too and it's the perfect time to visit the cabana on the beach where we will have loungers and beach furniture for hire. A great spot for a morning cappuccino or evening cocktail, it'll feel like a secluded boho hideaway you'd expect on holiday.
And what's on offer for families?
Cadland is a great place for families and this year, there are a range of fun water sports on offer, as well as archery and rock climbing. There are coached activities for both children and adults so parents can get involved or leave their children knowing they will have an incredible experience. We also offer boat trips to the nearby Isle of Wight.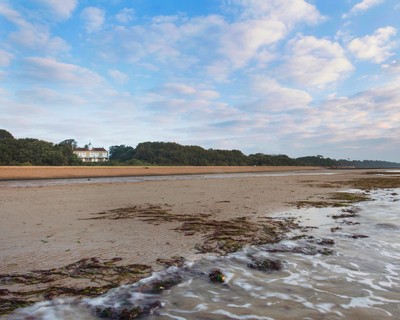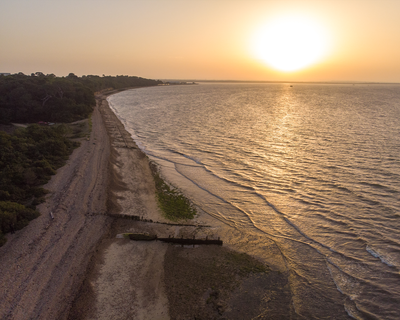 Any other highlights?
For me, the food, flowers and being by the sea – sitting there with a glass of rosé in the open air with a sea view and a great menu are all highlights! Being able to share these experiences with your family and booking a private dining experience will definitely be a memorable experience, too. I'm also very excited about what you can buy in the Kitchen Garden Cadland Shop – it will be a representation of everything that we stand for – from bamboo toothbrushes to beautiful accessories to emulate our Kitchen Garden in your own home. Plus, our sustainably sourced ice-cream is not to be missed!
Finally, what sets the pop-up apart from other glamping sites in the UK?
The location – everyone who visits can't quite believe how close we are to the sea and most had no idea the estate even existed. The pop-up hotel is on a secret idyll that we are opening for the first time. The view and the experience of soaking it all up will be pretty special. The sustainably-styled glamping experience by the sea in the form of a pop-up hotel is incredible unique – that's not something I've heard of. We're going to be as eco-friendly as possible – there will be no plastic, and everything will be incredibly high quality. It's a fully operating hotel service more than a glamp site. The quality and the curation of it is a completely different offering and the ability to book your children into some of the south of England's best water sports facilities is a big plus. The calibre of what guests can do while they are here is like going abroad – hence why I never leave!
Cadland Pop-Up Hotel will be open from Monday 12th July until Monday 6th September 2021. Tents start from £499 for four nights. 
Visit Cadland.co.uk
*DISCLAIMER: Travel restrictions are changing daily, so please check the latest government advice before you book anything. Visit Gov.uk for more information.
DISCLAIMER: We endeavour to always credit the correct original source of every image we use. If you think a credit may be incorrect, please contact us at info@sheerluxe.com.