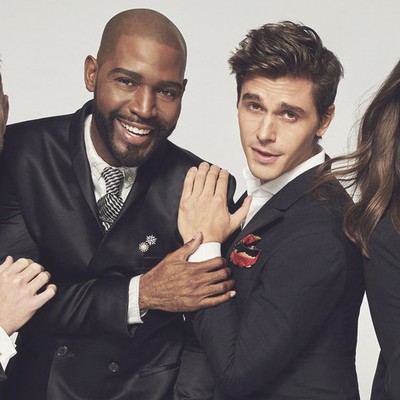 The Show You Need To Binge-Watch This Week

Fifteen years after Queer Eye for the Straight Guy first hit our TV screens, Netflix has recommissioned the show for the digital age. An unlikely hit, the new reboot has been an overwhelming success – so if you're still one of the few people who hasn't given it a whirl, here's why you need to press play tonight.

What's the premise?
This reality TV hit follows the traditional pattern of a makeover show. Now just known as Queer Eye (the reboot has broadened its remit to include people of different genders and sexual orientation in the makeovers) each episode our core team of experts – named the Fab Five, more on them later – take one test subject and attempt to overhaul his life.
This isn't all about style though. Aside from grooming and fashion, the team also help our guy in the realms of food and drink, home décor and culture. At the end of each episode, there's usually some sort of event – a fundraiser, say, or a wedding vow renewal – where the grand transformation will be revealed to the subject's family and friends. Ready the tissues, everyone.
Who stars?
The all-new Fab Five comprises Doncaster's very own Tan France as fashion guru, while Antoni Porowski heads up the food and drink segment of the show, teaching the contestants how to rustle up healthier home-cooked versions of the dude food they usually devour. Bobby Berk is the assigned décor and design expert, while glossy-haired Beyoncé enthusiast Jonathan Van Ness is on hand to impart grooming advice.
Finally, Kamaro Brown is on board as the guy in charge of culture. The nature of said 'culture' tends to change episode by episode, but this could be anything from how to present yourself positively at a business meeting to how to impress potential dates with your knowledge of whisky.
So it's just a makeover show then?
Absolutely not. Besides the final euphoric reveal of every episode, each of the eight shows hones in on at least one serious issue. Set across the state of Georgia – generally a very religious part of the US – there are some extremely illuminating conversations had between the Fab Five and their participants. Take episode five – 'Camp Rules'. Here, the team make over a devoutly Christian dad of six. It's only while the pair dig an allotment that Bobby reveals that he was also brought up in a very religious family, and that homosexuality was seen as a sin. It made his coming out extremely painful.
In episode two 'Dega Don't', Kamaro, who's driving the gang to meet their charge, gets pulled over by a cop. It turns out to be a practical joke played by that week's Nascar-loving cop's colleague. Kamaro looks shaken at the time, but only later on does he reveals the fear he carries as a black man in the current climate (one that has seen many unarmed African-American men killed by white cops).
These are just two examples, and across the series, the Fab Five challenge many of the stereotypes lobbed in the direction of gay men. It's extremely satisfying to witness the quintet obliterate these eloquently and in style.
Will I like it?
In short, yes. We've yet to meet anyone who's watched it and said anything otherwise. For a start, the Fab Five are utterly likeable. From Tan's practical styling tips (for our dad of six, he creates a brand-new wardrobe from a supermarket as he understands that it's the only affordable place nearby to shop) to Jonathan (a fan favourite) and his hair swishing and perpetual chant of "Yassssssss", each of the five offers nothing but positivity and confidence-bolstering advice to the eight men undergoing the makeovers.
At the heart of it, this show is about breaking down taboos and fostering positive interactions with the important people in your life. Whether it's helping to reunite Tom (whose catchphrase is "There's no fixing ugly") with his ex-wife or helping a gay man come out to his late father's widow, this show really does showcase the very best of human interaction. Like we said, get the Kleenex ready.
Where can I watch it?
Series one of Queer Eye available to stream on Netflix now.
DISCLAIMER: We endeavour to always credit the correct original source of every image we use. If you think a credit may be incorrect, please contact us at info@sheerluxe.com.