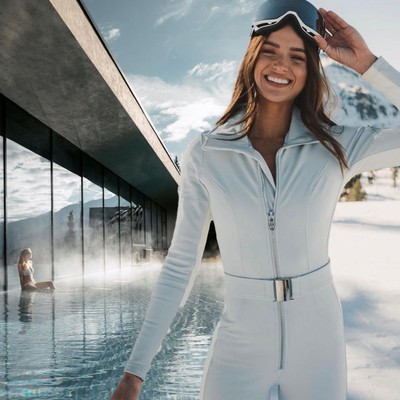 The Ski Hot List

After a stop-start few months, the ski season is now firmly in full swing. If you're heading to the mountains, consider this your guide – from the essential apps to the most stylish brands for thermals, helmets and goggles, plus some tips to get your technique on point…

The Tech: Carv
If you've been skiing for years but are feeling rusty, Carv is the digital ski instructor to know. A clever combo of well-placed sensors and a smartphone app, Carv's inserts slot into your boots and provide live feedback as you ski, monitoring your balance, edging, rotation and pressure. Carv can diagnose flaws in your technique, motivate you to improve and show you videos of drills to help you fix it. At the end of the day, kick back and check your stats – the app will even tell you your biggest achievements of the day and where they happened.
Visit GetCarv.com
The Goggles: SunGod
A decent pair of goggles is a must, to filter out harmful UV light and shield you from the elements. Doing all of that and more, SunGod's rimless design boosts peripheral vision for an incredible and uninterrupted view of the mountains. Once you've chosen your colour, opt from eight precisely engineered snow lenses, all designed to enhance contrast and optimise clarity. The goggles also boast a triple-layer scratch-resistant surface and impact protection.  
Visit SunGod.co
The Resort: Laax
With long piste trails for all abilities, including challenging off-piste skiing and freeride routes, modern lifts and five-star snow parks and resort facilities, Films Laax is the resort to keep on your radar. The winner of the world's best freestyle resort for four consecutive years, it's just two hours from Zurich airport and 70% of its slopes lie at an altitude of at least 2,000 metres, making it one of the most reliable skiing and boarding regions in Switzerland, with buckets of fresh powder. Laax is also on a mission to become a carbon-neutral destination by 2030.
Visit FlimsLaax.com
The App: FatMap
Forget flimsy paper maps – FatMap is a first-of-its-kind 3D ski map that lives in an app on your phone. Covering hundreds of the world's major ski areas, it offers ultra-clear, 3D maps, details on slope gradient, aspect, altitude and even live snow cover, enabling you to explore a new resort with ease. One of its best features is an awesome virtual-reality fly-through, which allows you to plan your ski route before heading out, as well as a 'live resort status' feature, which provides information on open runs and lifts as well as weather updates.
Visit FatMap.com
The Brand: Cordova 
From thermals to all-in-one ski suits, Cordova is the name to know for ski gear that fuses style and practicality. Founders Jane and Cody Seim married on the slopes of Sun Valley in Idaho, and after delving into the history of ski fashion they launched a collection inspired by the '70s. Try the brand's base layers, made with repurposed coffee bean shells for natural insulation as well as added moisture and odour control, and the Banff knits, made with cosy merino wool.
Visit Cordova.co
The Platform: Maison Sport
You can't beat the thrill of skiing downhill on freshly fallen snow, but it's imperative to start with classes if you're a beginner. Maison Sport allows you to look up the availability of professional, independent instructors in more than 350 resorts across France, Switzerland, Italy, Austria and Scotland in real time. That, it says, reduces costs for you and hands back more of the earnings to the instructors, who keep up to 93% of the cost of lessons. All the instructors listed on the platform have been verified and 94% of lessons reviewed have been rated five stars.
Visit MaisonSport.com
The Helmet: KASK
Kask's sleek Italian aesthetic and clever tech guarantees style and enough substance for it to be the helmet of choice for several pro sportspeople. We rate the bestselling Class model, which features merino wool internal padding that's odour resistant and regulates body temperature, as well as a high-tech ventilating system to quickly adjust airflow.
Visit KASK.com
The Hotel: Forestis
A first-of-its-kind hideaway in a breath-taking location, Forestis is the hotel everyone's talking about this season. At 1,800m above sea level, Forestis has stunning views across the Dolomites. It's built on the site of a sanatorium, meaning people have come here for health and rejuvenation for more than 100 years. Today's offering includes five-star spa treatments (all inspired by the surrounding forest), unparalleled access to the slopes and mountain activities, as well as an award-winning restaurant.
Visit Forestis.it
Ready to go? First, brush up your technique with these expert tips…
Be Patient
"One of the most common mistakes beginners make is rushing through the early parts of the learning process. It's worth putting in the extra hour on the relatively flat, gentle terrain, learning how to manoeuvre, balance, slide and get comfortable with the equipment before moving forward. Don't be tempted to wing it without the help of a professional – getting taught how to ski by friends and family, or someone who doesn't really know what they're doing, is a common pitfall. I'm a huge believer in mastering the foundations of good technique – balance mixed with co-ordination and agility will go a very long way."
– Derek Chandler, owner of Marmalade Ski School
Ask Plenty Of Questions
"If you're renting kit, ask for recommendations for ski hire shops from people who know the resort. Be honest with a ski technician about your ski level and how you like to spend your days on the slopes and ask how old the skis and boots you are renting are, and how many seasons they have been worn. When it comes to fit, remember ski boots aren't slippers and should feel snug. When you stand completely upright, your toes should touch the end of the boot and when you flex your ankle your toes should move away from the end. In the rental shop, your feet are likely to be warm and slightly larger than they will be on the mountain. Boots that are too big will cause as many problems as boots that are too small, but if they're not right you can always change them."– Clare Angus, ski instructor
Look Out For The Warning Signs
"If your quads hurt when you ski, or at the end of the day, this is a sign you're probably leaning back too much and using your muscles, rather than your skeleton, to keep you upright. At the same time, if your lower back aches, this is a sign your pelvis isn't correctly aligned and your core isn't engaged, and if your toes are feeling battered, chances are you're leaning back too much, causing your toes to hit the ends of your boots." – Clare 
Aim For A Rounded Turn
"Don't rush to get your skis from pointing one way of the piste to the other. Allow your skis to follow a path which starts across the hill, then points down and then ends up back across the hill. Think about which ski is doing the turn (the outside one) and which one you should therefore be balancing on; think about the ball of that turning foot and try to connect the ball of that foot with the snow when you want to start the turn – this is a handy way to help engage with the new turning ski as well as bringing your balance and weight forward and into the turn." – Derek 
Know How To Deal With Ice & Moguls
"Once you've mastered a solid parallel turn the mountain turns into a playing field. But if you can't do a precise parallel turn then these more challenging parts of skiing become trickier. If you are faced with moguls, use them as signs of where to turn and try to match your turn with the space in front of you. Use your pole plant to help with timing and try to keep moving forward and down the hill from bump to bump. In powder, don't rush your turns and don't panic about not seeing your skis – trust your ability. Keeping your legs closer together can also help. And if you're faced with ice, relax and allow yourself to go for a controlled side slip until the next patch of decent snow arrives. If you have good balance on your downhill ski, you'll remain in control and won't fall over." – Derek
Wear Layers
"Layering is key to keep you at the right temperature throughout the day. Base layers are important – they should be close fitting, breathable and wick moisture away from your skin. Consider three-quarter leggings that reach over the top of your socks – if they are full-length, they can wrinkle and cause discomfort inside your boots. Your mid-layer should trap heat – a fleece or thin down jacket is great, and when it comes to outerwear, always look for a jacket with a waterproof rating of 20k and trousers 5k. A snood is also a great idea – it will keep out drafts and is far more practical than a scarf. And thicker doesn't necessarily mean better when it comes to socks. Always buy the best quality you can afford – it may seem like quality products cost an arm and a leg, but they will last you for years." – Clare
Hit The Gym Before You Go
"A solid pre-ski trip fitness programme will tick a lot of boxes: strength, flexibility, balance and cardio. When it comes to strength training, prioritise the lower body and core, and consider investing in a wobble board to improve balance. For example, you can do lunges and squats with one foot on a wobble cushion or hold a plank or glute bridge with your arms or legs resting on a Swiss ball. Don't forget about cardio, which is important to be able to cope with the physical demands of skiing at altitude. Maintaining good flexibility will also help pull everything together when you're on the mountain – always stretch before and after exercise, holding stretches for 20-30 seconds, two to three times for each muscle group." – Clare
DISCLAIMER: We endeavour to always credit the correct original source of every image we use. If you think a credit may be incorrect, please contact us at info@sheerluxe.com.