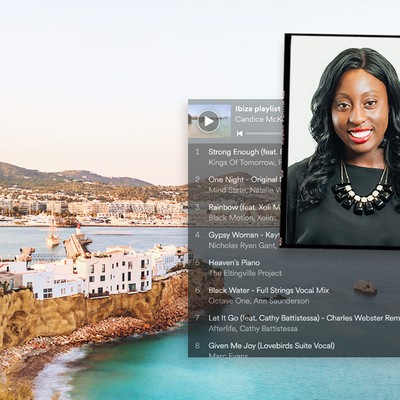 Stream This SL-Approved Summer Playlist

In need of a chilled summer playlist for a BBQ or evening in the garden? Here Candice McKenzie – a DJ, radio presenter and Head of A&R at house music label Quantize Recordings – tells us who to follow on Spotify, where to discover new music, and shares an ultimate chilled house playlist made just for SheerLuxe…

My earliest music memory is of my dad and I at home dancing to Bruce Springsteen's 'Dancing in the Dark' when I was two years old. My dad would pick me up and we would dance around.
I began DJing when I was 16 and had my first gig was when I was 17. Not long after that, I had my first international gig which was in Germany and I continue to DJ globally – over the years my favourite gigs have been in Croatia, Macedonia and Ukraine. I spent some time working for Defected Records doing events and artist management, and it was there that I met DJ Spen who is the founder of Quantize Recordings. I continued to freelance for DJ Spen on and off over the years in addition to other gigs and radio presenting. I also spent some time working at Atlantic Records and Warner Music and I've even judged the Eurovision Song Contest!
When I'm chilling out, I love listening to soul and modern soul – anything from Lamont Dozier to Natalie Cole and Oscar Perry. I'm also a huge George Michael and Wham fan, and love the albums The Final and Ladies and Gentlemen.
When I'm in the mood to party, I listen to all types of house. I also love garage, disco, 80s pop – anything uplifting with a great vibe. When I want to listen to good music, rooftop bars such as Madison and Radio Rooftop are the places to head, but for a good dance you can't beat E1 London and Ministry of Sound.
When hanging out at home with friends, I usually put on some deep house. Just type "South African Deep House" into YouTube or Spotify, and take it from there.
I am often sent new music to listen to as part of my A&R and radio roles, and it's a great way to discover new artists. I also use Traxsource, which is an online specialist house music store, Spotify, and listen to mixes and playlists by DJs and presenters I like.
The best new albums I've heard recently are Joey Negro Presents 30 Years of Z Records, which celebrates 30 years of the legendary house music label with a collection of disco and house music releases; The Gospel According To DJ Spen, a compilation album filled with fantastic soulful and uplifting inspirational house music; and After Hours by The Weeknd.
On Spotify, try following Tasha la Rae. As well as being the lead singer of Grammy award-winning hip hop group Arrested Development, Tasha is also an independent powerhouse singer and songwriter. She has released some fantastic original songs and her cover of 'Wish I Didn't Miss You', which was originally by Angie Stone, is worth a listen. Camishe is another singer with a sensual voice who's gained a loyal following from covering some great songs including 'Wicked Game', 'Every Breath You Take' and most recently Kylie Minogue's 'Can't Get You Out Of My Head'. 
When creating your own playlist…
Be yourself. Include songs you truly like and that represent you. Don't add songs just to look cool. 
Mix it up. Add songs that are new, classic, current and unexpected.
Check the length of the playlist. House music songs can sometimes be longer, so try building a playlist that is around 18-20 songs, or 25-30 songs at a push. It's better to try to leave the listener wanting more.
Take your time. Don't just drop songs in. Put thought, time and effort into your selection. I really enjoyed putting together this playlist for SheerLuxe. Some of the songs had me digging out the original vinyl and others brought back amazing memories. And I made some new discoveries, too.
DISCLAIMER: We endeavour to always credit the correct original source of every image we use. If you think a credit may be incorrect, please contact us at info@sheerluxe.com.