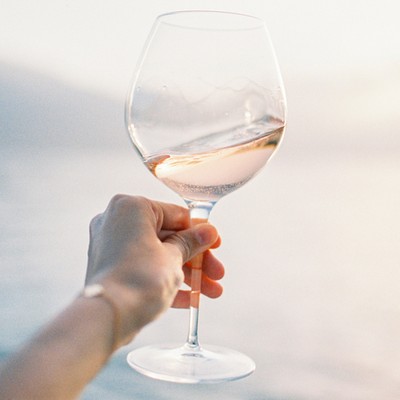 Top Wine Tips From A French Wine Connoisseur

Your Sommelier wants to help you become a true connoisseur of fine wine. Run by UK-based French wine enthusiasts, Celian Ravel d'Estienne and Vianney de Leudeville, the pair kept the concept simple and the wine accessible – their mission is to offer good quality wine to everyone, not just the experts.

Celian and Vianney source the wine directly from a wide number of diverse domaines and châteaus in France and ship it directly to subscribers in the UK. From French classics to more unusual wines, the pair are convinced there's a wine out there for everyone. We spoke to Co-Founder Celian about the company's origins, the best bottles for 2018, and his top tips for good wine etiquette...

What are the most popular wines on the market right now?
It not easy to say as people have very different tastes, but I would say that Bordeaux and Côtes du Rhône are among the most popular French red wines. For white, Chardonnay from Saint-Véran in south Burgundy and Sauvignon Blanc from the Loire Valley are favoured. When it comes to rosé, it's definitely Côtes de Provence! As for sparkling, Champagne remains on top but we've seen increasing interest for others like Crémant d'Alsace.

Any tips for taking a bottle to a dinner party? What should you look for?
Any wine you like is always a good choice, but it's even better if you know where it comes from. That way you have something to tell your guest about the bottle. My best pick would be Champagne. Don't be afraid to drop the famous names for something less well known – it's always nice to bring a bottle your guest doesn't already know, as long as you know where it comes from.

What are the top three things to think about when you're looking for a good wine?
Firstly, who made it – is it from a domaine or is it a brand? A domaine wine means the winemaker has managed the production from start to finish, whereas most brand wines are mass produced using grapes bought from different places and might not have the same authenticity. I like to know the wine has its own character and isn't made to taste the same every year.
Secondly, consider who you're getting your wine from; it's always better to buy a wine from a place you trust so you can be confident it has been selected because it's good, not because it's cheap.
And lastly, don't be influenced by the label. We all tend to find a wine with a nice label that tastes good, but I can guarantee the taste and the label don't have anything to do with each other! It's more important to read what's on the label. Don't be afraid of a wine just because the label isn't fancy.

Is it bad to get a screw top? What's the difference?
We've just written a piece on that very question for our blog. In a nutshell, though most people still prefer traditional corks, screw caps are a great alternative and are actually quite good, especially for wines not made to age for too long.

People say it's better to have a cheap red than a cheap white – is that true?
I tend to think the opposite – there's less risk with a cheap white than a cheap red, and the risk of having a wine with major default is higher in red than white. But it's only my opinion and ultimately, I think that cheap wine is a risk no matter the colour!

How long should you keep a white wine in the fridge for?
Always better to keep a wine in a cool dry dark place and to only put it in the fridge just before you open it. The ideal drinking temperature for a white or sparkling is around 10°C-11°C. Same as applies for Champagne. It's just a specific type of sparkling wine after all!

How should you store wine?
We also have a blog post to answer that. The important thing to remember is wine needs to be stored in a cool (14°C-17°C) dry and dark place. It's also important to avoid stark temperature changes, as it's more the temperature change than the temperature itself that might damage the wine.

How long should a bottle last? How do you keep it fresh once opened?
Usually a couple of days but it will depend on the wine. Full-bodied wines can last longer than light-bodied ones. Make sure it's tightly closed and that air has been removed from the bottle.

Is there ever a case for buying supermarket wine?
For cooking only! But seriously, the problem with supermarket wines is the quality can vastly differ from one wine to the next, and you won't get much advice from the staff to choose. However, if you already know a wine and there's a good deal in the supermarket, then it would be a shame not to go for it.

Tell us about Your Sommelier - how does it work? 
We're a wine club where the membership is free and you only pay to receive the wine. Our new monthly subscription box includes three carefully selected bottles of French wines based around a specific theme each month, and comes with tasting cards to learn about each wine as well as a binder to keep them in. And there's no commitment – with every single wine we offer, you can order as many or as few bottles as you want, and monthly subscribers also automatically save 20% on any wines they want to re-order.

Why did you start it?
We've been in the UK for over ten years and were increasingly frustrated by the poor choice of French wine available at reasonable price points. The idea was to share the hidden gems we'd found with those who had less time and knowledge to do so. We used our network in France to find great wines, mostly from small family-run vineyards, and started bringing them to the UK.

How does Your Sommelier differ from the supermarket?
We can't complete with their prices but we definitely compete with the quality. If you leave out the under £8 ranges that we don't really do, I would say for the same price you would get more value with us, mainly because we don't take the same margins. We can also offer wines produced in small quantities, whereas supermarkets mostly sell mass marketed wines. For me that's a massive difference – we can help you to buy more authentic wines.

How do you balance affordability and quality?
We specialise in French wines that come directly from the producers. We don't buy mass produced wines, instead choosing to focus on small productions where we know the winemakers have taken care of the whole process, from vine growing to bottling. As such, there's no intermediary, which enables us to keep our prices as low as possible. With the quality, we taste every single bottle we sell and only pick the ones we'd be happy to buy ourselves. We'd never pick a wine simply because we can make great margin, it has to be good no matter what.

Celian's Top Wine Recommendations For 2018
For pairing with food...
Fish: White wine, like a Chablis or Sancerre.
Poultry: Oaked Chardonnay from Burgundy.
Red meat: Red wine. The tastier the meat, the more full-bodied the wine can be.
Cheese: It depends on the type of cheese, but most actually go well with white wines.
Desserts: Semi-sweet or sweet white wines for fruity desserts and red wine with chocolate.
 
For a special occasion...
DISCLAIMER: We endeavour to always credit the correct original source of every image we use. If you think a credit may be incorrect, please contact us at info@sheerluxe.com.