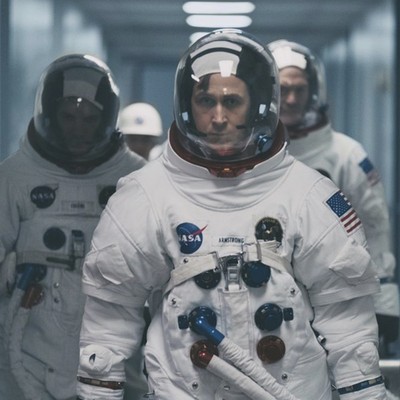 Film Review: First Man

Chronicling Neil Armstrong's part in the race for lunar space travel during one of the most turbulent times in modern American history, director Damian Chazelle shoots for the moon in his second outing with Ryan Gosling – but does it land? We took a trip to the cinema to find out…

What's the premise?
Ryan Gosling (La La Land, Crazy Stupid Love), stars in this gripping drama as astronaut Neil Armstrong, as he prepared for the 1969 space race to the moon. When we first see Armstrong, he almost meets an untimely end as he pushes his X-15 aircraft to its limits, nearly pulling it out of the earth's atmosphere. At this point, his bosses are worried he's a danger to himself – something that's only further cemented after the death of his young daughter, Karen. When Nasa makes the call for trainee astronauts, we see just how much Karen's death affected the staunchly stoic Armstrong, as her memory continues to haunt him throughout his training and during his Apollo 11 mission, coming to him lucidly in moments of extreme crisis. 
Director Damien Chazelle has described this film as "between the moon and the kitchen sink", juxtaposing the clinical, stark white space centre in which Armstrong and his fellow astronauts prepare for launch, to sunny backyard scenes, filled with kids frolicking in pools and those same astronauts sipping beers and discussing family life – which makes the sequence of events leading up to the Apollo 11 moon landing that much more heartbreaking. The space race is a dangerous one, but being on the precipice of death never seems to bother Armstrong much.

Who else stars?
While it's easy to be blindsided by Gosling's stellar performance, First Man is brimming with plenty of other brilliant performances, too. Claire Foy (The Crown) gives a tremendous performance as Neil's wife, Janet. She is the connection to the real world that keeps her husband grounded (metaphorically, of course) – Janet's constant fear is amplified when all the astronaut's wives around her slowly becoming widows. Janet is sturdy and dominant, but her fear that she'll lose a husband and her boys will lose their father manifests itself as anger, which prevents Neil's head from disappearing into the clouds, reminding him he has responsibilities that surpass his own astronomical desires.
As for Armstrong's astronaut pals, Girls alums Corey Stoller and Christopher Abbott star as Buzz Aldrin and Dave Scott respectively; Jim Lovell is played by Pablo Schreiber (who some might recognise from his turn as Orange is the New Black's Pornstache); Kyle Chandler (Friday Night Lights) and Ciarán Hinds (Game of Thrones, Harry Potter and the Deathly Hallows) as Pete Conrad and Robert Gilruth; Zero Dark Thirty's Jason Clarke as Armstrong's neighbour Edward Higgins White. Plus, eagle-eyed fans will spot Damien Chazelle's wife Olivia Hamilton as Ed White's wife Pat, and singer Leon Bridges as sixties jazz poet Gil Scott-Heron.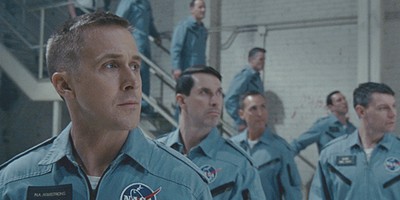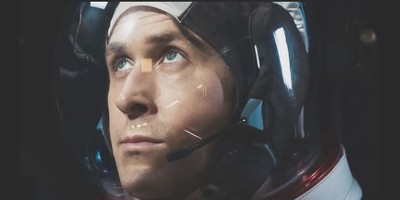 What are critics saying?
The film has been well received by audiences and critics alike. Variety said the film is "so immersive in its glitchy, hurtling, melting-metal authenticity that it makes a space drama like Apollo 13 look like a puppet show." Mark Kermode said he found it "both powerfully moving and quietly profound," while Vulture labelled it "laborious", but in all the right ways: "That's the point…. The moon was hard-earned and so was this movie. It's a stupendous feat."

Did SL rate it?
It's all too easy to rave about the performances of Gosling and Foy – and they were great, truly. But here's something to remember: Damien Chazelle is just 33 years old. He has only directed four feature-length films. But he has already set himself in good standing to be one of the greatest filmmakers of our time. Whether it's the frenetic, sinister beat of Whiplash, his effervescent take on the modern musical in La La Land, or the jarring authenticity of First Man, Chazelle can seemingly take on any subject matter and absolutely nail it.
Chazelle's decision to film some of the footage from a first-person perspective puts you in the driving seat of many of Armstrong's missions, and it works perfectly. It is you that is seating in the claustrophobic Gemini 8 with the deafening rattle of Something Going Wrong in your ears; in the ever-spinning Multi-Axis Trainer that turns so fast it could give you genuine motion sickness from your sofa; in the ejector seat of the Lunar Landing Training Vehicle as it hurtles towards the ground and explodes in flames right beneath your feet; in the Apollo 11 spacesuit as your feet first touch the powdery surface of the moon. The result is that so much of this film is jarring, but in the best way – it doesn't sugar-coat space travel, it recognises that there are devastating consequences to every decision made, from the switches you flick to the astronauts that sit beside you. An entertaining watch that has its feet firmly planted on the ground. 
 
DISCLAIMER: We endeavour to always credit the correct original source of every image we use. If you think a credit may be incorrect, please contact us at info@sheerluxe.com.