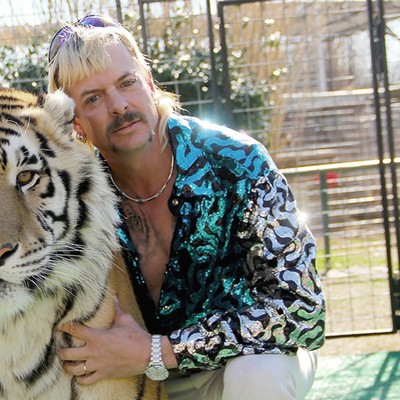 The Netflix Show To Binge Now

If you're looking for an escape from a life of self-isolation, you'll struggle to find a more surreal story than Netflix's latest true-crime show, Tiger King. From hitmen to big cat sex cults, this docuseries has it all. Who knew the world of exotic pets was so strange?

What's The Premise? 
The story follows the rise and fall of Joseph Maldonado-Passage, an eccentric American zoo owner known as Joe Exotic. The story of Joe and his Oklahoma animal park gives us a glimpse into the bizarre, deeply interconnected world of American big cat collectors. At its heart is a bitter rivalry between Joe and fellow zoo owner Carole Baskin. Tensions between pair reach fever-pitch over the course of the series, spiralling into a murder-for-hire plot and an FBI sting – with polygamy, tiger attacks and the suspicious disappearance of a multi-millionaire thrown in along the way.

Who Is Joe Exotic?
In his own words, Joe Exotic is a "gay, gun-carrying redneck with a mullet." While Joe is certainly not likeable, he is endlessly watchable. The platinum blonde zoo owner is a larger-than-life local celebrity and clearly the star of his own show – even launching a delusional campaign to become president of the United States in 2016. He breeds tigers by the hundreds, conducts a problematic three-way marriage with two younger men, sends violent threats on his "worldwide" big cat web show and finally ends up behind bars after embroiling himself in a murder-for-hire conspiracy.

How Did That Happen?
It's Joe's complicated relationships which hold the key to his demise. His vicious feud with animal sanctuary owner Carole Baskin began when she started campaigning against Joe's use of lion and tiger cubs in shows at shopping malls. Joe sees Baskin's protests as a threat to his zoo – and the bizarre world he has built for himself as the self-proclaimed 'Tiger King'. He retaliates, in his own absurd style, with a revenge campaign that culminates in an expensive legal trademark case.
 
Despite Joe's small fortune in big cats – he claims a single cub can fetch as much as $100,000 from shows and photo ops – his battle with Baskin leaves him in dire straits. With the park facing collapse, in sweeps a mysterious angel investor, Jeff Lowe. But Lowe is not all he seems – and brings a whole host of shady characters with him. In 2018, Joe takes his war against Baskin too far and is dragged into a murky murder plot alongside Lowe's questionable associates. As we hear in the documentary's opening scenes, the Tiger King is eventually left facing a sentence of up to 79 years behind bars.

Will You Like It? 
With global lockdowns and unprecedented national measures it's a surprise to find anything more bewildering than the reality we're currently living in – yet this show manages it. If you're looking for a binge-watch, Tiger King is as addictive as it is chaotic, and seemingly more surreal as the episodes continue. While Joe Exotic's rollercoaster story is unquestionably wild, it's the cast of cat-crazed misfits and gun-toting oddballs that make the documentary compulsive viewing.           
 
The docuseries lifts the lid on a subculture that needs to be seen to be believed. Dedication to the ownership of big cats at these private zoos strays disturbingly into cult-like obsession. Staff work on minuscule wages – or for nothing at all – just for the privilege of tending to exotic animals. The polygamous leader of one park even rechristens young female zoo apprentices with exotic names and picks out revealing animal-inspired outfits for them to wear. A staff member at another zoo actually returns to work for the sake of its reputation just days after a tiger tears off her lower arm.

What's The Takeaway?
For individuals infatuated with keeping exotic animals, big cat owners appear more caught up in the politics of their own community than the wellbeing of their collections. Despite all the discussion of breeding programmes, they rarely mention the conservation of big cats within their natural habitats. The show leaves you with two shocking figures – that up to 10,000 tigers live in captivity in the US, while just 4,000 remain in the wild around the world – it's an uneasy feeling that what these big cat owners truly want is to be crowned the kings and queens of their own jungles.

Where To Watch It…
Tiger King is available to stream now on Netflix.
 
DISCLAIMER: We endeavour to always credit the correct original source of every image we use. If you think a credit may be incorrect, please contact us at info@sheerluxe.com.